Stand up for the facts!
Our only agenda is to publish the truth so you can be an informed participant in democracy.
We need your help.
I would like to contribute
"Just in the Austin MSA alone, 150 people move here every day."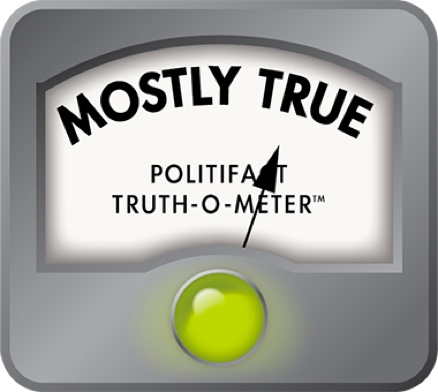 Austin region gains hundreds of residents daily, but loses residents too
An activist questioning plans to include a U.S. citizenship question in the 2020 Census warned that if fewer Texans fill out the decennial survey, the state could be shorted government aid and full representation, both tied to population counts.
"Additionally, I want to just emphasize the growth of Texas," Jose Carrillo of the NALEO Educational Fund said at a March 28, 2018, Texas Capitol press conference. The fund is part of the National Association of Latino Elected and Appointed Officials.
"Just in the Austin MSA alone," Carrillo said, "150 people move here every day. So those folks need resources, and government needs to provide those resources." MSA means metropolitan statistical area.
It's been a spell since we've fact-checked how many people flock to the state's capital and stick around.
But in 2014, we found Mostly False a claim that 110 people a day were moving to Austin alone. That figure was in the ballpark for the number of people moving to the five-county region, as Ryan Robinson, the city demographer, reaffirmed in a 2018 statement he emailed to our renewed inquiry. We concluded before, though, that Austin alone was netting perhaps 40 to 60 additional residents a day.
Carrillo cites net growth
So, what's the latest in population changes in the region encompassing Travis, Williamson, Hays, Caldwell and Bastrop counties?
By phone, Carrillo told us he got his tally from the Greater Austin Chamber of Commerce. The chamber's Beverly Kerr subsequently told us she drew on the latest annual U.S. Census Bureau estimate that as of July 2017, the Austin-Round Rock MSA's population totaled 2,115,827, up 55,269 from 2,060,558 the year before.
That breaks out to regional growth of 151 people a day over the 12 months taking into account both people coming from other places and local births continuing to outpace deaths, Kerr and Lloyd Potter, the Texas state demographer, each advised by email.
In the MSA, the bureau says, births over the 12 months outpaced deaths by 16,791, with the difference accounting for 46 of the region's 151 new residents a day. Put another way, net migration into the region occurred at a rate of 105 residents a day.
In reality, Kerr wrote, "a good deal more than 105 people or 150 people move to Austin each day, but a lot of people move out, too."
Fewer people leave
We asked both experts to speak solely to Carrillo's focus on people moving into the region.
Kerr noted that the bureau's 2016 American Community Survey estimated that 129,119 of 2,030,464 Austin-Round Rock region residents over 1 year old had moved to the area in the same year from a different region or from abroad--which breaks out to a (gulp-inducing) 354 incoming residents a day.
Potter noted separately that per five-year ACS estimates, 211 people a day moved out of the Austin region to another U.S. locale; the survey doesn't tally people who've left for another country. All told, Potter said by email, the five-year ACS results suggest the region was netting 138 people a day in the period, counting more than 350 new residents a day.
It's worth stressing that the approximately 350 new residents a day estimate is one-sided in that it doesn't take into account people leaving the region. Potter counseled too that the ACS count was based on annualizing responses to surveys and then statistical weighting of responses, meaning there's sampling error at work, he said.
"In sum," Potter wrote, "I think it is most accurate to say there were, on average, 151 additional residents per day between July 1, 2016 and July 1, 2017 and that on average, 105 of the additional residents are the result of net-migration."
Our ruling
Carrillo said: "Just in the Austin MSA alone, 150 people move here every day."
The five-county region's population grew by 151 people a day in the 12 months up to July 2017, according to the latest annual federal estimate. This growth was mostly due to people moving in outpacing people leaving the region with a third of the net growth tied to local births outpacing deaths.
But specific to what Carrillo said, Census Bureau work rooted in surveys taken in the five years through 2015 suggests that about 350 people a day were moving into the region. It's worth stressing, though, that this figure doesn't account for people who (inexplicably) skedaddled.
We rate Carrillo's statement, accurately recapping the region's latest growth, Mostly True.
---
MOSTLY TRUE – The statement is accurate but needs clarification or additional information. Click here for more on the six PolitiFact ratings and how we select facts to check.
Press conference on 2020 U.S. Census including remarks by Jose Carrillo, director of strategic initiatives, NALEO Educational Fund, Texas House, March 28, 2018 (Carrillo remarks about Austin region's growth at 16:10 mark)
Phone interview, Jose Carrillo, March 28, 2018
Statement, "On average, how many people move to Austin each day?," Ryan Robinson, city demographer, City of Austin, undated (received by email March 28, 2018)
Emails and 2016 American Community Survey chart, "GEOGRAPHICAL MOBILITY IN THE PAST YEAR FOR CURRENT RESIDENCE--METROPOLITAN STATISTICAL AREA LEVEL IN THE UNITED STATES," Beverly Kerr, vice president, Research, Greater Austin Chamber of Commerce, March 28 and 30, April 3, 2018
Emails, Lloyd B. Potter, PhD, Texas state demographer, The University of Texas at San Antonio, March 28 and 20, April 1 and 3, 2018
Browse the Truth-O-Meter
More by W. Gardner Selby
Support independent fact-checking.
Become a member!
In a world of wild talk and fake news, help us stand up for the facts.