Get PolitiFact in your inbox.
"Under N.Y. State 'Assault Weapon' ban 1 simple cosmetic change pictured here is difference between legal & banned"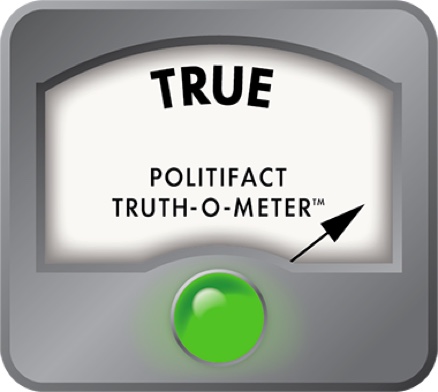 Rubio's tweet about NY gun law is accurate
Sen. Marco Rubio took aim at one provision of a gun law passed in New York state that he suggests can be easily circumvented.
The Florida Republican posted a photo of two semi-automatic rifles. Both rifles almost look the same. But one has a pistol grip attached, so it is not legal in New York state, Rubio said.
"Under N.Y. State 'Assault Weapon' ban 1 simple cosmetic change pictured here is difference between legal & banned," Rubio's tweet read.
The tweet came as Rubio's response to New York Gov. Andrew Cuomo, who said earlier in the day that Rubio "should be ashamed of" himself for not supporting stricter gun control legislation. During a CNN town hall the night before, Rubio signaled support for raising the age to buy a rifle or shotgun to 21 and for tighter background checks for gun purchases.
Cuomo supports tougher gun-control measures, like universal background checks and a ban on military-style accessories.
New York state already has a ban on some of those accessories. We wanted to know if the one on Rubio's tweet is on that list.
New York state gun laws
The accessory shown in the image, called a pistol grip, has been banned on rifles in New York state since 2013.
It's one of several features banned by the New York Secure Ammunition and Firearms Enforcement Act, better known as the SAFE Act. The law, spearheaded by Cuomo, was passed a few weeks after the 2012 mass shooting at Sandy Hook Elementary School.
The law banned so-called assault weapons and created a legal definition for them in New York state. The law defined them broadly as semi-automatic firearms with one or more of the features also banned by the law. There are 10 of those features for rifles.
The weapon used by Adam Lanza, the shooter at Sandy Hook, is banned under state law, for example. Lanza used a semi-automatic rifle with a pistol grip and a flash suppressor — two of the features banned under the SAFE Act.
But the rifle without a pistol grip pictured in Rubio's tweet would also be subject to other gun regulations in New York state. First, anyone who wanted to buy the rifle in New York state would have to go through a background check, regardless of who they buy it from.
State law would also prohibit any gun owner from attaching a magazine to the rifle that holds more than 10 rounds. Only seven other states have laws that ban large capacity magazines. Florida, where a shooter killed 17 people at Marjory Stoneman Douglas High School this month, is not one of them.
Our ruling
Rubio said with a photo on Twitter that "1 simple cosmetic change pictured here is difference between legal & banned" in New York state.
That's true. The pistol grip shown is one of the banned features for rifles under New York state's SAFE Act. The rifle would also be subject to other New York state regulations.
We rate Rubio's claim True.
Tweet from Sen. Marco Rubio, Feb. 22, 2018
"Rubio takes the heat but finds his voice during CNN gun town hall," CNN, Feb. 22, 2018
"What New York State's new gun law says," Newsday, Jan. 19, 2013
"NY Safe Act: See what makes an assault weapon illegal," Syracuse.com, April 29, 2014
Banned features under the NY SAFE Act
Benelli MR1 Product Information page
"How They Got Their Guns," New York Times, Feb. 16, 2018
Bushmaster XM-15 Product Information page (Gun used in Sandy Hook shooting)
"Analysis of weapons in Sandy Hook report shows Lanza was deliberate, could have been much more deadly," AL.com, Nov. 25, 2013
Giffords Law Center: Large capacity magazines
Phone interview with David Chipman, senior policy advisor at the Giffords Law Center to Prevent Gun Violence
Browse the Truth-O-Meter
More by Dan Clark
Support independent fact-checking.
Become a member!
In a world of wild talk and fake news, help us stand up for the facts.