Stand up for facts and support PolitiFact.
Now is your chance to go on the record as supporting trusted, factual information by joining PolitiFact's Truth Squad. Contributions or gifts to PolitiFact, which is part of the 501(c)(3) nonprofit Poynter Institute, are tax deductible.
I would like to contribute
President Donald Trump's budget "threatened to cut $2 trillion from Social Security, Medicare and Medicaid"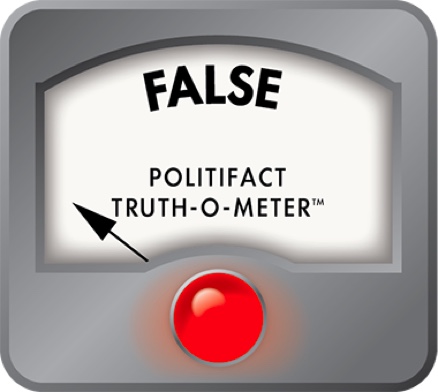 Did Trump's budget include a $2 trillion cut for Medicare, Medicaid, and Social Security?
During his presidential campaign, Donald Trump said he wouldn't try to cut Medicare or Medicaid.
But his federal budget proposal broke that promise, according to Rep. Hakeem Jeffries, a Democrat from New York City.
"He can't talk about his own budget, where he threatened to cut $2 trillion from Social Security, Medicare and Medicaid," Jeffries said about Trump during an interview on CNN's State of the Union.
Trump's budget director, Mick Mulvaney, released the president's federal budget proposal in February. The plan was met with little fanfare because Congress had already passed a two-year spending deal a few days earlier, making the presidential blueprint largely irrelevant.
Like any other budget proposal, Trump's showed where he wanted to spend money and where he didn't. Did he want to cut Social Security, Medicare, and Medicaid by $2 trillion?
Where's $2 trillion from?
Jeffries' spokesperson did not get back to us with information supporting his claim.
In a literal sense, Trump's budget did propose about $2 trillion in savings from Social Security, Medicare and Medicaid over 10 years.
The majority of those savings — about $1.4 trillion — would come from Medicaid, according to projections from the U.S. Department of Health and Human Services.
Part of that would be a rollback of the Medicaid expansion under Obamacare, which allowed states to offer Medicaid coverage to a larger share of low-income people. Trump's budget would cut federal funding for the expansion, forcing states to either drop it or foot the bill themselves.
About $530 billion in savings would come from Medicare and $25 billion would come from Social Security. Collectively, that totals almost $2 trillion.
What experts say
Beyond the raw numbers, though, these figures are misleading, experts told us.
"Those numbers only count the 'takes' and not where the money is going," said Marc Goldwein, senior vice president of the Committee for a Responsible Federal Budget, a non-profit budget analysis group.
About $1.2 trillion of the savings from Medicaid and Obamacare would be redirected to block grants for states, Goldwein said. The federal government currently matches state Medicaid costs without a cap. Trump's budget would use a formula to give each state a fixed amount for Medicaid each year. If costs go above that amount, states would have to cut services or bear the cost.
The president's budget would also repeal federal subsidies for Obamacare. The Congressional Budget Office estimated last year that replacing those subsidies with block grants would reduce the federal deficit by at least $133 billion over a decade.
The net savings between all of Trump's budget proposals affecting Medicaid and Obamacare was projected to be about $765 billion, experts said.
"It's impossible to apportion how much of that is Medicaid because we don't know how states will spend their new grant," Goldwein said. "But I think it's somewhat misleading to suggest Medicaid is being cut by $1.4 trillion when a large chunk of that money is really being reprioritized rather than eliminated."
The proposed Medicare savings would have meant little to no change for beneficiaries, according to Paul Van de Water, a senior fellow at the left-leaning Center on Budget Policy and Priorities, a Washington, D.C., think tank.
Trump's budget would have reduced reimbursement rates for services, lowering the overall cost. The lower rates would not have changed the care received by people on Medicare, he said. Rather, it would force providers to charge the government less for services.
"The Medicare cuts were for the most part reductions to payments to providers, and that latter category is something members of Congress from both parties have been working on for decades," Van de Water said. "The reason the U.S. spends more on health care is that we end up paying much more to providers than other countries."
The same idea was included in Obamacare. The law included lower reimbursement rates for providers — something Republicans criticized as a cut at the time.
But some of the projected savings will be spent elsewhere outside the program, Goldwein said.
"For example, Medicare currently pays medical residents in the United States – not just those who serve the elderly, but all residents," Goldwein said. "The president's budget would instead create a new program to pay those residents outside of Medicare."
The net cut from the program would be $236 billion, according to Trump's budget proposal.
As for Social Security, experts agreed that Trump's budget would cut the program by about $25 billion, or less than one-fifth of 1 percent. The savings would come from several proposals, the largest of which would cut retroactive disability benefits from 12 to six months.
Altogether, experts say the net cuts to Medicaid, Medicare, and Social Security in Trump's proposal are closer to $1 trillion when you include the budgetary savings from repealing Obamacare. The amount would be lower without the cuts to Obamacare.
Our ruling
Jeffries said Trump's budget threatened to cut $2 trillion from Medicaid, Medicare, and Social Security.
The only way to get to $2 trillion in cuts is by counting some numbers and not others. Expert said the net cut would be closer to $1 trillion. 
We rate the statement False.
State of the Union, CNN, April 29, 2018
Phone and email interview with Paul Van de Water, senior fellow at the Center on Budget Policy and Priorities
Email interview with Marc Goldwein, senior vice president of the Committee for a Responsible Federal Budget
FY 2019 President's Budget for HHS, Dept. of Health and Human Services, Feb. 19, 2018
Trump's proposed FY2019 Budget
Health Proposals in President's Budget Would Reduce Health Insurance Coverage and Access to Care, Center on Budget and Policy Priorities
Trump-O-Meter: Make no cuts to Medicare, Feb. 20, 2018
Does the President's Budget Slash Social Security and Medicare?, Center for a Responsible Federal Budget, Feb. 16, 2018
"Trump Signs 2-Year Spending Pact", NPR, Feb. 9, 2018
"Romney's right: Obamacare cuts Medicare by $716 billion. Here's how." Washington Post, Aug. 14, 2012
"Preliminary Analysis of Legislation That Would Replace Subsidies for Health Care With Block Grants," Congressional Budget Office, September 2017
Browse the Truth-O-Meter
More by Dan Clark
Support independent fact-checking.
Become a member!
In a world of wild talk and fake news, help us stand up for the facts.