Stand up for facts and support PolitiFact.
Now is your chance to go on the record as supporting trusted, factual information by joining PolitiFact's Truth Squad. Contributions or gifts to PolitiFact, which is part of the 501(c)(3) nonprofit Poynter Institute, are tax deductible.
I would like to contribute
Says "Claire McCaskill voted for 100 percent of President Obama's judicial nominees."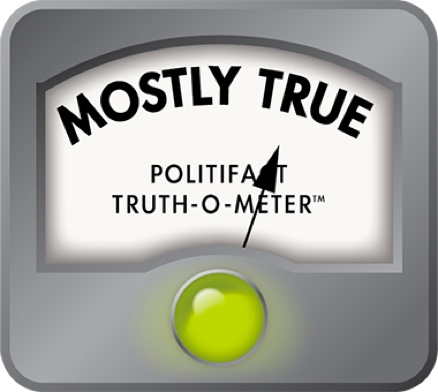 Did Claire McCaskill vote for 100% of Obama's judicial nominees?
The prospect of President Donald Trump's second Supreme Court pick became an issue in the Senate midterm elections even before Trump tapped Brett Kavanaugh to fill the vacant seat on the court.
Josh Hawley, the Missouri attorney general who is challenging Democratic Sen. Claire McCaskill, put up a website — supremeclaire.com — to draw a contrast between his stance on judges and the incumbent's.
One of the statements on the website was that "Claire McCaskill voted for 100 percent of President Obama's judicial nominees."
From a Josh Hawley campaign website
When we contacted McCaskill's campaign, they did not dispute that she voted for all of Obama's nominees. (They added that she has voted for 68 percent of Trump's judicial nominees.)
So the substance of Hawley's assertion is accurate.
It's worth noting, though, that the Republican ranks of senators that Hawley hopes to join also supported Obama's judicial picks overwhelmingly.
We looked at a database of Obama and Trump judicial picks maintained by Russell Wheeler, a visiting fellow at the Brookings Institution. For Obama's tenure, the database includes 323 Obama nominees for district and circuit court seats who were ultimately considered by the Senate, along with the results of their confirmation votes.
Here's our breakdown of the results. The "no nay votes" category includes voice votes, approval by unanimous consent, recorded votes with zero nay votes:
| | |
| --- | --- |
| Degree of Senate opposition to nominee | Obama nominees with this result |
| No nay votes | 220 |
| Nay votes in single digits | 45 |
| Between 10 and 19 nay votes | 10 |
| More than 20 nay votes | 48 |
In other words, 82 percent of Obama's nominees received minimal opposition from Republicans. Eighty-two percent support is lower than the 100 percent support rate for McCaskill, but it does make Hawley's seemingly black-and-white contrast between hard-line Republican opposition to Obama's picks and blanket Democratic support a bit blurrier.
This may surprise people who tune in to judicial nominations only for Supreme Court seats, battles that have become increasingly acrimonious. But for Obama's lower-court nominations — and particularly for district-court seats, which are the initial trial-level federal courts — most nominees were easily confirmed.
Why? Experts point to a few reasons.
The first is that most judicial nominations that fail do so before a vote is cast. If opposition coalesces on the Senate Judiciary Committee, a nomination may be pulled before consideration (or a potential nomination may never be made), said Anthony Madonna, a University of Georgia political scientist.
A second reason is that senators have historically been given an informal say on judicial nominations in their home states, enabling the most controversial candidates to be weeded before a nomination is even made, Madonna said.
The GOP's ability to use these rules under Obama means that the nominations that made it to the floor "would have been likely to attract GOP votes," said Sarah Binder, a George Washington University political scientist.
McCaskill, for her part, was deferential to President George W. Bush's judicial picks, Madonna said. He could locate only one McCaskill nay vote against a Bush judicial nominee — Leslie Southwick, who was up for an appeals-court seat — in McCaskill's two years in the Senate when Bush was president.
The growing acrimony over judicial nominations has dropped the percentage of slam-dunk nominations under Trump. The approval number, however, remains substantial.
According to Wheeler's data set, district-court nominations are still overwhelmingly approved without controversy: So far, 74 percent of Trump nominees have been confirmed by either zero nay votes or nay votes in the single digits.
But for circuit court seats (that is, seats on appeals courts) only 17 percent of Trump's picks have been approved with either zero nay votes or nay votes in the single digits. The remaining 15 Trump nominees have averaged 39 nay votes, meaning that most are getting some crossover support from Democratic senators, but not much.
The increasing opposition under Trump, Wheeler said, stems from Senate Democrats' anger over the GOP majority's handling of Obama nominees toward the end of his tenure.
In addition to blocking Obama's third Supreme Court nominee, Merrick Garland, for more than a year, Senate Republicans confirmed barely any circuit court judges during 2015 and 2016, which is "way below standard patterns for the final two years of eight-year presidencies," Wheeler said.
Republicans counter that the confirmation system was broken well before 2015, including by the Senate Democrats' decision to use the "nuclear option" to enable simple-majority approval for district- and circuit-court nominations in 2013.
Our ruling
Hawley said, "Claire McCaskill voted for 100 percent of President Obama's judicial nominees."
Senate Republicans also approved Obama's nominees with minimal objections 82 percent of the time, and McCaskill voted for most of Bush's nominees.
Hawley's statement is accurate but requires a touch of clarification. That's our definition of Mostly True.
Josh Hawley, supremeclaire.com website, accessed July 9, 2018
Russell Wheeler, database of judicial nominations, accessed July 9, 2018
Email interview with Sheldon Goldman, political scientist at the University of Massachusetts-Amherst, July 9, 2018
Email interview with Sarah Binder, George Washington University political scientist, July 9, 2018
Email interview with Russell Wheeler, visiting fellow at the Brookings Institution, July 9, 2018
Email interview with Anthony Madonna, University of Georgia political scientist, July 9, 2018
Browse the Truth-O-Meter
More by Louis Jacobson
Support independent fact-checking.
Become a member!
In a world of wild talk and fake news, help us stand up for the facts.