Facts are under assault in 2020.
We can't fight back misinformation about the election and COVID-19 without you. Support trusted, factual information with a tax deductible contribution to PolitiFact
I would like to contribute
"Barack Obama: I'm 'the First Sitting American President to Come From Kenya.'"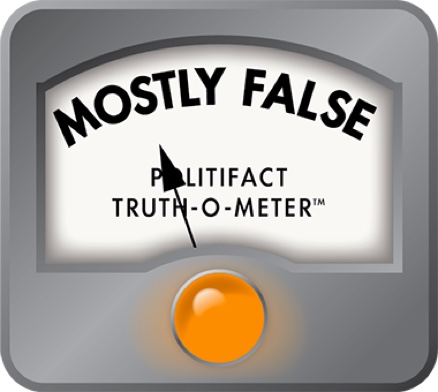 Blog twists Obama statement about being first president from Kenya
A website revived suspicion of Barack Obama's birthplace by using a quote from the former president's recent visit to Kenya out of context.
The headline published on Supremeinsider.com says, "Barack Obama: I'm 'the First Sitting American President to Come From Kenya' (Video)."
Barack Obama was born in Honolulu, Hawaii, on August 4, 1961, to Barack Obama Sr., who is Kenyan, and Ann Dunham, of Kansas.
The story comes with a one-minute video from Obama's visit in Kenya in mid July 2018. Obama was in the country for the launch of a sports and training center founded by his sister, Auma Obama, through her Sauti Kuu Foundation. The next stop on his African trip was South Africa where he delivered the annual Mandela Lecture in Johannesburg.
The clip from the grand opening of the center in Kogelo shows him saying, "Three years ago, I visited Kenya as the first sitting American president to come from Kenya."
He's talking about a July 2015 trip to Kenya and Ethiopia for the annual Global Entrepreneurship Summit.
Obama did use those words (check the 5:50-minute mark of this video). But it doesn't support the impression the article gives, which is that birther claims should be re-investigated because Obama admitted he "comes from Kenya." The article frames his comment as a "slip."
The article goes on to cite an Economist/YouGov.com poll — from Decembrer 2016 — that found one-third of Americans don't believe Obama was born in Hawaii. Of the 1,345 people polled about the statement "President Obama was born in Kenya," 12 percent responded Definitely True and 24 percent responded Probably True.
The article uses this doubt coupled with Obama's admission in his speech to suggest that there's some truth to claims that he was born in Kenya. The article later calls for an investigation into the matter to find out if Obama was ever eligible to be president.
"I still want it investigated if he was even born here and eligible to be President! He could be thrown in jail and all he owns confiscated and sold!!" Alex Hall wrote.
We wanted to look into the claim and see if Obama really said he was the first sitting president to come from Kenya. It turns out he did.
Obama released a birth certificate back in 2011 when he was pressured by Donald Trump and the birther movement.
The article also includes a tweet from Obama's brother Malik Obama that includes a Kenyan birth certificate that's supposed to document birth details of the former president. We debunked this back in 2009 with a fact-check where a Kenyan official confirms the certificate is phony.
The article doesn't consider that the former president is describing his heritage rather than alluding to his father's home country being his actual place of birth. (We reached out to Obama's adviser Eric Schultz for a comment and received no response.)
The article takes his statement of being "from" somewhere to mean that he literally grew up there. Obama has denied being born outside of the United States on several occasions.
Part of our process is to reach out to the author of claims we're checking. The author of this story, Alex Hall, has authored nine other stories for Supreme Insider but none of them have contact information. A reverse image search of his profile photo revealed that it's a generic photo of a man wearing a t-shirt that's found on several other sites across the internet, such as Pinterest.
Our ruling
A story on Supremeinsider.com says "Barack Obama: I'm 'the First Sitting American President to Come From Kenya' (Video)."
In the video from his speech in Kenya Obama does say he's the "first sitting American president to come from Kenya." The article, however, goes on to suggest that this comment invalidates any past efforts Obama has made to assure that he was born in the United States and call for an investigation.
The message from Obama's speech was misinterpreted to mean he was born and/or raised in Kenya when he was actually saying that he is of Kenyan heritage. There's no evidence to prove Obama was not born in the United States.
We rate this claim Mostly False.
Supreme Insider, Barack Obama: I'm 'the First Sitting American President to Come From Kenya' (Video), July 22, 2018
Obama White House Archives, Long form birth certificate, April 25, 2011
The Washington Post, Watch Obama's Full Speech in Kogelo, Kenya, July 16, 2018
PolitiFact, Alleged Obama birth certificate from Kenya is a hoax, August 21, 2009
Time, President Obama heads to Kenya and Ethiopia for Trip Filled with Firsts, July 23, 2015
Browse the Truth-O-Meter
More by Heaven Taylor-Wynn
Support independent fact-checking.
Become a member!
In a world of wild talk and fake news, help us stand up for the facts.