Stand up for the facts!
Our only agenda is to publish the truth so you can be an informed participant in democracy.
We need your help.
I would like to contribute
"I left the White House $16 million in debt."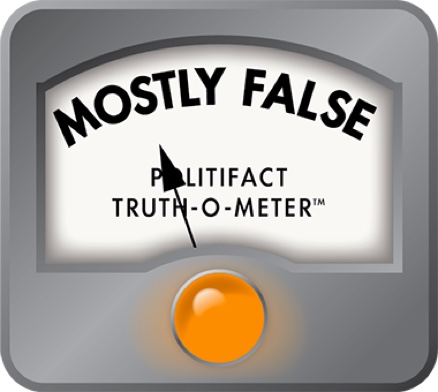 Bill Clinton overplays debt following Monica Lewinsky affair
Asked about his past in the context of the #MeToo movement, former President Bill Clinton said he did the right thing in the aftermath of the Monica Lewinsky scandal, and claimed he didn't go unpunished thanks to the red ink that followed.
"I felt terrible then, and I came to grips with it," Clinton said during an NBC News interview.
"Did you ever apologize to her?" Craig Melvin asked.
"Yes," Clinton said, following some hesitation. "And nobody believes that I got out of that for free. I left the White House $16 million in debt. But you typically have ignored gaping facts in describing this, and I bet you don't even know this. This was litigated 20 years ago."
But Clinton didn't have his own facts straight.
Later in the interview, Clinton admitted he never talked to Lewinsky in the aftermath of the affair. He only apologized publicly, and to a long list of people involved.
As for his claim about leaving the White House with $16 million in debt, that's an exaggeration.
We previously looked at a claim by Hillary Clinton that she and Bill came out of the White House "dead broke." A closer look at Clinton's 2001 financial disclosure form for the Senate shows they possibly had more liabilities than assets, but it doesn't show that conclusively.
Bill Clinton's claim is different, however. He did not clarify whether he was talking about net or gross debt, or how exactly those debts came to be. He did suggest that the legal fees played an important role.
So we took another look at Hillary Clinton's 2001 Senate financial disclosure form, which gives us a public look into hers and her husband's finances.
Hillary Clinton reported that legal debt for the Clintons and former staff members came to a minimum of $1.75 million and maximum of $6.5 million.
Bill Clinton's spokesman, Angel Ureña, pointed us to a Washington Post report from 2007 that said the Clintons "left the White House with an estimated $12 million in legal debts rung up during the Whitewater, campaign fundraising and Monica S. Lewinsky investigations."
Several news reports echoed a similar estimate of legal costs, but we were unable to track down the source of that amount.
The burden of legal costs didn't entirely fall on the Clintons. Established in 1998, the Presidential Legal Expense Trust defrayed personal legal expenses through donations from U.S. citizens (government employees or registered lobbyists were not allowed). That was the second trust set up to pay off the Clintons' legal expenses.
In July 2001, The New Yorker reported the fund raised $8.8 million. "Even after expenses, that covered much of the eleven or twelve million dollars in legal fees that the Clintons have incurred so far," the report reads. (Clinton left the White House in January 2001.)
That legal debt was gone by 2004, according to Hillary Clinton's financial disclosure form.
Jeff Hoopes, an accounting professor at University of North Carolina, told us there were numbers that may not have made it into the disclosure form, such as mortgages or loans from relatives.
Mortgages could realistically have added a burden. In 1999, the Clintons bought a five-bedroom home in Chappaqua, N.Y., for $1.7 million. In December 2000, just as they were leaving the White House, they bought a seven-bedroom house near Embassy Row in Washington for $2.85 million.
Citibank lent the Clintons $1.995 million to buy the Washington house.
Hoopes emphasized that whatever the value of debt, the Clintons were unambiguously not suffering financially after leaving office.
"They had a huge amount of earnings potential, and to keep suggesting they were suffering financially is disingenuous," Hoopes said.
Hoopes' point: The Clintons may have taken on debt but had a clear path to getting out of the red. And they sure did.
Forbes, using Hillary Clinton's tax returns, estimated the Clintons earned more than $240 million from 2001-15.
Our ruling
Clinton said he "left the White House $16 million in debt."
Hillary Clinton's 2000 Senate financial disclosure form shows a debt of anywhere between $1.75 million and maximum of $6.5 million. Bill Clinton's spokesman said the Clintons' legal fees reached $12 million, but a large portion of that was covered by a legal defense fund.
We rate this Mostly False.
Today.com, "Bill Clinton: 'I did the right thing' during Monica Lewinsky scandal," June 4, 2018
Email interview with Angel Ureña, Bill Clinton's spokesman, June 5, 2018
PolitiFact, Hillary Clinton says she and Bill were 'dead broke', June 10, 2014
The New Yorker, Paying Clinton's Bills, July 23, 2001
Washington Post, For Clinton, New Wealth In Speeches, Feb. 23, 2007
Email interview with Jeff Hoopes, UNC Business School accounting professor, June 5, 2018
C-SPAN, Presidential Legal Expense Trust, Feb. 19, 2018
C-SPAN, Presidential Legal Expense Trust, Dec. 30, 1997
Open Secrets, U.S. Senate financial disclosure report Hillary Clinton, 2001
Washington Post, 'Dead broke': A deep dive into the Clintons' finances, June 12, 2014
Phone interview with Craig Holman, government affairs lobbyist at Public Citizen, June 5, 2018
Forbes, How Bill And Hillary Clinton Made $240 Million In The Last 15 Years, Nov. 8, 2016
Browse the Truth-O-Meter
More by Manuela Tobias
Support independent fact-checking.
Become a member!
In a world of wild talk and fake news, help us stand up for the facts.