Stand up for the facts!
Our only agenda is to publish the truth so you can be an informed participant in democracy.
We need your help.
I would like to contribute
NC Republicans "raided $58 million that was supposed to help create jobs for North Carolinians."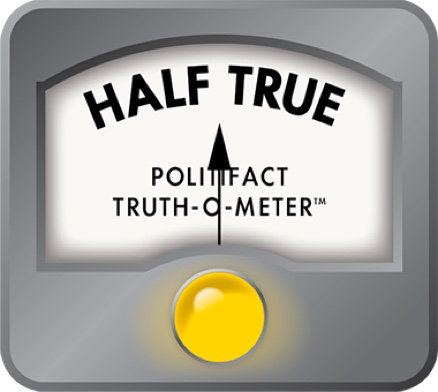 NC Democrats say Republicans redirected $58M meant for job creation
Approval of a key permit for the Atlantic Coast Pipeline through Eastern North Carolina has been among the most hotly debated political moves this year.
The state Department of Environmental Quality in January signed off on the permit for the 600-mile pipeline, which is expected to deliver natural gas to the eastern part of the state from fracking operations in Pennsylvania and West Virginia.
Shortly after Gov. Roy Cooper's administration approved the permit, Cooper announced that pipeline builders Dominion Power and Duke Energy planned to put $57.8 million in a fund to be used for environmental and economic-development initiatives.
Some advocacy groups worry the pipeline will hurt the environment. Meanwhile, many Republicans in the GOP-controlled N.C. General Assembly questioned the legality of the mitigation fund and accused Cooper's administration of conducting pay-to-play politics. They suggested Cooper required pipeline builders to fund mitigation efforts in order to acquire the permit, which Cooper has denied.
In February, the legislature voted to redirect the $57.8 million to schools in districts that the pipeline would run through. In response, the North Carolina Democratic Party recently launched an ad campaign that targets Republicans in Eastern North Carolina districts.
The online ads and mailers say state Reps. John Bell and Brenden Jones, as well as state Sen. Danny Britt "raided $58 million that was supposed to help create jobs for North Carolinians."
Every seat in the N.C. General Assembly is up for election this year and Democrats hope to gain influence in Raleigh. Republicans hold a supermajority in both the state House and state Senate. But, aiming to capitalize on President Donald Trump's unpopularity, Democrats expect to break the supermajority and hope to take control of at least one of the chambers in midterm elections this fall.
The N.C. Democratic Party told reporters in a press briefing on March 22 that their messaging on the Atlantic Coast Pipeline in Eastern North Carolina has been effective. In an email to PolitiFact, party spokesman Robert Howard defended the mailers as both "factually accurate and intellectually honest."
The party "launched digital ads and mailers to hold Republican politicians accountable for raiding a fund meant to help eastern North Carolina access the Atlantic Coast Pipeline," Howard said in an email. "The funds would have gone towards economic development in Eastern North Carolina by covering costs of fuel distribution lines as well as renewable energy projects. Republicans diverted funds through HB90 as part of a 'poison pill' provision in an omnibus bill that included a Democratic priority – funding for the class size mandate."
Mitigation money
Cooper's office said half of the $57.8 million is supposed to go toward mitigating the environmental damage the pipeline may cause to wetlands, streams and wildlife habitats. The rest is designated for economic development and renewable energy projects. However, the deal didn't specify the projects or the number of jobs that would be created.
The state would receive half of the $57.8 million once the Federal Energy Regulatory Commission has approved the pipeline; the rest would be paid upon its completion. Sadie Weiner, Cooper's communications director, said the Rural Infrastructure Authority and the Clean Water Management Trust Fund are two agencies that could distribute the funds.
On the economic side, WRAL reported the Cooper administration hoped the money would help farmers in Eastern North Carolina hook into distribution lines tied back to the pipeline.
They hoped the new gas connections would not only prevent economic damages, but also create jobs. Durwood Stephenson, director of the U.S. 70 Corridor Commission, and Norris Tolsen, president of the Carolinas Gateway Partnership, told WRAL that they'd heard from companies unwilling to consider Eastern North Carolina manufacturing sites without easy access to natural gas, and the Atlantic Coast Pipeline planned just three taps along the project's 200-mile route through the state.
Prior to DEQ's approval of the pipeline permit, utility companies ran commercials claiming the project would bring jobs to NC.
Where the money went
Democrats and many school advocates across the state had been lobbying the legislature to avoid what they called "class size chaos," which they said would happen if state laws went into effect this summer requiring schools to lower average K-3 class sizes from 20 students per room this school year to roughly 17 students in July.
School leaders had said they didn't have the thousands of extra classrooms needed and might have to fire art, music and physical education teachers to help come up with the money to hire additional K-3 teachers.
House Bill 90 pushed back the class size deadline for schools and redirected the mitigation funds to go to school districts in the eight counties the pipeline would run through.
The ads provided to PolitiFact don't say what Republicans did with the mitigation money. They also omit details about the vote, giving the impression that the vote was overwhelmingly partisan. But a majority of Democrats voted for it too – including many from Eastern North Carolina.
The vote
In the state House, the bill passed 104-12. In the state Senate, it passed 37-5. In fact, none of the House Democrats from areas east of Raleigh opposed the bill. And in the Senate, Angela Bryant was the only Democrat from Eastern North Carolina to oppose the bill.
So, on paper, it appears as if many Democrats wanted to redirect money from the pipeline mitigation fund. However, some Democrats said they only voted for the bill because it funneled money to needy schools.
Republicans hold majorities in the House and Senate and could've redirected the mitigation money without support from Democrats. So Democrats had two realistic options.
They could oppose the bill, supporting Cooper but risking the chance that Republicans accuse them of not prioritizing education. Or they could support the bill, breaking with Cooper on the pipeline fund but going on record as supporting education. Most chose the latter. Cooper, for his part, said he supported the class size changes and didn't veto the bill.
"Democratic lawmakers strongly objected to Republicans' decision to address changes to the state elections board, the Atlantic Coast Pipeline mitigation fund, and a class size fix in a single piece of legislation," said Howard of NCDP. "Many Democratic politicians stated publicly that they are voting in favor of bill solely because of the class size funding measure."
What Democrats said
State Reps. Garland Pierce and Bobbie Richardson, Democrats from Eastern North Carolina, voted for the bill. But they stood next to House Minority Leader Darren Jackson of Wake County during a press conference as he denounced Republicans for tying education funding to the pipeline. Jackson said it put Democrats in a political predicament in an election year.
"There will be a lot of support obviously for the class size and pre-K fix." The rest of the bill, Jackson said, "is an attempt to get the governor to veto it or us to vote against it so they can run political ads."
State Sen. Erica Smith, a Democrat from Eastern North Carolina, supported the bill but noted the situation in her statement to Policy Watch, a news arm of a liberal-leaning think tank.
"When you put these provisions in this bill in this manner in which it is, you make it unfair. You make it political," Smith is quoted saying.
State Sen. Paul Lowe, a Forsyth County Democrat, said some only voted for the bill while holding their noses. "But it's bad, really bad. You didn't have to do it this way."
State Rep. Gale Adcock, a Cary Democrat who voted for the bill, noted that Republicans could have addressed the education and pipeline issues separately – but chose not to. She described the bill as "a bitter pill."
Our ruling
An NC Democratic Party ad campaign claims Republicans in the legislature "raided $58 million that was supposed to help create jobs for North Carolinians." It's unclear how many jobs the mitigation fund would create. The party also withheld the fact that Democrats voted for the bill too, and that the mitigation fund was diverted to schools.
But the party's broader point is accurate. Republicans led the push to empty the mitigation fund and Democrats reluctantly went along with the effort because it was tied to education changes they supported. So we rate this claim Half True.
Screenshots of digital ads attacking state Sen. Danny Britt and state Rep. John Bell, both Republicans.
Photos of mailers attacking Republican state Rep. Brenden Jones.
Email correspondence with Robert Howard, spokesman for the North Carolina Democratic Party.
Story by The Associated Press, "Bill fixing North Carolina's class-size challenge loaded up," published Feb. 9, 2018.
Stories by The News & Observer, "Atlantic Coast Pipeline could bring $57.8M headache for Gov. Roy Cooper," published Feb. 1, 2018; "NC Senate approves K-3 class-size fix. But Democrats object to 'poison pill' add-ons," published Feb. 9, 2018; "NC class-size fix goes to Gov. Roy Cooper. Will he accept 'bitter pill' add-ons?" published Feb. 13, 2018; "Atlantic Coast Pipeline would run near Governor Roy Cooper's family property," published Feb. 13, 2018.
Story by WRAL, "How 'North Carolina' got erased from the Atlantic Coast Pipeline fund," published March 4, 2018.
Story by NC Policy Watch, "Class size fix rolls through Senate, but Democrats denounce 'Frankenstein's monster' bill," published Feb. 9, 2018.
Video of the NC House Democrats' press conference on House Bill 90, uploaded March 15, 2018.
Browse the Truth-O-Meter
More by Paul Specht
Support independent fact-checking.
Become a member!
In a world of wild talk and fake news, help us stand up for the facts.