Stand up for the facts!
Our only agenda is to publish the truth so you can be an informed participant in democracy.
We need your help.
I would like to contribute
Orange County "released" a sex offender instead of turning him over to immigration authorities - "like a sanctuary city."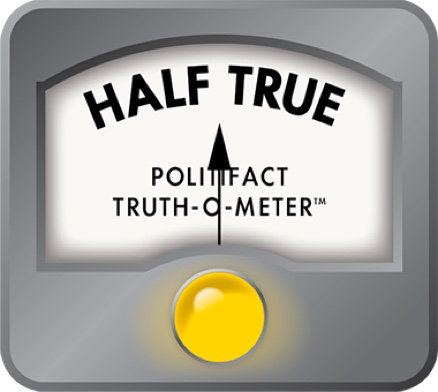 Holding ad lacks key detail of Orange County immigrant case
State leaders outlawed sanctuary cities in North Carolina in 2015, but that hasn't kept the issue off the airwaves in North Carolina's 2nd Congressional District.
Incumbent Republican George Holding is trying to fend off a challenge from Democrat Linda Coleman in the district, which spans several counties around Raleigh.
Holding recently released video and radio ads claiming Coleman supports sanctuary cities, with an example of how he maintains they hurt the community. Holding's ad tells the story of Udiel Aguilar-Castellanos, though it does not mention his name.
The video ad says "an illegal immigrant sexually assaulted a child in Carrboro. ICE wanted to deport him, but Orange County released him — like a sanctuary city. Linda Coleman supports sanctuary cities. George Holding opposes sanctuary cities that protect criminals."
The radio ad goes into a little more detail:
"An illegal immigrant was arrested for a DUI in Durham. However, he was released instead of being deported. Then, he committed a second crime. He sexually assaulted an 11-year-old child in Carrboro. This time, ICE immediately asked local police to detain him, so he could be deported after his trial. But Orange County doesn't honor ICE requests to detain illegal immigrants. They released him, the same way sanctuary cities do."
PolitiFact asked the Holding campaign to explain its claims about how the Orange County Sheriff's Department handled the Aguilar-Castellanos case.
Charles Hellwig, chairman of the Wake County GOP, responded on Holding's behalf with several news stories about the case. He also provided a video of Coleman saying she supports sanctuary cities. The video, in which Coleman does indeed express support for sanctuary cities, was recorded during an April 23 candidate forum in Raleigh by the LGBTQ Democrats of Wake County, Hellwig said.
First, let's look at what happened to Aguilar-Castellanos. Holding's ad says he was released. But it doesn't mention anything about whether he was charged or convicted.
Released, after jail time
On June 27, Aguilar-Castellanos pleaded guilty to two counts of sexual battery involving an 11-year-old child and was required to register as a sex offender, The Herald-Sun reported. He was initially charged with felony indecent liberties with a child and felony second-degree kidnapping.
However, The Herald-Sun reported, an agreement with prosecutors allowed Aguilar-Castellanos to plead guilty to the lesser charge and to be released immediately because he had served 293 days in jail awaiting trial. The maximum sentence he could have received for the sexual battery charges was 150 days, the paper reported.
The time served by Aguilar-Castellanos isn't mentioned in the Holding ad. That omission could leave some believing that he was never punished for his crime.
So what did the Orange County Sheriff's Department do that was "like a sanctuary city?"
Sanctuary cities
While there's no formal definition of a sanctuary city, the term often refers to towns or cities that offer some protections to immigrants who are in the country without legal permission. In criminal cases, the local officials often refuse to cooperate with U.S. Immigration and Customs Enforcement. Policies and procedures vary by city and state.
In NC, the law signed by Republican Gov. Pat McCrory in 2015 makes it illegal for cities or towns to block their police or sheriff's departments from collaborating with ICE or other federal agencies. The law also forbids local governments from accepting consulate or embassy documents as a form of identification, WUNC reported.
State designations aside, no NC town is considered a sanctuary city by the Center for Immigration Studies, a think tank favoring low levels of immigration. And no NC town was targeted by the U.S. Justice Department last year when it sent letters to 29 jurisdictions, questioning the legality of their policies for dealing with immigration authorities.
However, according to The Herald-Sun and the Associated Press, Orange County Sheriff Charles Blackwood has said his office does not honor immigration detainers from ICE because it has concerns about potential civil rights lawsuits. That means it doesn't hold immigrants in custody if there's no warrant, or if they're not serving a sentence.
Orange County and ICE
So the Orange County Sheriff's department released Aguilar-Castellanos when he had completed his sentence on June 27, the same day he pleaded guilty. (Remember: He was sentenced to time-served.)
ICE agents later arrested him in Georgia — and publicly complained about having to track him down.
ICE said in a news release that Aguilar-Castellanos had been under a federal immigration judge's removal order since January 2015. An immigration detainer also was issued to the Orange County Sheriff's Office in September 2017 after his initial arrest, they said.
The sheriff's office said it attempted to contact ICE by phone, but that the effort was unsuccessful. In response to ICE's public complaints, the Orange County Sheriff said that ICE could've assumed custody of Aguilar-Castellanos "at any point" during his nearly 300 days in custody.
Our ruling
Holding released a pair of campaign ads that say an illegal immigrant assaulted a child in Carrboro and that the Orange County Sheriff's Office released him "like a sanctuary city." The ad doesn't mention that the immigrant was convicted and completed his sentence. The Orange County jail did release the man. But the ad doesn't mention that ICE had nearly 300 days to assume custody prior to his release. We rate this claim Half True.
This story was produced by the North Carolina Fact-Checking Project, a partnership of McClatchy Carolinas, the Duke University Reporters' Lab and PolitiFact. The NC Local News Lab Fund and the International Center for Journalists provide support for the project, which shares fact-checks with newsrooms statewide.
Video and radio ads on GeorgeHoldingForCongress.com
Email correspondence with Charles Hellwig, chairman of the Wake County Republican Party.
Story by the Durham Herald-Sun, "ICE arrests immigrant sex offender released by Orange County Sheriff's Office," published July 25, 2018.
Story by WUNC, "NC Governor Signs Ban On 'Sanctuary Cities' For Undocumented Immigrants," published Oct. 28, 2015.
List of municipalities considered sanctuary cities by the Center for Immigration Studies.
Letters to sanctuary cities from the U.S. Department of Justice.
Story by the Associated Press, "ICE officials detain registered sex offender," published in the Fayetteville Observer on July 26, 2018.
Browse the Truth-O-Meter
More by Paul Specht
Support independent fact-checking.
Become a member!
In a world of wild talk and fake news, help us stand up for the facts.