Get PolitiFact in your inbox.
"This map was drawn entirely in secret by an Ohio consultant … with taxpayer dollars."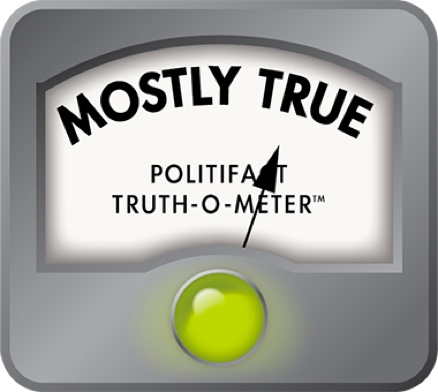 Was NC election map drawn in secret by a consultant paid with taxpayer dollars?
If Your Time is short
Republicans who control the state House did hire a consultant from Ohio to draw their new election map.
 
At least 95% of the state House, Senate and congressional maps were drawn behind closed doors.
 
Democrats have also crafted election maps in secret and hired independent redistricting consultants, Republicans point out.
North Carolina Democrats are criticizing Republican-approved election maps that they argue are unconstitutionally lopsided.
The state's Republican-controlled legislature in October approved maps that are expected to reduce the number of North Carolina Democrats in Congress from seven to three or four. New legislative maps are also expected to enable Republicans to maintain majorities in the state House and Senate.
State Rep. Eric Ager, D-Buncombe, said on the House floor that the redrawn maps were created by someone who's not accountable to the public.
"This map was drawn entirely in secret by an Ohio consultant, as my colleagues have pointed out, with taxpayer dollars," Ager said Oct. 24.
Is that accurate? For the most part, yes. 
Contacted by PolitiFact, Republican leaders didn't dispute Ager's claim. However, they did point out that North Carolina legislators on both sides of the aisle have a history of spending taxpayer dollars on independent redistricting consultants and of drawing maps out of the public eye.
Maps drawn mostly in secret
North Carolina legislators kicked off their redistricting efforts in September, holding three community hearings across the state. Members of the public were invited to offer ideas on how new congressional, state Senate and state House maps should be drawn. On Oct. 18, Republican legislative leaders released drafts of maps they'd created behind closed doors. It's unclear whether the suggestions made in the public hearings had any influence on the final maps.
Democrats in the state House and Senate were allowed to propose amendments to the maps, and they did. But Republicans rejected most of the Democrats' suggestions.
Lawmakers tweaked the maps slightly before approving them the week of Oct. 24. But they didn't change proposed district lines in ways that would significantly affect the Republicans' odds of winning races in 2024. 
In each of the three finalized maps, 95% of the census blocks remained in the same district where they were first introduced, according to an analysis by Peter Miller, a senior research fellow at the Brennan Center for Justice.
This year's redistricting process stands in contrast to how the maps were drawn in 2019 and 2021. Those years, Republican legislative leaders drew lines on a terminal that displayed their actions in a way the public could view. Some Republicans touted that redistricting process as the most transparent in North Carolina history. State Rep. Destin Hall, R-Caldwell, later acknowledged that during the 2021 process he consulted privately drawn maps.
Republican legislators said that Democrats have also drawn election maps behind closed doors.
In response to questions about Ager's claim, the office of Republican House Speaker Tim Moore cited a 1991 letter that then-state Rep. Art Pope wrote to the U.S. Department of Justice. Pope, a Republican, complained about the Democratic majority's secretive redistricting practices, saying redistricting committee leaders "made no effort to build a consensus and opposed all alternative proposals and amendments that they had not previously agreed to in private." That December, the U.S. Justice Department ruled that the Democrats' plan violated the federal Voting Rights Act. 
How consultant was paid
In the redistricting process, each legislative chamber is responsible for drawing its own maps. Then, after some negotiation, the chambers reach an agreement on final maps. The state Senate didn't hire an independent consultant to help draw its proposed maps, said Lauren Horsch, a spokesperson for Republican Senate Leader Phil Berger. 
The state House, however, spent taxpayer funds on an outside consultant, Hall confirmed to PolitiFact. Hall, a Republican, is a chair of the House Redistricting Committee.
House Republicans have an outside law firm, Nelson Mullins Riley & Scarborough LLP, representing the chamber on redistricting matters. The firm hired Blake Springhetti, an independent consultant from Ohio, to help with redistricting, Hall told PolitiFact.
"Our outside law firm engaged the expert and paid the expert, and as is customary in any law firm/client relationship, we then compensate the law firm using state funds, including reimbursements for expenses," Hall said in an email. "The expert has been paid approximately $174,000, which is well in line with other expert fees in redistricting cases."
The payment arrangement has been customary in North Carolina for decades, Hall said. He said his office informed House Democrats on Aug. 23 that they could also use state funds for redistricting experts.
House Minority Leader Robert Reives, D-Chatham, received that notice but declined to use funds for that purpose, his office told PolitiFact.
It "seemed a waste to hire outside experts on maps the Republicans never would have considered," Todd Barlow, Reives' chief of staff, said in an email. "Additionally, the NC House maps used in 2022 were blessed by the courts, passed on a bipartisan vote, and still legal. They could have been used again. That's different from the NC Senate and Congressional maps which had to be redrawn."  
North Carolina's Supreme Court ruled last year that state and congressional boundaries used in the midterm elections were tainted by partisan bias and needed to be redrawn. Barlow also pointed to the fact that Republican state senators — unlike their House colleagues —  drew their maps this year without hiring an outside consultant.
Legislators have used public funds on independent consultants over the years. From 2021 to 2022, Republican legislative leaders spent about $2.9 million in an unsuccessful defense of election maps that were ultimately thrown out and ordered to be redrawn, WRAL reported. Legislators previously paid the late Tom Hofeller, a former redistricting chairman for the Republican National Committee.
Democrats acknowledged they have in the past used public funds on outside redistricting consultants, too. Legislative Republicans previously allocated $25,000 to Democratic caucuses in the House and Senate so they could hire outside counsel, according to Senate Minority Leader Dan Blue's office. 
Democratic legislators also hired an outside consultant, Leslie Winner, in 1991. Gerry Cohen, former special counsel for the North Carolina General Assembly, told PolitiFact he believed she had been paid with public funds. Former legislator Toby Fitch, who led the House's redistricting effort that year, told PolitiFact in a phone interview that he couldn't remember how Winner was paid.
Our ruling
Ager said the state House of Representatives' new election map "was drawn entirely in secret by an Ohio consultant, as my colleagues have pointed out, with taxpayer dollars."
The maps were adjusted slightly after being drawn in private. Public funds were used by House Republicans to hire independent redistricting consultants, a common practice by legislators on both sides of the aisle. 
The statement is accurate but needs clarification or additional information. That's our definition of Mostly True.
Video, "NC House debates, votes on new voting districts that could cement GOP control of state politics for years," Oct. 24, 2023.
2023 North Carolina redistricting audio, video and documents on ncleg.gov.
WRAL, "NC lawmakers approve new congressional, legislative districts. Final votes expected Wednesday," Oct. 24, 2023; "New NC election maps expected to pass next week over objections from Democrats," Oct. 20, 2023;  "Republican leaders propose new NC congressional districts that could strengthen GOP's power," Oct. 18, 2023; "NC redistricting gets underway with voter feedback, less transparency," Sept. 27, 2023; "Redistricting is about to start again in NC. Here's how the public can comment," posted Sept. 25, 2023; "NC's last redistricting case cost taxpayers $2.9 million," Oct. 6, 2022; "Secret maps, now gone, were used to draw parts of NC election map," Jan. 6, 2022; "Who pays for politicos?" July 21, 2011.
Associated Press, "N. Carolina justices: State Senate map must be drawn again," Dec. 16, 2022.
Washington Post, "North Carolina voting plan rejected," Dec. 20, 1991.
Email correspondence with Demi Dowdy, communications director for North Carolina House Speaker Tim Moore.
Email correspondence with Derek Rosenfeld, senior media strategist for the Brennan Center for Justice at NYU Law.
Email correspondence with David Cobb, communications director for North Carolina Rep. Destin Hall.
Email correspondence with Todd Barlow, chief of staff for North Carolina House Minority Leader Robert Reives.
Email correspondence with Leslie Edwards, spokesperson for North Carolina Senate Minority Leader Dan Blue.
Email correspondence with Lauren Horsch, deputy chief of staff for communications for North Carolina Senate Leader Phil Berger.
Social media messaging with Gerry Cohen, former special counsel for the North Carolina General Assembly.
Telephone interview with Toby Fitch, former North Carolina legislator.
Browse the Truth-O-Meter
More by Paul Specht
Support independent fact-checking.
Become a member!
In a world of wild talk and fake news, help us stand up for the facts.