Get PolitiFact in your inbox.
The new Apple Watch Series 4 includes "the first ECG product offered over-the-counter directly to consumers."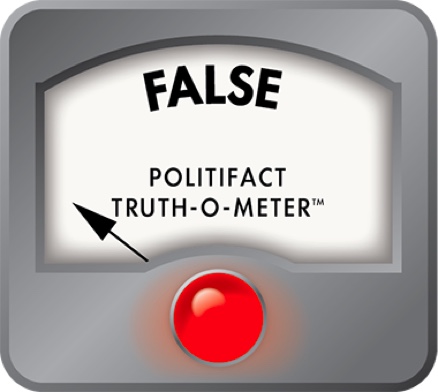 Apple offbeat in claim about 'first' EKG consumer product
During the unveiling of the latest Apple watch in San Francisco this week, the company's Chief Operating Officer Jeff Williams made a claim that's been described as "alternative facts" by another Silicon Valley CEO and called into question by recent news reports.
Here's what Williams said about the Apple Watch Series 4's new built-in electrocardiogram feature, or ECG:
"This is the first ECG product offered over-the-counter directly to consumers," he claimed at the Apple event on Sept. 12, 2018.
Williams makes his claim in the video above.
Electrocardiograms, also abbreviated as EKGs, are commonly used at hospitals to check a heart's electrical activity, to test for poor blood flow or for a heart attack.
Apple's previous watches have included heart monitors for fitness tracking, but not for medical usage.
Was Williams off-beat with his claim? We decided to check the facts.
At PolitiFact we typically fact-check politicians. But we also investigate claims by media pundits from Rush Limbaugh to Joe Scarborough, along with athletes and celebrities, such as Colin Kaepernick, who wield a lot of political influence.
In this case we fact-checked a California-based company that's very influential with the goal of holding it accountable for what it says, too.
Our research
A spokesman for Apple declined to respond on-the-record.
The company's Apple Watch Series 4 starts at $399 and includes a model for $499. The product starts shipping later this month, though the electrocardiogram feature won't be available until sometime later this year, according to news reports.
The strongest push back against Williams' statement comes from Vic Gundotra, CEO of Mountain View-based AliveCor.
His company also produces over-the-counter ECG devices and has been doing so for several years. Specifically, it makes an FDA-cleared band for the Apple Watch, called KardiaBand, which sells for $199, as well as a version that attaches to a smartphone, called Kardia.
CEO claims Apple used 'alternative facts'
"We were watching [the announcement], and we were surprised," Gundotra told Business Insider on Thursday. "It was amazing, it was like us being on stage, with the thing we've been doing for 7 years," referring to AliveCor's product for detecting atrial fibrillation (AFib), a tough-to-spot heart disorder that manifests as an irregular, often quick heart rate that can cause poor circulation.
"Although when they said they were first to go over-the-counter, we were surprised," Gundotra continued. "Apple doesn't like to admit they copy anyone, even in the smallest things. Their own version of alternative facts."
When we asked AliveCor about the issue, a spokesman provided a toned-down statement from Gundotra:
"Apple's advances in cardiac monitoring validate the need for this mobile ECG technology -- a path which AliveCor paved with our Kardia products," the statement said. "These still stand as the first and most clinically validated over-the-counter FDA-cleared consumer ECG devices."
Apple unveiled its new Apple Watch Series 4 in San Francisco this week. Associated Press file photo.
Statement falls short?
In addition to Gundotra's comments, a New York Times report called out Williams' claim.
So did an article at TechCrunch.com:
"While Apple loves to be first to things, that statement is false. AliveCor has held the title of first since 2014 for its KardiaMobile device, a $100 stick-like metal unit you attach to the back of a smartphone."
The article links to a 2014 AliveCor press release announcing it had received federal over-the-counter clearance for the AliveCor Heart Monitor, a single-channel ECG recorder.
Subtle difference?
A CNBC article presents what it calls a subtle difference between AliveCor and Apple's new product:
It says: "Once a consumer buys an AliveCor device, they take an EKG reading (via a smartphone attachment or their Apple Watch band), and wait until a doctor unlocks it within 24 hours to get an initial reading on the app.
Apple designed its system differently. The FDA cleared the company to provide these readings to consumers right away, allowing users to share the results with a physician if they choose."
Turning back to AliveCor, the company's website says a physician's reading is necessary only for the first test of its product.
"Due to regulatory necessity, new U.S. accounts are required to have their first EKG reviewed by a U.S. board-certified cardiologist free of charge (a $19 value within the app). You will be blocked for up to 24 hours from EKG features until the review is complete (although it is often much faster)."
Our ruling
Apple Chief Operating Officer Jeff Williams said the new Apple Watch Series 4 "is the first ECG product offered over-the-counter directly to consumers."
That claim ignores the fact that start-up AliveCor has produced over-the-counter ECG devices for several years.
The AliveCor device requires a cardiologist to review the first test, while that won't be necessary for the Apple watch.
This is a very subtle distinction and not enough to stand up Williams' claim.
We rate it False.
---
FALSE – The statement is not accurate.
Click here for more on the six PolitiFact ratings and how we select facts to check.
Jeff Williams, Apple's chief operating officer, speech, Sept. 12, 2018
Hannah Boss, spokeswoman for AliveCor, email exchange, Sept. 13, 2018
AliveCor, press release, ALIVECOR RECEIVES FDA OVER-THE-COUNTER CLEARANCE FOR ITS HEART MONITOR, Feb. 10, 2014
The New York Times, Apple Unveils Bigger iPhones at Higher Prices, and a Heart-Tracking Watch, Sept. 12, 2018
TechCrunch.com, Apple's Watch isn't the first with an EKG reader but it will matter to more consumers, Sept. 13, 2018
Business Insider, 'Apple doesn't like to admit they copy anyone, even in the smallest things' — this startup CEO says that Apple is using 'alternative facts' to market the new Apple Watch, Sept. 13, 2018
Business Insider, This FDA-cleared Apple Watch band can actually tell you if your heart isn't working properly, Nov. 30, 2017
Browse the Truth-O-Meter
More by Chris Nichols
Support independent fact-checking.
Become a member!
In a world of wild talk and fake news, help us stand up for the facts.