Get PolitiFact in your inbox.
Scott Wallace wants to tax families of five for 'irresponsible breeding'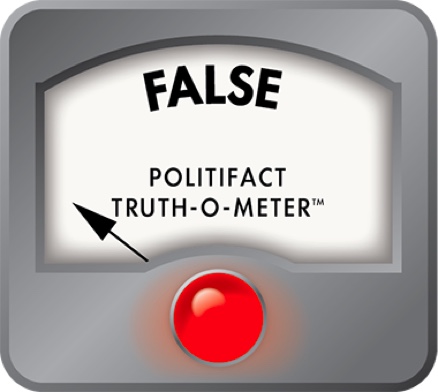 No, congressional candidate Scott Wallace does not want to tax families for 'breeding'
Scott Wallace's family foundation has caused quite a few headaches for the multimillionaire, who is running for U.S. Congress in Pennsylvania's 1st District.
The GOP and conservative media outlets have used grants made by the Wallace Global Fund, which the candidate led for more than a decade, to paint the Democrat as anti-Israel and anti-police. Wallace will face Republican incumbent Brian Fitzpatrick in a recently redrawn district that includes Bucks County and left-leaning Philly suburbs.
A number of stories published this summer by right-leaning outlets focused on grants the foundation made to so-called population control groups. Now, a particularly incendiary claim has made its way into a TV ad created by the National Republican Congressional Committee.
The ad claims Wallace "wants to tax families of five for 'irresponsible breeding.'" The NRCC released a similar web ad that states Wallace "thinks families with more than two children should be 'taxed to the hilt.'"
Does Wallace, who has three children, actually advocate for a multi-child tax? We decided to fact-check the claim.
When contacted for comment, NRCC Regional Press Secretary Chris Martin cited a Fox News article from July that reported on the Wallace Global Fund's donations to groups that advocate limiting population growth.
As Fox News reported, the Wallace Global Fund donated money to a group called Zero Population Growth — now known as Population Connection — between 1997 and 2003. From the article:
The group, shortly after being founded in 1968, released a brochure advocating abortion to stabilize population growth and claimed that "no responsible family should have more than two children." To deal with larger families, it also called for families to be "taxed to the hilt" for "irresponsible breeding."
According to Wallace's spokesperson, Zoe Wilson-Meyer, the candidate inherited the foundation from his parents in late 2003, after the donations were made. While the foundation's 990 tax form for that year lists Wallace as "president," internal meeting minutes show he was elected to that position in December 2013, according to Wallace Global Fund Executive Director Ellen Dorsey.
Regardless of when Wallace took over his family's foundation, it's clear that he supports the aims of groups that seek to stabilize population growth through voluntary family planning.
His father, the late Robert B. Wallace, was co-chairman of Population Action International, which advocates for increased access to birth control and other family planning methods.
"When my generation took over the foundation in 2002 after my parents had both passed away, we developed an increasing focus on the climate crisis, which has only reaffirmed the importance of our population work," Wallace wrote in an essay for the Universal Access Project. "The population trajectory, combined with the inevitable aspirations of people in emerging economies to burn more fossil fuels and own more stuff – just like Americans! – is worse than unsustainable; it's a pathway to disaster. And population growth won't abate unless women have access to voluntary family planning, and girls are protected against coerced early marriage and childbearing."
Under Wallace's leadership, the foundation gave grants to Population Action International as well as the Population Council and Worldwatch Institute. The grants were earmarked for purposes including eradicating female genital mutilation, "research on population and the environment," and "global reproductive health and rights," according to the foundation's Form 990 tax documents.
The NRCC's Martin also pointed to an endorsement for Wallace by the Population Connection Action Fund, the political arm of the group that produced the 1968 brochure.
This isn't the first time the NRCC has tried to link candidates endorsed by the fund to the brochure's content. As The Morning Call reported, Martin emailed reporters about the organization's endorsement of Democrat Susan Wild in Pennsylvania's 7th District: "Out of curiosity, how many children does Susan Wild think families should be able to have before they're taxed to the hilt?"
Brian Dixon, a spokesperson for the Population Connection Action Fund, told the paper, "We do not advocate for increasing taxes on parents of any size family. We believe that parents should have exactly the number of children that they want."
Dixon reiterated that statement when contacted by PolitiFact Pennsylvania, adding that he has never seen the 1968 brochure.
"Even if it exists, it was written 50 years ago," Dixon said. "The world has changed a lot since."
Wallace's campaign spokesperson said he does not personally advocate for a multi-child tax, and PolitiFact Pennsylvania was unable to locate any public records to contradict that statement.
Our ruling
When Scott Wallace held the reins, the candidate's family foundation awarded grants to nonprofits that advocate for family planning in order to limit population growth worldwide. An NRCC ad attempts to link Wallace to statements made in a 50-year-old brochure produced by a group his family foundation gave money to between 1997 and 2003.
But Wallace has never personally called for the taxation of people with more than two children or accused them of "irresponsible breeding." We rate this claim False.
YouTube, "PA-01: 'Irresponsible,'" NRCC IE, Accessed Sept. 12, 2018
YouTube, "Scott Wallace: The Anti-Human Candidate," NRCC Communications, Accessed Sept. 11, 2018
News story, "Top Dem candidate gave millions to groups advocating for taxing families 'to the hilt' for 'irresponsible breeding,'" Fox News, July 20, 2018
Tax filings, Wallace Global Fund II 990s, accessed Aug. 2, 2018
Email interview, Zoe Wilson-Meyer, Scott Wallace campaign spokesperson, Aug. 2, 6 and 7; Sept. 11 and 12 2018
Email interview, Chris Martin, NRCC regional press secretary, Sept. 12 and 13, 2018
Phone interview, Ellen Dorsey, Wallace Global Fund executive director, Sept. 12, 2018
Email interview, Brian Dixon, Population Connection senior vice president for media and government relations, Sept. 12, 2018
News story, "Robert Wallace Dies," the Washington Post, Oct. 13, 2002
Blog post, "Scott Wallace," Universal Access Project, accessed Aug. 6, 2018
NRCC website, "Endorsement Update," accessed Sept. 11, 2018
Browse the Truth-O-Meter
More by Sarah Anne Hughes
Support independent fact-checking.
Become a member!
In a world of wild talk and fake news, help us stand up for the facts.