Stand up for the facts!
Our only agenda is to publish the truth so you can be an informed participant in democracy.
We need your help.
I would like to contribute
Since 2009, "millions of Americans have lost their health care plans."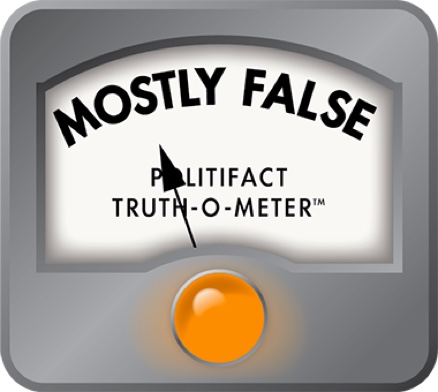 Hawley's claim of lost health care plans has it upside down
Josh Hawley, Missouri's attorney general and Republican candidate for U.S. Senate, is taking a strong stance on health care and the effects of the Affordable Care Act as he campaigns across Missouri.
The act, signed into law in early 2010 by President Barack Obama, has a goal of providing accessible and affordable health insurance to more people. It also sought to expand Medicaid and provide support for medical research techniques aimed at decreasing health care costs.
"McCaskill told us that if we liked our healthcare plans, we could keep them. She said the cost of health insurance would go down. She said prescription drug prices would fall. She lied. Since then, millions of Americans have lost their health care plans." 
Because of the contradiction between Hawley's assertion and the promises of the ACA to insure more Americans, we decided to take a closer look.
Where do his claims come from?
When we asked his campaign team about the claim, we were linked to a Washington Post blog by Sarah Kliff from 2013. This blog, along with several other supporting documents sent to us, focuses on cancellation notices sent out by insurance providers to those with plans that were grandfathered in when the Affordable Care Act took effect.
"Grandfathered plans" are plans that didn't meet ACA standards but were still allowed to be sold as coverage for a period of time after the ACA was enacted. The notices made people aware that their grandfathered plans were being phased out of the insurance marketplace, as explained by Kliff in her post.
They also provided other coverage options and at least 90 days notice prior to the plan being discontinued, per government requirements for the individual health insurance market.
On the surface, these notices can seem alarming, so we reached out to experts to see if they actually meant that people who received them lost health care coverage.
Benjamin Sommers, associate professor of health policy and economics at Harvard University, said it is entirely possible that some people who received cancellation notices lost health care coverage, but only if they didn't seek new coverage.
Most individuals would have been able to obtain new coverage after receiving a cancellation notice.
"Many of those individuals were likely eligible for subsidized coverage under the ACA and may have been able to switch onto those plans, in some cases at lower cost," said Sommers.
How did the ACA affect the number of covered Americans?
A Centers for Disease Control and Prevention report shows that in the years following the enactment of the health care act, the percentage of uninsured Americans ages 18-64 has steadily dropped from 22.3 percent in 2010 to almost 12 percent this year. The biggest drop during the time when the main provisions of the ACA took effect was between 2013 and 2015.
We spoke to expert Loren Adler, associate director for the USC-Brookings Schaeffer Initiative for Health Policy, about the number of Americans the policy incorporated. He noted that roughly 20 million more people gained health care coverage during this time period.
Cicily Hampton, senior director of health science and policy at the Society for Public Health Education, said the uninsured rate is likely to rise after Congress dropped the individual mandate in its December 2017 tax bill.
The individual mandate penalizes people who did not buy any health insurance although they could afford to by requiring them to pay a fee, subsequently causing more people to purchase insurance plans. By removing this, some Americans may not purchase health insurance because they will no longer be fined for doing so.
U.S. Senate candidate Josh Hawley wrote in an op-ed for the Springfield News-Leader that "millions of Americans have lost their healthcare plans." He has focused in on this issue as a part of his campaign.
But our experts and even the source provided by Hawley's team contradicted this, clarifying that just because you received a cancellation notice doesn't mean that you no longer have health insurance.
Hawley's claim is misleading because it asserts that coverage was automatically lost. Other options and a sizable time period were given to those experiencing cancellations. Coverage was only lost if a new plan was not sought out by the individual before his or her  previous plan was phased out.
For those reasons, we rate this claim Mostly False.
Springfield News-Leader, "Missourians deserve quality healthcare at affordable prices," Aug. 20, 2018
Josh Hawley, Facebook Post, Sept. 2, 2018
Centers for Disease Control and Prevention, Health Insurance Coverage: Early Release of Estimates From the National Health Interview Survey, January-March 2018, Aug. 2018
HealthCare.gov, Affordable Care Act (ACA), accessed on Sept. 10, 2018
HealthCare.gov, No health insurance? How much you'll pay, accessed on Sept. 10, 2018
U.S. Government Publishing Office, Guaranteed renewability of individual health insurance coverage, current as of Sept. 14, 2018
Washington Post, "This is why Obamacare is canceling some people's insurance plans", Oct. 29, 2013
Interview, Benjamin Sommers, Harvard University health policy and economics professor, Sept. 4, 2018
Interview, Cicily Hampton, senior director at the Society for Public Health Education, Sept. 10, 2018
Interview, Loren Adler, associate director at the Center for Health Policy, Sept. 10, 2018
Browse the Truth-O-Meter
More by Ryan Hanrahan
Support independent fact-checking.
Become a member!
In a world of wild talk and fake news, help us stand up for the facts.