Stand up for the facts!
Our only agenda is to publish the truth so you can be an informed participant in democracy.
We need your help.
I would like to contribute
Says "nearly half" of House Republicans have supported a nonpartisan redistricting bill.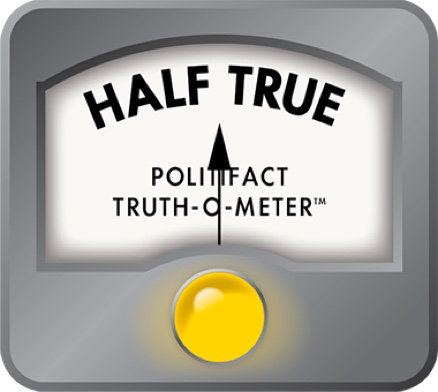 NC Republican half-right about GOP support for redistricting reform
There's more support for redistricting reform than meets the eye, according to one North Carolina legislator.
For decades, North Carolina's election maps have been criticized as biased toward whichever party controlled the legislature when the maps were drawn. And currently, the state faces four different legal challenges to its maps.
So Rep. Chuck McGrady, a Republican from Henderson County, hopes the legislature will change its ways before the maps need to be redrawn in 2021. On Feb. 13, McGrady introduced a bill that would shift redistricting responsibilities from the legislature to a committee of non-politicians.
Given GOP legislators have controlled the state House and state Senate since 2011, it may seem like Republicans aren't interested in redistricting reform. But that's not so, McGrady claims.
"In my caucus, nearly half of the Republicans now serving have voted for this type of bill … or have cosponsored one or more of the nonpartisan redistricting bills," McGrady said Wednesday during a press conference.
There are currently 65 Republicans in the House. For McGrady's claim to be correct, about 33 of them need to have previously supported a redistricting bill.
How close does McGrady come? If we're talking about House Republicans who supported bills before 2019, McGrady comes up a little short – something he realized when contacted by PolitiFact.
McGrady said he got his information from Bob Phillips, executive director of Common Cause NC, a left-leaning voting rights advocacy group. McGrady miscounted the number of legislators who previously supported nonpartisan redistricting, he said in an email.
"I didn't realize I was double counting some members since they were included both as voting for a bill and cosponsoring one or more bills," McGrady said, referring to a list he was given.
It's also important to note that Republicans who previously supported a nonpartisan redistricting bill aren't necessarily going to support it this year.
Still, McGrady's not that far off. His prediction comes close, but only because of Republicans who support his bill this year.
Let's walk down memory lane.
A 2011 BILL
Among the bills McGrady mentioned in his press conference was House Bill 824, a bill introduced in 2011 that would've created a nonpartisan redistricting process.
Five current House members were among the bill sponsors:
David Lewis of Harnett County
John Faircloth of Guilford
Julia Howard of Davie
Sarah Stevens of Surry (House Speaker pro tempore)
Harry Warren of Rowan.
Ten more voted for the bill at least once:
Hugh Blackwell of Burke County,
William Brisson of Bladen (who in 2011 was a Democrat)
George Cleveland of Onslow
Jimmy Dixon of Duplin
Craig Horn of Union
Pat Hurley of Randolph
Linda Johnson of Cabarrus
Pat McElraft of Carteret
• Tim Moore of Cleveland
• John Torbett of Gaston
That makes 15 Republican legislators who voted on HB 824.
A 2013 BILL
In 2013, a bipartisan group of legislators filed another nonpartisan redistricting bill.
The bill, HB 606, was never put up for a vote. But several Republican supporters of the 2011 bill sponsored HB 606, as well as these six other Republicans:
Jay Adams of Catawba County
Jon Hardister of Guilford
Jason Saine of Lincoln
Phil Shepard of Onslow
John Szoka of Cumberland
McGrady, the bill sponsor.
So far, that puts our count of nonpartisan redistricting supporters at 21 Republicans.
BILLS IN 2015, 2017
In 2015, HB 92 sought to form a nonpartisan redistricting commission. It was never voted on, but several current Republicans supported it, including John Fraley of Iredell County and Lee Zachary of Yadkin.
A similar bill, HB 200, was introduced in 2017 and never voted on. Cody Henson of Transylvania County was among a handful of Republican sponsors.
By our count, 24 Republican House members supported nonpartisan redistricting bills before this year.
That brings us to 2019 and the bill McGrady just introduced, HB 69. It's sponsored by eight Republicans who weren't already on our list:
Jerry Carter of Rockingham County
Kevin Corbin of Macon
Ted Davis of New Hanover
Edward Goodwin of Chowan
Holly Grange of New Hanover
Bobby Hanig of Currituck
Stephen Ross of Alamance
Wayne Sasser of Stanly County.
(Goodwin, Hanig, Ross and Sasser added their names to the bill after McGrady's press conference.)
That means, as of 3 p.m. Friday afternoon, 32 House Republicans have cosponsored or voted for a nonpartisan redistricting bill at some point. Additionally, Republican Reps. Greg Murphy of Pitt County and Keith Kidwell of Beaufort signed a pledge with Common Cause NC, to support an independent, nonpartisan redistricting commission.
OUR RULING
McGrady said "nearly half" of House Republicans have supported a nonpartisan redistricting bill. Only 24 House Republicans (about 37 percent) supported a nonpartisan redistricting bill before 2019, which isn't close to half of the 65 GOP House members.
But, when you consider Republican support for his new bill, he's pretty much right that nearly half of House Republicans have supported the idea of nonpartisan redistricting at some point. We rate this claim Half True.
This story was produced by the North Carolina Fact-Checking Project, a partnership of McClatchy Carolinas, the Duke University Reporters' Lab and PolitiFact. The NC Local News Lab Fund and the International Center for Journalists provide support for the project, which shares fact-checks with newsrooms statewide. To offer ideas for fact checks, email [email protected].
Video provided by Will Doran, reporter for the News & Observer.
Email correspondence with NC Rep. Chuck McGrady, a Republican from Henderson County.
Email correspondence with Bryan Warner, director of communications for Common Cause North Carolina.
Email correspondence with Bob Phillips, executive director of Common Cause North Carolina.
House Bill 824, introduced in 2011.
House Bill 606, introduced in 2013.
House Bill 92, introduced in 2015.
House Bill 200, introduced in 2017.
House Bill 69, introduced in 2019.
A pledge to Common Cause NC to "support the creation of an independent, nonpartisan redistricting process for congressional and legislative districts in the upcoming 2019 legislative session.
Story by The News & Observer, "This session might be the best chance in the next decade to end gerrymandering," published Feb. 13, 2019.
Fact check by PolitiFact, "Do NC, Texas face more election lawsuits than all other states combined?," published Feb. 8, 2019.
Browse the Truth-O-Meter
More by Paul Specht
Support independent fact-checking.
Become a member!
In a world of wild talk and fake news, help us stand up for the facts.