Stand up for the facts!
Our only agenda is to publish the truth so you can be an informed participant in democracy.
We need your help.
I would like to contribute
Says Dan McCready "really admires socialism."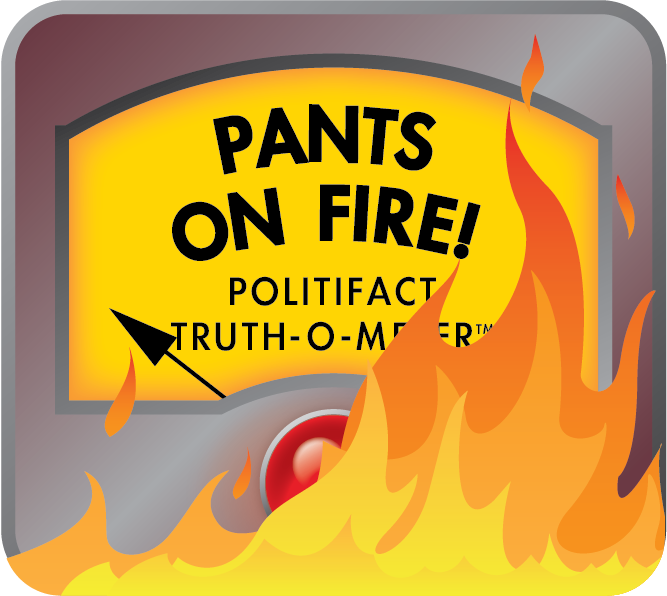 The Bishop campaign says McCready 'really admires socialism.' Pants on Fire!
In an ad released in the final weeks before a special election in North Carolina's 9th Congressional District, Republican Dan Bishop claimed his opponent Dan McCready is a socialist.
The ad opens with a mash-up of video clips in which President Donald Trump says, "Dan McCready … is an ultra liberal. … He likes open borders, and he really admires socialism."
The footage comes from a rally in Greenville, N.C., in July when Trump endorsed Bishop and attacked his opponent. Even though the words come from Trump, the Bishop campaign chose to use the claim in its ad, so we are rating Bishop in this fact-check. 
Next, the ad shows McCready alongside Speaker of the House Nancy Pelosi, Sen. Bernie Sanders, and freshman Rep. Alexandria Ocasio-Cortez while a voiceover drones, "Dan McCready, a liberal backed by radicals who want open borders and socialized medicine."
Other Republicans have made similar charges about McCready, the Democratic nominee, being a socialist, so we decided to check it out.
We're mindful that this is a familiar page from the Republican playbook. PolitiFact has explored many similar claims about Barack Obama, Sen. Bill Nelson and three members of the Ohio congressional delegation, among others. (In the case of the Ohio Democrats, not just socialists, but "card-carrying socialists.") Those claims were all rated Pants on Fire.
And so it's no surprise that Bishop's claim is also ridiculously false. In fact, McCready is a business owner who proudly proclaims himself a capitalist.
McCready distances himself from left-wing national politicians
Under socialism, the government controls the means of production. But McCready hasn't called for the end of the private sector. To the contrary, he started his own clean energy investment firm, Double Time Capital. 
We contacted Bishop's campaign to find out what evidence it had of McCready's socialist leanings and got no reply. 
So we tried on our own. We searched McCready's website and his statements and found no evidence to back up the claim from Bishop's ad.
The National Republican Congressional Committee suggested that McCready was a socialist in a May statement linking him with "his party's radical ideas such as infanticide, a socialist takeover of the entire economy with the Green New Deal and government-run socialized health care."
That's a common tactic, said Dr. J. Michael Bitzer, history and politics professor at Catawba College. Republicans often try to group local Democratic candidates with more liberal national politicians to sway voters. 
"First, it was tying all Democratic candidates to Nancy Pelosi in 2018 to try to lower their favorability. Then, with the president going after AOC and the Squad, guilt by association has become a standard mantra for Republican campaigns," Bitzer said.
In fact, experts say McCready intentionally has distanced himself from left-wing Democrats in Congress. One Washington Post article tallies all of the ways he's done that: "He pledged not to support Nancy Pelosi for House speaker. He opposed impeachment. He returned a donation from Rep. Ilhan Omar of Minnesota after she suggested that Israel's advocates were buying off Congress."
McCready doesn't support open borders or socialized medicine
A recent Trump tweet echoed that McCready "wants Open Borders, Sanctuary Cities, and Socialism." (PolitiFact checked Trump's claim about McCready's immigration stances and rated it Mostly False.)
McCready's policy proposals are a far cry from socialist. They often don't even go as far as the mainstream Democratic platform.
"There's some distance between McCready and the national Democratic platform," said Dr. Susan Roberts, political science professor at Davidson College. "He does not support Medicare for All. He does not support a ban on assault weapons."
Also, he's repeatedly dismissed the Green New Deal and other policies embraced by many Democratic presidential candidates.
In a CNN interview, McCready scoffed at Bishop's attacks. "Unfortunately for him, he's not running against a socialist. He's running against a capitalist who's built a business from scratch."
Our ruling
Bishop, Trump, and the NRCC are trying to portray the Democratic candidate McCready as a socialist, but there's simply no evidence to support their absurd charge. 
McCready is a businessman who has benefited from capitalism and even has distanced himself from liberal Democrats. 
As election day nears, we need to take a match to the Truth-O-Meter. Pants on Fire!
Dan Bishop, "A Great Congressman," August 30, 2019
Interview, Dr. J. Michael Bitzer, history and politics professor at Catawba College, September 4, 2019
Interview, Dr. Susan Roberts, political science professor at Davidson College, September 5, 2019
CNN, Interview with Dan McCready on New Day, August 29, 2019
Dan Bishop tweet, May 15, 2019
Donald J. Trump tweet, August 22, 2019
Merriam-Webster, "socialism"
NRCC, "NRCC Chairman Tom Emmer's Statement on the NC-09 Special Primary Election," May 15, 2019
Charlotte Observer, "Republican Dan Bishop wins NC District 9 GOP primary to face Democrat Dan McCready," May 14, 2019
Charlotte Observer, "9th District candidates turn to the grassroots — and the president — in final push," September 3, 2019
WFAE, "Dan McCready On Immigration, Gun Control And Trade," May 17, 2019
PolitiFact, "Trump misleads NC about Dan McCready's immigration stances," August 30, 2019
Washington Post, "The Trailer: How a moderate Democrat runs for Congress in the age of the Squad," July 28, 2019
Politico, "'Bathroom bill' author wins GOP nomination in North Carolina redo race," May 14, 2019
Associated Press, "GOP shifts focus to House Dem 'squad' in campaign attacks," August 31, 2019
Browse the Truth-O-Meter
More by Julianna Rennie
Support independent fact-checking.
Become a member!
In a world of wild talk and fake news, help us stand up for the facts.