Get PolitiFact in your inbox.
People are handing out masks "doused with chemicals which knocks you out cold" so they can rob you.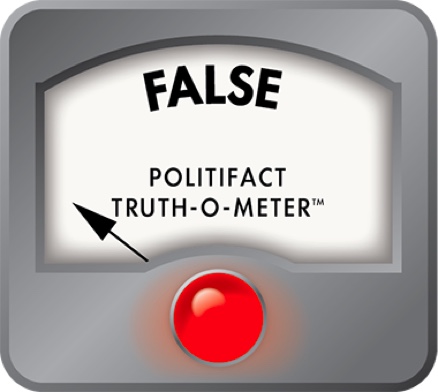 A widespread warning about thieves knocking out their victims with face masks lacks evidence
If Your Time is short
This warning has surfaced in countries including the United States and the United Kingdom, but we found no credible reports to back it up.
Amid a shortage of face masks, the Centers for Disease Control Prevention now recommends all U.S. residents wear face coverings in public places. So a government initiative to deliver masks to people's homes would seem like welcome news, at least if the threat of a robbery didn't loom behind it. 
"WARNING," reads an image being shared on Facebook. "A new thing circulating now. People are going door to door handing out masks. They say it's a new initiative from local government. They ask you to please put it on to see if it fits. It's doused with chemicals which knocks you out cold. They then rob you!! Please DO NOT accept masks from strangers. Remember friends, it's a critical time and people are desperate, the crime rate will spike. Please be cautious & safe!" 
This post was flagged as part of Facebook's efforts to combat false news and misinformation on its News Feed. (Read more about our partnership with Facebook.) 
The cautionary tale is similar to others we've already debunked — there aren't actually reports of people in Las Vegas pretending to be from the Census only to rob residents, nor are there reports of criminals posing as COVID-19 testers in Colorado Springs. 
One Facebook account sharing this new warning claims it came from someone connected to "Chesapeake Law Enforcement."
The police department in Chesapeake, Va., did not immediately respond to PolitiFact's call about the post.  
But Reuters, which fact-checked other posts with the same message, looked at posts claiming the thieves were prowling around the United Kingdom. The unfounded warning has spread globally as worried people share it online.  
In Jackson, Miss., the police chief posted on Facebook that "apparently there are individuals going to citizens' homes asking them to try on a mask."
"THIS IS A SCAM!!!!," Chief James Davis said in the post. "Do not answer your door for individuals asking you to try on (a) mask for protection against the coronavirus." He didn't mention robbery or say that the masks were doused in chemicals that would knock out the victims who tried them on. 
A spokesperson for the city did not immediately respond to PolitiFact's phone call and email asking if that has happened in the community there.
Searching for more information about robbers handing out compromised face masks, however, we found no other news stories covering such reports. We did find several fact-checks from news organizations debunking the claim. 
Certainly, there is criminal activity connected to face masks. The New York Post reported on April 8 that a businessman is accused of stealing and selling about 2 million masks. A New York Times story about "coronavirus bandits" details two armed robbers who stole as much as $270,000 from a racetrack in Queens wearing surgical masks. CNBC says people are stealing masks from doctors' offices over coronavirus fears.
Common sense advice would be not to try on masks offered by strangers. (And aren't you supposed to be staying home anyway?) But we found no evidence would-be thieves were  actually doing what the post says. 
There are no credible reports of people handing out masks doused with chemicals so they can rob passed-out victims. We rate this Facebook post False. 
Facebook post, April 5, 2020
Wired, The Defense Production Act won't fix America's mask shortage, April 6, 2020
Centers for Disease Control and Prevention, Cloth face covers, visited April 8, 2020
Reuters, False claim: criminals in the UK are handing out chemically-doused masks to commit robbery, April 3, 2020
Snopes, Are thieves handing out masks with chemicals that make you pass out?, April 3, 2020
Clarion Ledger, Coronavirus in Mississippi: Jackson police warn of mask scam, April 6, 2020
Jackson Police Department post, April 5, 2020
New York Post, Man busted for stealing, selling about 2 million coronavirus face masks, April 8, 2020
The New York Times, Coronavirus bandits? 2 armed men in surgical masks rob racetrack, March 8, 2020
CNBC, People are stealing hand sanitizer and surgical masks from doctors' offices because of coronavirus fears, March 10, 2020
Browse the Truth-O-Meter
More by Ciara O'Rourke
Support independent fact-checking.
Become a member!
In a world of wild talk and fake news, help us stand up for the facts.