Stand up for the facts!
Our only agenda is to publish the truth so you can be an informed participant in democracy.
We need your help.
I would like to contribute
"All of the aid has not arrived" to Ukraine.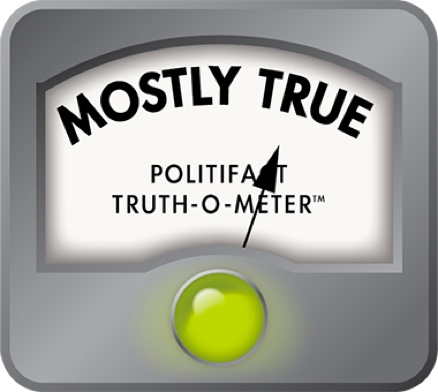 Is Ukraine really still waiting on US aid? A small amount is still outstanding
If Your Time is short
About $17 million, out of $250 million has not yet been obligated.
President Donald Trump's hold on $400 million in aid for Ukraine is at the heart of the Senate impeachment trial. One of the Democratic House managers said Ukraine is still waiting on what the United States promised to send.
"The aid, although it did arrive, it took the work of some senators in this room who had to pass additional laws to make sure that the Ukrainians did not lose out on $35 million additional dollars," said Rep. Val Demings, D-Fla., Jan. 29. "Contrary to the president's tweet that all of the aid arrived and that it arrived ahead of schedule, that is not true. All of the aid has not arrived."
As Demings said, Trump was wrong to say the aid was delivered ahead of time (see this report from FactCheck.org.)
But we wanted to know whether Ukraine was still waiting on some amount of American support, even now.
Aid, interrupted
Demings has a point that not every dollar intended for Ukraine has been delivered. 
The money was supposed to come in two pots: $250 million managed by the Pentagon for military aid and $141 million managed by the State Department.
Trump's hold on the aid last summer sent it off the usual path. The question about what federal dollars have not yet arrived relates to defense money.
Here's a refresher on the relevant events from 2019:
June 18: The Defense Department announced plans to provide $250 million to Ukraine. 
July: Trump ordered the Defense Department money, and $141 million in State Department aid, to be frozen ahead of his July 25, 2019, call with Ukrainian President Volodymyr Zelensky. Emails show that Pentagon and OMB staff were scrambling to freeze the aid July 24-25, and paperwork to freeze the aid was in the works before the phone call. The New York Times reported that Trump first asked about freezing the aid in June. 
Aug. 12: A whistleblower filed a complaint about Trump's phone call and related actions. 
Sept. 11: Under pressure, the White House released nearly $400 million of frozen U.S. aid to Ukraine.
The White House's reversal didn't leave time to disburse all of the money before the end of the fiscal year on Sept. 30.
On Sept. 27, 2019, Trump signed a continuing appropriations bill to extend the $250 million in Ukraine Security Assistance Initiative funds for another year.
Most of the aid was obligated, the term the federal government uses to refer to money that the government has promised to spend. But a small portion wasn't. 
Mark Sandy, an official in the Office of Management Budget, said in his House deposition that roughly $35 million had not been obligated. Without the September extension, those funds would have expired, he said. 
Some of those funds were intended for lethal equipment and radars, according to a Nov. 18 letter from four Democratic senators.
About 93% of the $250 million designated for Ukraine by Congress has been obligated, said Pentagon spokeswoman Lt. Col. Carla Gleason. That means about $17 million has not yet been obligated.
Officials at the Office of Management and Budget have argued that it's common for agencies to not fully spend their money by the end of the fiscal year, including for Ukraine aid. But the Government Accountability Office concluded that the office violated the federal Impoundment Control Act by withholding security assistance to Ukraine.
"It's atypical that $35 million out of $250 million wouldn't be spent by the end of the fiscal year, especially when (the Defense Department) certified that Ukraine was meeting the anti-corruption and transparency conditions outlined by Congress," said Seamus P. Daniels, a defense budget expert at the Center for Strategic and International Studies.
Our ruling
Demings said "all of the aid has not arrived" to Ukraine.
The Defense Department told us that of the $250 million, about $17 million has not yet been obligated. That's about 7%. When Trump unfroze the aid in September, that left little time until the end of the fiscal year that month. Congress passed a continuing appropriations bill so the funds could be carried over into 2020. 
We rate this claim Mostly True.
Sen. Patrick Leahy, Tweet, Jan. 29, 2020
U.S. Sen. Dick Durbin, Press release, Nov. 18, 2019
Mark R. Paoletta General Counsel, Letter to Government Accountability Office, Dec. 11, 2019
New York Times, Trump Falsely Claims That Ukraine Aid Arrived 'Ahead of Schedule,' Jan. 7, 2020
Politico, Morning Defense, Sept. 30, 2019
Washington Post, Dershowitz defends quid pro quo, saying Trump believes his reelection is in the public interest; Two days of questions and answers are expected before the senators take a crucial vote on whether to call witnesses as part of the trial, Jan. 29, 2010
Fox News, Esper: Delay of Ukraine aid did not have 'any impact on U.S. national security' Dec. 8, 2019
New York Times, Behind the Ukraine Aid Freeze: 84 Days of Conflict and Confusion, Dec. 29, 2019
PolitiFact, Timeline: The Trump impeachment inquiry, 2019-2020
Email interview, Daniel Gleick, Rep. Val Demings spokesman, Jan. 30, 2020
Telephone interview, Michael Casalla, branch chief international economic affairs for the Office of Management and Budget 2000-2005, Jan. 30, 2020
Telephone interview, Rachel Semmel, Office of Management and Budget spokeswoman, Jan. 30 ,2020
Email interview, Seamus P. Daniels is a research associate and program manager for Defense Budget Analysis in the International Security Program at the Center for Strategic and International Studies, Jan. 30, 2020
Email interview, Shannon Dick, a research analyst at the Stimson Center, Jan. 30, 2020
Browse the Truth-O-Meter
More by Amy Sherman
Support independent fact-checking.
Become a member!
In a world of wild talk and fake news, help us stand up for the facts.