Timeline: The Trump impeachment inquiry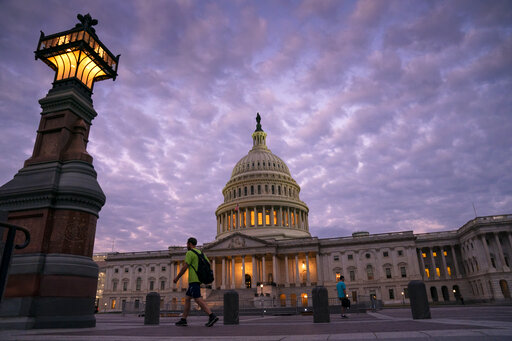 Last updated with new events Oct. 30.
House Democrats have launched an impeachment inquiry to investigate President Donald Trump and whether he abused his presidential power. Trump is accused of pressuring Ukraine to investigate former Vice President Joe Biden, a potential challenger in the 2020 election.
This timeline documents what we know so far about the impeachment inquiry. The sources are either verified events, court filings, public statements, or on-the-record media reports.
Have feedback or questions? Email us at [email protected]
Winter 2013-14: A popular revolution begins in Ukraine after its president tries to strengthen ties with Russia. Vice President Joe Biden assumes a lead role in U.S. diplomacy there.
Feb. 21, 2014: Ukrainian President Viktor Yanukovych goes into exile in Russia.
April 18, 2014: Hunter Biden, 44, son of Joe Biden, joins the board of directors of Burisma Holdings, a Ukrainian energy company. Biden's directorship attracts attention because Burisma is owned by Mykola Zlochevsky, a minister under Yanukovych. Zlochevsky and subsidiaries of Burisma had faced accusations of money laundering, fraud and tax evasion. (Zlochevsky and the company have denied the allegations.)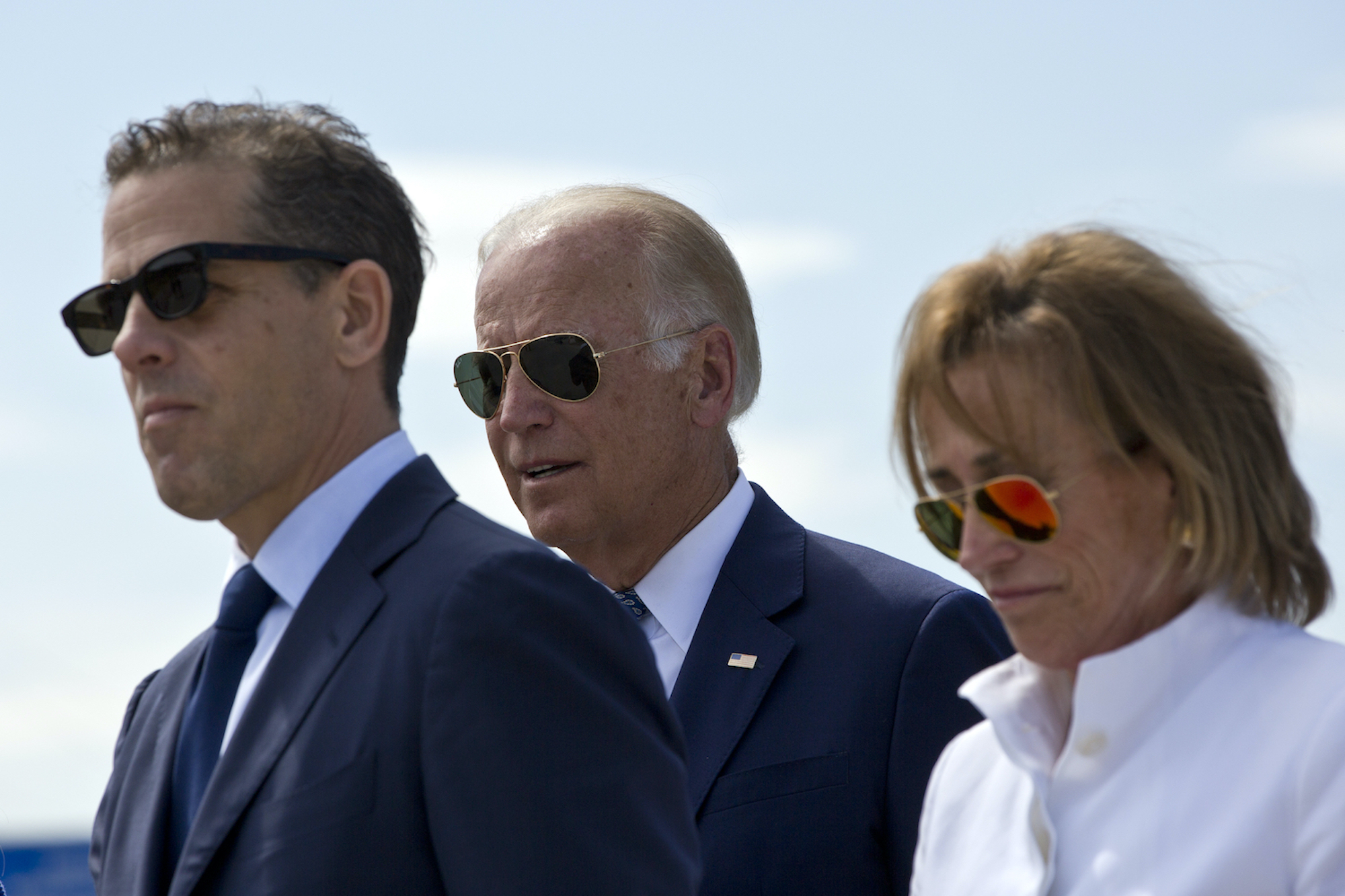 U.S. Vice President Joe Biden, center, son Hunter Biden, left, and his sister Valerie Biden Owens, right, at a ceremony in Sojevo, Kosovo, Aug. 17, 2016. (AP)
Feb. 10, 2015: Ukraine appoints Viktor Shokin as prosecutor general. Shokin inherits some of the investigations into Zlochevsky and his company. But Vitaliy Kasko, who serves as Shokin's deputy overseeing international cooperation until he resigns in protest, later tells Bloomberg in 2019 that, under Shokin, the investigation into Burisma remained dormant. Kasko says the matter was "shelved by Ukrainian prosecutors in 2014 and through 2015," and Bloomberg reports that documents back up his account.
Winter 2015-16: Many Western leaders and institutions, as well as Ukrainian anti-corruption activists, view Shokin as corrupt and ineffective for failing to prosecute anybody of significance and for protecting members of Yanukovych's and Poroshenko's circles. Biden threatens to withhold $1 billion unless Shokin is fired. (He later brags that his pressure tactics succeeded.)
March 29, 2016: Shokin is sacked by Ukraine's parliament.
May 12, 2016: Yuri Lutsenko succeeds Shokin as Ukraine's prosecutor general.
Jan. 2017: Burisma announces that all open legal cases against Zlochevsky and Burisma companies are "fully closed."
Jan. 20, 2017: Trump is inaugurated as the Obama-Biden administration ends.
Jan. 23, 2018: In videotaped remarks, former Vice President Biden boasts that his threat to withhold $1 billion in U.S. aid to Ukraine unless Shokin was fired was successful. He says:
"I remember going over (to Ukraine), convincing our team … that we should be providing for loan guarantees … And I was supposed to announce that there was another billion-dollar loan guarantee. And I had gotten a commitment from (then Ukrainian President Petro) Poroshenko and from (then-Prime Minister Arseniy) Yatsenyuk that they would take action against the state prosecutor (Shokin). And they didn't. ...
"They were walking out to a press conference. I said, nah, ... we're not going to give you the billion dollars. They said, 'You have no authority. You're not the president.' … I said, call him. I said, I'm telling you, you're not getting the billion dollars. I said, you're not getting the billion. ... I looked at them and said, 'I'm leaving in six hours. If the prosecutor is not fired, you're not getting the money.' Well, son of a b----. He got fired. And they put in place someone who was solid at the time."
April 21, 2019: Ukrainian President Volodymyr Zelensky wins election and shares "a brief congratulatory call" with Trump, according to the whistleblower complaint.
April 25, 2019: Biden announces his 2020 run for presidency.
Spring 2019: Hunter Biden leaves Burisma. There are conflicting reports as to whether the younger Biden's departure occurred before or after the elder Biden announced his presidential run. (Biden's campaign, Hunter Biden's attorney, Burisma Holdings and a lawyer for the company did not respond to multiple requests for the date of Hunter Biden's departure.)
May 10, 2019: Rudy Giuliani, Trump's personal attorney, cancels a trip he had planned to Ukraine, during which he was to meet with Zelensky.
May 16, 2019: Lutsenko, Ukraine's prosecutor general, tells Bloomberg there's no evidence of wrongdoing by the Bidens in Ukraine: "Hunter Biden did not violate any Ukrainian laws — at least as of now, we do not see any wrongdoing."
May 19, 2019: In a Fox News interview, Trump claims Joe Biden pushed Ukraine to oust Shokin in order to block the prosecution of Hunter Biden. This claim is inconsistent with statements from Lutsenko and other former Ukrainian prosecutors and anti-corruption activists.
May 20, 2019: Marie Yovanovitch, the former U.S. ambassador to Ukraine, leaves her post. She later tells Congress in closed-door testimony that the State Department recalled her "under pressure from the president."
May 23, 2019: Trump directs administration officials to talk to Giuliani about Ukraine, according to congressional testimony from Gordon Sondland, U.S. ambassador to the European Union.
June 12, 2019: Trump tells ABC's George Stephanopoulos that he would accept dirt on a 2020 political opponents from foreigners and might not tell the FBI that he's done so.
June 21, 2019: Giuliani tweets that Zelensky is "still silent on investigation of Ukrainian interference in 2016 election and alleged Biden bribery of Pres Poroshenko."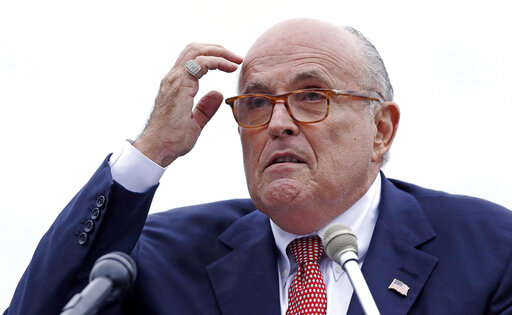 Rudy Giuliani addresses a gathering during a campaign event for Eddie Edwards in Portsmouth, N.H. on Aug. 1, 2018. (AP/Krupa)
July 10, 2019: Oleksandr Danylyuk, former secretary of Ukraine's National Security and Defense Council, visits Washington to meet with former National Security Adviser John Bolton, according to Oct. 29 prepared testimony from Army Lt. Col. Alexander Vindman, director for European affairs at the National Security Council. Sondland, Energy Secretary Rick Perry and Kurt Volker, then the U.S. special envoy to Ukraine, are at the meeting. At one point, Sondland "speak(s) about Ukraine delivering specific investigations in order to secure" a White House meeting, Vindman later testified.
July 24, 2019: Special Counsel Robert Mueller testifies before Congress. The hearing marks an end to the nearly two-year investigation into Russia's interference in the 2016 U.S. election, the Trump campaign's possible collusion with Moscow and whether the president obstructed justice.
July 2019: Prior to his call with Ukrainian president Volodymyr Zelensky, Trump orders nearly $400 million in U.S. aid to Ukraine frozen.
July 25, 2019: Trump speaks on the phone with Zelensky. During the 30-minute call, the leaders discuss reviving a dormant Ukrainian government investigation linked to Burisma. Facing public pressure, the White House later publishes a summary of the call.
July 26, 2019: Sondland and Volker meet with Zelensky in Ukraine, per the whistleblower complaint and Zelensky's website.
Aug. 12, 2019: An unnamed intelligence official files a whistleblower complaint to the inspector general of the intelligence community, who finds the complaint credible and urgent.
Aug. 20, 2019: Giuliani tells the New York Times that he met earlier in the month with Andriy Yermak, a top Ukrainian official, and "strongly urged" him to "just investigate the darn things." Giuliani claims he was acting as a private citizen.
Sept. 1, 2019: Vice President Mike Pence meets with Zelensky in Warsaw, Poland.
Sept. 1, 2019: William Taylor, the top American diplomat in Ukraine, texts with Volker and Sondland about the administration's handling of U.S. aid to Ukraine. (Volker later provides these messages to Congress as part of his Oct. 3 testimony.)
At one point, Taylor asks, "Are we now saying that security assistance and WH meeting are conditioned on investigations?"
"Call me," Sondland replies.
Sept. 4, 2019: In a witness statement, the ousted Ukrainian prosecutor Shokin claims he was forced out because he was investigating Burisma. Shokin's claim is inconsistent with statements from other former Ukrainian prosecutors and anti-corruption activists.
Sept 9, 2019: Volker, Sondland and Taylor continue texting about Ukraine. Taylor writes, "As I said on the phone, I think it's crazy to withhold security assistance for help with a political campaign."
"Bill, I believe you are incorrect about President Trump's intentions," Sondland texts back. "The President has been crystal clear no quid pro quo's of any kind."
Sept 9, 2019: Michael Atkinson, inspector general of the intelligence community, notifies Rep. Adam Schiff, chairman of the House Intelligence Committee, that there was a whistleblower complaint of "urgent concern" that Joseph Maguire, the acting director of national intelligence, did not forward to the congressional intelligence committees.
Sept. 10, 2019: Bolton, the former national security adviser, resigns. Trump tweets that he asked Bolton to leave, while Bolton says he offered his resignation.
Sept. 11, 2019: The nearly $400 million of frozen U.S. aid to Ukraine is released. This includes $250 million managed by the Pentagon, and $141 million managed by the State Department.
Sept. 13, 2019: Schiff subpoenas Maguire to compel him to disclose the whistleblower complaint to the congressional intelligence committees.
Sept. 17, 2019: Maguire writes a letter to Schiff saying he will not testify or immediately hand over the whistleblower complaint to Congress.
Sept. 19, 2019: Atkinson briefs the House Intelligence Committee in a closed-door session.
Sept. 19, 2019: Giuliani admits he asked Ukrainian officials to investigate the Bidens in an interview with CNN's Chris Cuomo. In the same interview, Giuliani also denies having done so.
Sept. 22, 2019: Trump acknowledges that he discussed the Bidens during his July 25 call with Zelensky.
Sept. 23, 2019: Seven freshman House Democrats with national security backgrounds publish a Washington Post op-ed that calls on fellow lawmakers to consider impeachment hearings after reports that Trump may have pressured Ukraine into investigating Biden. The authors write, "If these allegations are true, we believe these actions represent an impeachable offense."
Sept. 24, 2019: Trump confirms to reporters that he withheld military aid from Ukraine. He claims he did so because other European countries were not contributing their fair share of financial assistance. (We fact-checked Trump's claim on contributions, rating it Mostly False.)
Sept. 24, 2019: House Democrats launch a formal impeachment inquiry. In announcing the inquiry, House Speaker Nancy Pelosi accuses Trump of violating the Constitution by using his position as president to solicit help from a foreign government to damage his political opponent.
Sept. 25, 2019: The White House releases a declassified summary of the July 25 telephone call between Trump and Zelensky. It shows Trump had asked the Ukrainian leader to look into the Bidens and offered help from the Justice Department.
Sept. 25, 2019: Trump holds a press conference with Zelensky at the United Nations General Assembly in New York. Facing questions from reporters, Zelensky calls his July 25 phone call with Trump "normal" and says "nobody pushed me."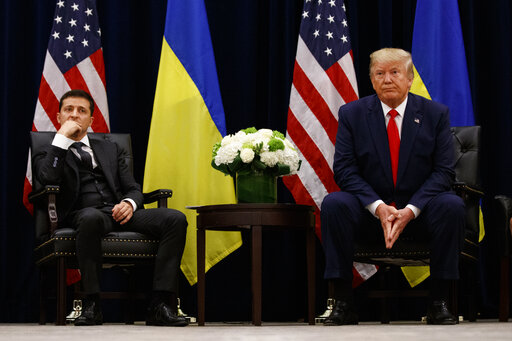 President Donald Trump meets with Ukrainian President Volodymyr Zelenskiy during the United Nations General Assembly, Sept. 25, 2019, in New York. (AP)
Sept. 26, 2019: The whistleblower complaint is made public. It largely reflects the substance of the Trump-Zelensky call. The complaint alleges that White House officials sought to "lock down" details of the conversation by storing the contents in a highly classified computer system. It further alleges that other discussions between Trump and world leaders were similarly secured.
Sept. 26, 2019: Maguire testifies before the House Intelligence Committee. He defends his handling of the whistleblower complaint but says the whistleblower "followed the law every step of the way" and "did the right thing."
Sept. 27, 2019: Volker resigns, as first reported by the State Press at Arizona State University.
Sept. 30, 2019: House Democrats subpoena Giuliani, asking him to turn over documents related to Trump's efforts to have Ukraine investigate the Bidens.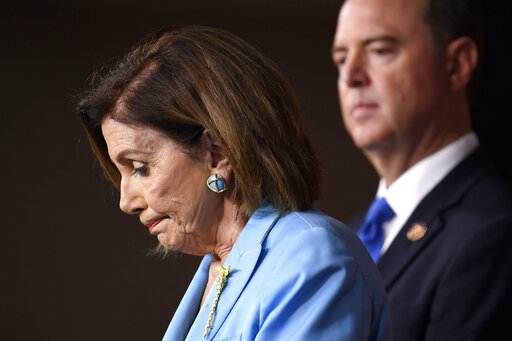 House Speaker Nancy Pelosi of Calif., left, joined by House Intelligence Committee Chairman Rep. Adam Schiff, D-Calif., right, arrive for a news conference on Capitol Hill, Oct. 2, 2019 (AP)
Oct. 2, 2019: Steve Linick, inspector general of the State Department, briefs Congress and provides documents Giuliani had sent to State Department containing conspiracy theories about Ukraine, Yovanovitch and the Bidens. Rep. Jamie Raskin, D-Md., says the documents are a "packet of propaganda and disinformation" and a "distraction."
Oct. 2, 2019: Secretary of State Mike Pompeo confirms during a press conference in Rome that he was on the July 25 phone call between Trump and Zelensky.
Oct. 3, 2019: Trump publicly asks China to investigate the Bidens, a similar request to the one he made to Ukraine, which started the impeachment inquiry. (Read our story about Hunter Biden and business in China.)
Oct. 3, 2019: Volker testifies before Congress and shares his text messages — mentioned above — with Taylor, Sondland, Giuliani and Yermak.
Oct. 3, 2019: The State Department tells Congress it has approved a possible sale of 150 antitank javelin missiles and related equipment to Ukraine for approximately $39.2 million. (Zelensky mentioned these missiles during the July 25 call.)
Oct. 4, 2019: House Democrats subpoena the White House for documents related to Ukraine and the impeachment inquiry.
Oct. 6, 2019: Lawyers for the whistleblower say they are also representing a second whistleblower with "first hand knowledge."
Oct: 8, 2019: White House Counsel Pat Cipollone writes a letter to Congress saying the White House will not cooperate with the impeachment inquiry because of concerns about "due process." (We examined the letter's claims here.)
Oct. 10, 2019: Federal prosecutors arrest and indict Lev Parnas and Igor Fruman, two Ukrainian business associates of Giuliani, on campaign finance charges. The men played key roles in Giuliani's efforts to oust Yovanovitch get Ukraine to investigate Biden.
Oct. 11, 2019: Michael McKinley, a former senior adviser to Pompeo, resigns. He later tells Congress that his decision was in part because he felt "disturbed by the implication that foreign governments were being approached to procure negative information on political opponents," according to the Washington Post.
Oct. 11, 2019: Yovanovitch testifies before Congress. She says the State Department recalled her in May "under pressure from the president" and says she was wrongly accused by Giuliani of disparaging Trump.
Oct: 14, 2019: Fiona Hill, the White House's former top Russia expert, testifies in Congress. She does not provide opening remarks. Afterward, Raskin tells reporters there was a "shadow foreign policy run by Giuliani and Parnas and Fruman."
Oct. 15, 2019: Hunter Biden sits for an interview with ABC's Amy Robach. He says he "did nothing wrong at all" and that he never discussed his work for Burisma at length with his father.
Oct. 15, 2019: George Kent, a senior State Department official in charge of Ukraine policy, testifies in Congress that he was left out of decisions about the country, according to Rep. Gerald Connolly, D-Va., who was present for the testimony.
Oct. 15, 2019: A federal grand jury subpoenas former Rep. Pete Sessions, a Texas Republican, for documents related to his dealings with Giuliani and his Ukrainian associates. A spokesman for Sessions tweets that Sessions is cooperating and providing the requested documents.
Oct. 17, 2019: Sondland testifies before Congress that Trump directed administration officials to involve Giuliani in discussions about Ukraine. He says he realized only later that "Giuliani's agenda might have also included an effort to prompt the Ukrainians to investigate Vice President Biden or his son or to involve Ukrainians, directly or indirectly, in the President's 2020 reelection campaign."
Oct. 17, 2019: Acting White House Chief of Staff Mick Mulvaney says in a press briefing that the Trump administration froze military aid to leverage Ukraine into investigating a conspiracy theory related to the 2016 hacking of the Democratic National Committee server. Asked if that's a quid pro quo, Mulvaney says "we do that all the time with foreign policy" and tells the reporters in the room to "get over it." He later walks back these remarks.
Oct. 22, 2019: Taylor testifies that Trump sought to withhold military aid from Ukraine and deny Zelensky a White House meeting unless he investigated the Bidens and the DNC server. Taylor says Sondland, Volker, Giuliani and Perry were leading "an irregular, informal channel" of policymaking with respect to Ukraine. He says Sondland told him "everything" was "dependent on a public announcement of investigations from Zelensky," and that Zelensky planned to make such an announcement on CNN to avoid a "stalemate."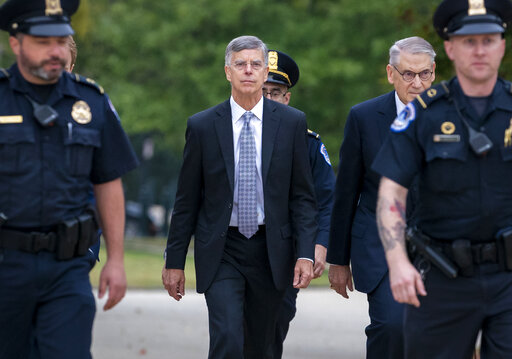 Ambassador William Taylor arrives at the Capitol in Washington to testify before House committees as part of the Democrats' impeachment investigation of President Donald Trump on Oct. 22, 2019. (AP)
Oct: 23, 2019: Pentagon official Laura Cooper testifies before Congress after delays caused by protesting Republicans trying to storm the room.
Oct: 23, 2019: Parnas and Fruman plead not guilty in court.
Oct. 24, 2019: Senate Judiciary Chairman Lindsey Graham, R-S.C., introduces a resolution condemning the impeachment inquiry. The resolution claims the inquiry is "denying President Trump basic fairness and due process accorded every American," a statement we rated False.
Oct. 28, 2019: Pelosi announces that the House will vote on a resolution to affirm the ongoing investigation and lay out procedures for public hearings.
Oct. 29, 2019: Vindman, the director for European affairs at the National Security Council, testifies in Congress that he listened in on the July 25 phone call from the White House Situation Room and raised concerns about it with the NSC's lead counsel. He says he previously reported concerns following the July 10 meeting between Danylyuk and Bolton, Volker, Sondland and Perry. Afterward, Rep. Scott Perry, R-Pa., says Vindman also testified that the readout of the call uses ellipses to omit two portions of the conversation between Trump and Zelensky.
Oct. 30, 2019: State Department official Christopher Anderson, who worked under Volker as an expert on Ukraine until July 12, testifies in Congress that Bolton once said Giuliani "could be an obstacle to increased White House engagement."
Oct. 30, 2019: State Department official Catherine Croft, who took over Anderson's role under Volker and previously worked for the National Security Council, testifies. She says during her time with the NSC, she received multiple calls from a Republican lobbyist saying Yovanovitch, the former U.S. ambassador to Ukraine, should be fired. Croft also says she was told that Mulvaney held up aid to Ukraine at Trump's "direction."
Oct. 30, 2019: Deputy Secretary of State John Sullivan, Trump's nominee to become the U.S. ambassador to Russia, testifies during his Senate confirmation hearing that Giuliani was part of a "campaign against" Yovanovitch.
RELATED STORY: PolitiFact's Trump-Biden-Ukraine coverage all in one place