PolitiFact's Trump-Ukraine-Biden coverage in one place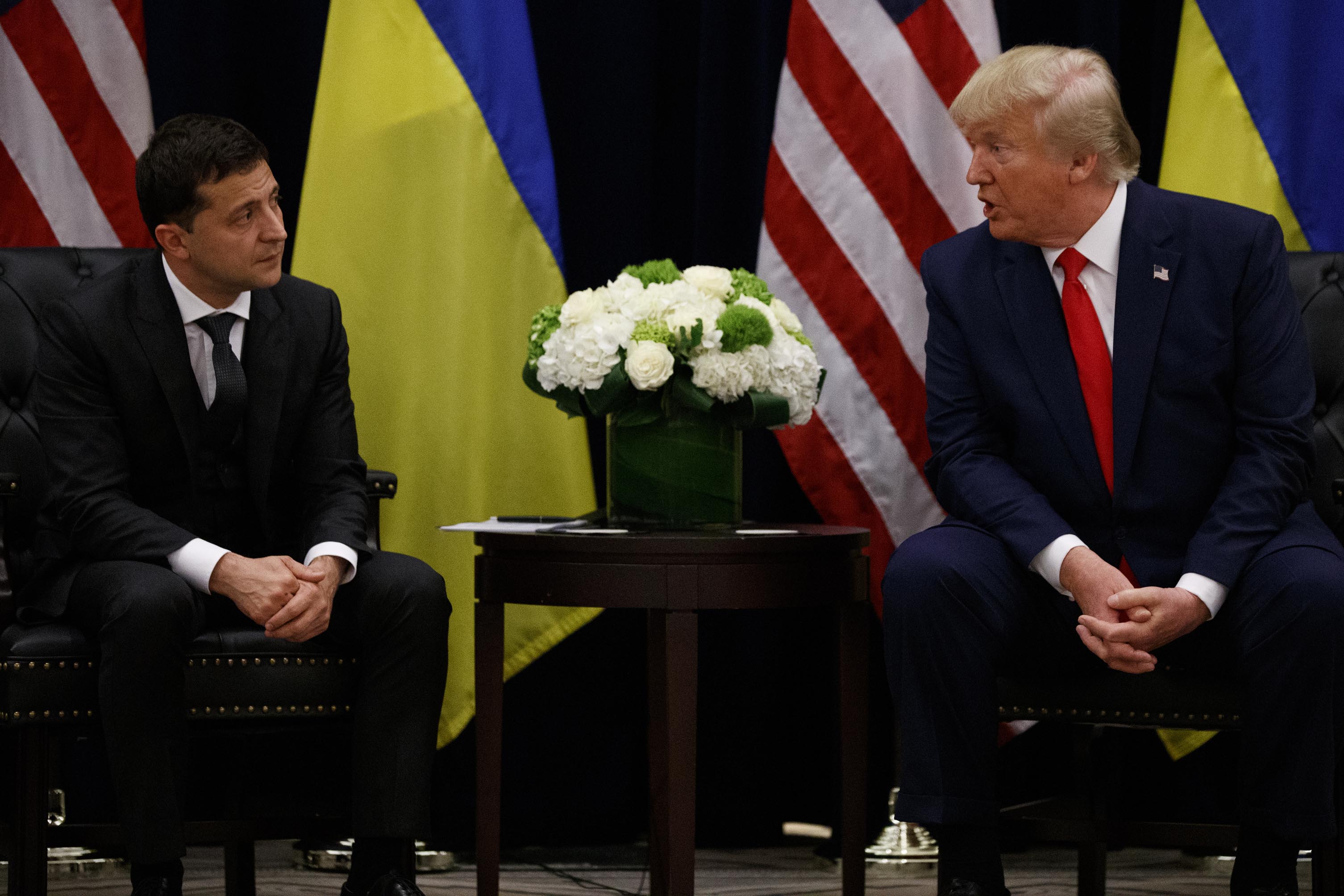 The Democratic-led U.S. House of Representatives has launched an impeachment inquiry into President Donald Trump, for withholding aid to Ukraine while asking the government there to look into his political rival Joe Biden. Biden's son Hunter was director of a Ukrainian energy company while the elder Biden served as vice president in the Obama administration.
The following is a collection of PolitiFact's ongoing coverage, which we will update as we research and report.
Tuesday, May 7, 2019
Fact-checking Joe Biden, Hunter Biden, and Ukraine
Monday, Sept. 23, 2019
Trump's Ukraine call, a whistleblower and the Bidens: What we know, what we don't
Tuesday, Sept. 24, 2019
How would an impeachment inquiry against Donald Trump work?
Wednesday, Sept. 25, 2019
Here's the readout of Donald Trump's call with Ukrainian President Volodymyr Zelensky
What the whistleblower law says about sharing complaints with Congress
Donald Trump said European nations have not put money into Ukraine. They have put in a lot
Thursday, Sept. 26, 2019
Read the declassified whistleblower complaint on Ukraine, Biden and Trump
Read the Inspector General's letter on the Ukraine whistleblower complaint
Donald Trump's boasts about former Ukrainian prosecutor's fairness ring false
Rudy Giuliani's role in Ukraine's investigation of Joe Biden
Friday, Sept. 27, 2019
Trump mentioned the 'Crowdstrike' conspiracy during his call with Ukraine. Here's what that means
Trump said Democratic senators threatened Ukraine. That's misleading
What are your questions about the Trump-Ukraine-Biden phone call? (a Google form to submit questions)
Monday, Sept. 30, 2019
Why Ukraine? How an Eastern European country triggered tumult in American politics
In context: Adam Schiff's dramatized version of the Trump-Zelensky call
Tuesday, Oct. 1, 2019
Donald Trump's false claim about a change in whistleblower rules
Adam Schiff's retelling of Donald Trump's phone call isn't treason
Wednesday, Oct. 2, 2019
9 things Donald Trump got wrong today on Ukraine, a whistleblower and the media
The inaccurate or unproven things Rudy Giuliani said about Ukraine on 'This Week'
Donald Trump's accusations about Hunter Biden and a payout from China: A closer look
No, Donald Trump could not seek a third term if impeachment trial failed
Thursday, Oct. 3, 2019
Who is the 'Ukraine gas exec' playing golf with the Bidens in Trump's Nickelback post?
Timeline: The Trump impeachment inquiry
Fact-checking Charlie Kirk's misleading tweet about Democrats, Ukraine
Friday, Oct. 4, 2019
There's no evidence Schiff helped write the whistleblower complaint
Adam Schiff's false claim that 'we have not spoken directly with the whistleblower'
Monday, Oct. 7, 2019
The U.S. aid to Ukraine that Donald Trump froze, in one chart
Impeach a member of Congress? Over 200 years of history says no
Tuesday, Oct. 8, 2019
Ask PolitiFact: Answers to reader questions about the Trump impeachment inquiry, Hunter Biden
Trump claims a photo shows the Bidens playing golf with a Ukrainian company 'boss.' But it doesn't
Wednesday, Oct. 9, 2019
Johnson, Nixon, Clinton, Trump: 9 questions about impeachment
Donald Trump is wrong. Whistleblower account of Ukraine phone call was 'almost completely' right
Viral rumor about a Pelosi Ukrainian 'legislative aide' twists facts, exaggerates connection
Thursday, Oct. 10, 2019
Pelosi, Romney and Kerry don't have sons working for companies linked to Ukraine
Friday, Oct. 11, 2019
Donald Trump ad misleads about Joe Biden, Ukraine and the prosecutor
Fact-checking claims about the whistleblower's legal team
No, George Soros's son isn't married to Adam Schiff's sister
Friday, Oct. 18, 2019
In context: Mick Mulvaney and quid pro quo
RELATED: Sign up for PolitiFact's free weekly newsletter that recaps the best in fact-checking
Friday, Oct. 25, 2019
Donald Trump says impeachment is a 'coup.' That's Pants on Fire
Matt Gaetz misleads about Obama's Ukraine military aid record
Monday, Oct. 28, 2019
Graham wrong that House impeachment inquiry denies Trump 'due process'
Fox News analyst correct: Impeachment inquiry is following rules by questioning witnesses in private
Wednesday, Oct. 29, 2019
Limbaugh wrongly claims Republicans are being shut out of impeachment hearings
Monday, Nov. 4, 2019
Nancy Pelosi overstates Republican gains in impeachment process
Rep. Tom Cole exaggerates limits on Republicans in impeachment process
Subpoenas vs. bills: What this CNN pundit got wrong
Wednesday, Nov. 6, 2019
Could Donald Trump be impeached, removed and run for re-election? It's possible
Monday, Nov. 11, 2019
Rand Paul's false equivalence about Trump, Biden on Ukraine
The impeachment inquiry: What to expect from public hearings and beyond
Social media posts misrepresent House Democrats' rules for impeachment inquiry of Trump
Is outing the whistleblower only a crime if the inspector general does it?
No proof Biden or Kerry channeled U.S. aid for Ukraine to Burisma
Tuesday, Nov. 12, 2019
Who is Ambassador William Taylor?
Wednesday, Nov. 13, 2019
Fact-checking Trump, Ukraine impeachment hearings, day 1
Fox News airs misleading graphics about Schiff, Taylor
Thursday, Nov. 14, 2019
What is Congress doing besides impeachment?
Fact-checking impeachment witness William Taylor's claim about Russia treaty violations
Obama's hot mic moment with Russian president in 2012 was unrelated to Ukrainian aid in 2014
Who is Marie Yovanovitch, the former ambassador to Ukraine removed by Trump?
What William Taylor, George Kent said when asked if Donald Trump's phone call was impeachable
Friday, Nov. 15, 2019
Impeachment and bribery: What you need to know
Trump inaccurately disparages Yovanovitch in Somalia, Ukraine
Viral post says Democrats spent $40 million on impeachment. That's False
No, four Republicans did not vote to impeach President Trump
Fact-checking Tucker Carlson's false claim about the testimony of former U.S. ambassador to Ukraine
Monday, Nov. 18, 2019
Who is Alexander Vindman? What to watch for in Tuesday impeachment testimony
Tuesday, Nov. 19, 2019
Fact-checking the Trump impeachment hearings: Vindman, Volker, Morrison and Williams
Who is Gordon Sondland? What to watch for in his impeachment inquiry testimony
Who is Kurt Volker? What to listen for in his impeachment testimony
Who is John Solomon? Here's what we know about the journalist whose stories shaped the Ukraine saga
Donald Trump gets Ukraine phone memo timeline backwards
No evidence for Trump's claim that Pelosi, Schiff promised to impeach him before he took office
Wednesday, Nov. 20, 2019
Fact-checking the Gordon Sondland impeachment hearing about Trump, Ukraine
Fact-check: Donald Trump's claim he doesn't know Gordon Sondland very well
Thursday, Nov. 21, 2019
No, Obama didn't fire all of Bush's politically-appointed ambassadors
Fiona Hill and conspiracy theories about Ukraine and Russia: What you need to know
Fact-check: Trump did not fire Alexander Vindman from the National Security Council for testifying against him
Friday, Nov. 22, 2019
Fact-checking Trump's falsehoods on Fox & Friends about Ukraine, impeachment and Mueller report
Disinformation targets Republicans who criticize Trump or support the impeachment inquiry
Fact-check: No, Ukraine didn't indict Burisma on Wednesday
Tuesday, Nov. 26, 2019
6 key takeaways from the public impeachment hearings against Donald Trump
Monday, Dec. 2, 2019
Trump mischaracterizes Ukrainian president's comments from new interview
Tuesday, Dec. 3, 2019
What we know about the Politico story at the heart of a Ukraine conspiracy theory