Stand up for the facts!
Our only agenda is to publish the truth so you can be an informed participant in democracy.
We need your help.
I would like to contribute
All the president's pundits: Meet Trump's TV-ready impeachment defense team
If Your Time is short
Trump's impeachment defense team is headlined by household names such as Ken Starr.
Attorneys on Trump's team have spent a lot of time on TV, and especially Fox News.
In their TV appearances, they have been critical of Trump's impeachment.
President Donald Trump has put together a TV-ready defense team stacked with high-profile attorneys for his Senate impeachment trial.
The team is led by White House attorneys Pat Cipollone and Jay Sekulow. It's also headlined by household names such as Ken Starr, whose investigations led to President Bill Clinton's impeachment in 1998.
Other members on the roster include former independent counsel Robert Ray, Harvard law professor emeritus Alan Dershowitz, presidential adviser Pam Bondi, private counsel Jane Raskin and attorney Eric Hershmann of the Kasowitz Benson Torres LLP law firm.
The White House did not respond to a request for comment, but CNN reported that Trump wanted a star-studded team capable of performing on TV.
Starr, Ray, Dershowitz and Bondi have all spent plenty of time in the spotlight, including on Fox News, the president's preferred cable network.
Together, they have made at least 365 Fox News appearances since January 2019, according to Media Matters for America, a liberal watchdog that monitors the network.
"Trump likes people who are already famous and who defend him on TV," said Frank O. Bowman III, a professor at the University of Missouri School of Law and the author of a book on impeachment. "No sensible counselor would pick Starr, Dershowitz or Bondi."
Here's what you need to know about Trump's made-for-TV defense lineup.
Ken Starr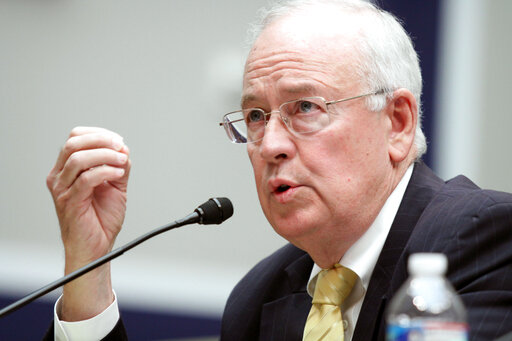 Then-Baylor University President Ken Starr testifies about college athletes forming unions at the House Committee on Education and Workforce in Washington on May 8, 2014. (AP/Burke)
Current role: Starr was a Fox News contributor until joining Trump's defense team.
Background: Starr was the independent counsel who led the investigations that resulted in Clinton's impeachment in 1998. He is a former U.S. solicitor general and federal circuit court judge.
Starr also spent time as president of Baylor University, but he was forced to step down in 2016 for allegedly mishandling several claims of sexual assault.
Bowman said Starr's participation will invite comparisons with Clinton's impeachment trial, when Starr argued strongly in favor of hearing from relevant witnesses.
What he's said: Starr has appeared on Fox News roughly 125 times since January 2019, according to Media Matters. Trump has quoted him four times on Twitter since the launch of the House's impeachment inquiry in September.
On Fox News, Starr has repeatedly downplayed Trump's impeachment as politically motivated and weak.
"It really is not a strong case," he said in one appearance that Trump tweeted about. "This will go down as the most partisan impeachment in the history of the republic."
"Does it reach the level of treason, bribery or other high crimes and misdemeanors? My assessment of the evidence thus far (is) nowhere close," he said in another appearance that earned a Trump tweet. "The evidence is conflicting and ambiguous."
Starr has argued that European Union Ambassador Gordon Sondland's testimony that Trump said he wanted "no quid pro quo" undermines other evidence that the White House conditioned military aid to Ukraine on the country's willingness to investigate Trump's political rivals.
In an interview with the Washington Examiner's Byron York, Starr called impeachment a "terrible thorn in the side of the American democracy."
Robert Ray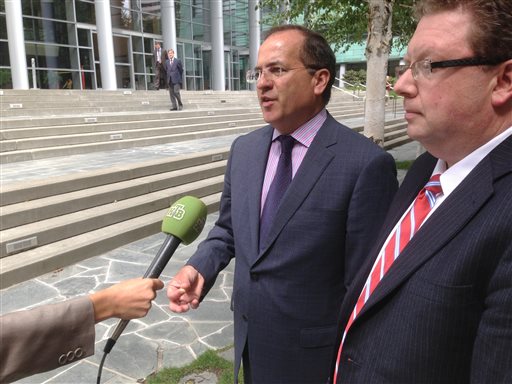 Attorney Robert Ray speaks with reporters outside the U.S. District Courthouse in Seattle on Aug. 15, 2014. (AP/Johnson)
Current role: Ray is a private practice attorney.
Background: Ray succeeded Starr as independent counsel and wrapped up the investigations into Clinton. Before that, he served as assistant U.S. attorney for the Southern District of New York. In 2006, he was charged with stalking a woman he had once dated.
What he's said: Ray has made at least 70 Fox News appearances since January 2019, per Media Matters. Trump has quoted him on Twitter three times since the House inquiry began.
In one interview on Fox News, Ray described the impeachment inquiry as "an entirely partisan effort" and said "there's not any accusation of a crime, much less evidence of one."
"This is a political effort," he said in another segment that won Trump's praise on Twitter. "The president certainly doesn't have to aid in the impeachment effort."
Ray also minimized a press conference in which acting White House Chief of Staff Mick Mulvaney seemed to admit to a quid pro quo involving military aid to Ukraine.
"A contentious press briefing is not the place to be trying to sort out whether there is or is not an illegal quid pro quo," he told Fox News host Laura Ingraham.
Since joining Trump's legal defense team, Ray has said that Trump's impeachment is "an illegitimate effort by House Democrats to remove a president from office."
Alan Dershowitz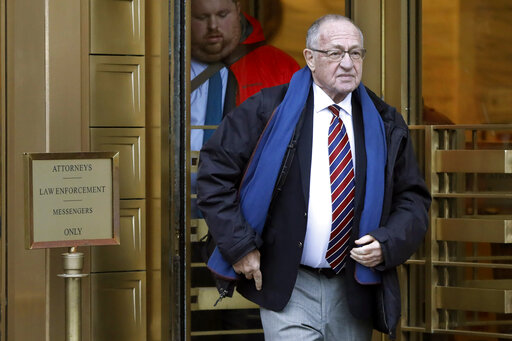 Attorney Alan Dershowitz leaves federal court in New York on Dec. 2, 2019. (AP/Drew)
Current role: Dershowitz is a professor emeritus at Harvard University and an author.
Background: Dershowitz became famous for representing high-profile defendants such as O.J. Simpson, boxer Mike Tyson and Jeffrey Epstein, the convicted sex offender who died by suicide in prison. His defense of Claus von Bulow for the attempted murder of his wife Sonny von Bulow was made into the 1990 movie "Reversal of Fortune."
What he's said: Dershowitz has appeared about 110 times on Fox News since January 2019, per Media Matters. We counted four times that Trump has cited him on Twitter since the start of the impeachment inquiry.
On Twitter, Dershowitz said he is participating in Trump's defense "to defend the integrity of the Constitution and to prevent the creation of a dangerous constitutional precedent."
On Fox News, he has said that impeaching Trump for his conduct toward Ukraine would be "unconstitutional" and that Trump's actions are not "close to being an impeachable offense."
"There are no impeachable offenses," Dershowitz said in one Fox News appearance that Trump tweeted about. "I don't think he could be impeached for the conduct that's been alleged."
Dershowitz told CNN and ABC that he would be arguing that Trump cannot be impeached on charges that don't outline a specific crime, telling ABC's George Stephanopoulos that Trump should not be impeached even if all the House's evidence is accepted as fact.
Pam Bondi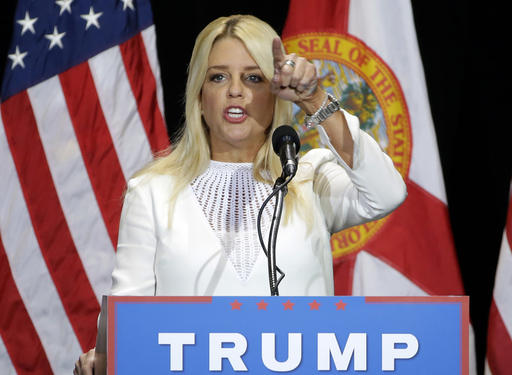 Pam Bondi speaks to supporters of then-candidate Donald Trump during a rally on June 11, 2016, in Tampa, Fla. (AP/O'Meara)
Current role: Bondi is a special adviser to Trump.
Background: A former prosecutor, she served as Florida's attorney general from 2011 to 2019. She's been on the Truth-O-Meter a number of times.
In 2016, Bondi chose not to pursue fraud allegations against Trump University after the Trump Foundation sent an improper donation to a campaign group connected to her.
What she's said: Bondi has appeared about 60 times on Fox News since January 2019, according to Media Matters. As a presidential adviser, she has helped Trump with messaging throughout the impeachment process.
"This process has been a sham from the beginning," Bondi said in December on "Fox & Friends." "The president did everything right."
"This should not even go to a vote," she later told Fox News host Martha MacCallum. "There is nothing there."
We've fact-checked Bondi's impeachment-related claims a few times, including when she wrongly claimed that House Intelligence Committee Chairman Adam Schiff kicked Republicans out of the House's closed-door hearings.
The White House, "Statement from the Press Secretary Announcing the President's Senate Trial Counsel," Jan. 17, 2020
Various searches on the Nexis database.
Donald J. Trump on Twitter, accessed Jan. 21, 2020
Media Matters for America, "Members of Trump's impeachment team have been fixtures on cable news, primarily Fox," Jan. 21, 2020
CNN, "How lawyer Alan Dershowitz plans to defend Trump during the impeachment trial," Jan. 20, 2020
ABC News on YouTube, "Trump's conduct 'does not rise to the level of an impeachable offense': Dershowitz | ABC News," Jan. 19, 2020
Fox News, "Member of Trump's defense team Robert Ray on impeachment: Process has been 'partisan and therefore illegitimate,'" Jan. 19, 2020
CNN, "Trump, who wanted a TV legal team, is 'distracted' by impeachment trial, source says," Jan. 19, 2020
The Associated Press, "Trump assembles a made-for-TV impeachment defense team," Jan. 18, 2020
The New York Times, "Trump Legal Team Adds Starr and Dershowitz for Senate Trial," Jan. 17, 2020
NBC News, "Meet Trump's legal team for the impeachment trial," Jan. 17, 2020
Media Matters for America, "Trump's new impeachment defense team has been on Fox News over 350 times in the past year," Jan. 17, 2020
Alan Dershowitz on Twitter, Jan. 17, 2020
Media Matters for America, "Fox News has long denied there was any crime related to Trump's impeachment. The GAO just said otherwise," Jan. 16, 2020
Fox News, "Ken Starr: Evidence against Trump 'not even close' to overwhelming," Dec. 18, 2019
Donald J. Trump on Twitter, Dec. 18, 2019
Media Matters for America, "Fox guest Alan Dershowitz: Putting 'electoral interests before the national interests' wouldn't 'even be close to being an impeachable offense,'" Dec. 3, 2019
Bobby Lewis on Twitter, Dec. 3, 2019
Mornings with Maria Bartiromo on the Internet Archive, Dec. 2, 2019
Fox News, "Ken Starr on impeachment hearings so far: We're 'nowhere close' to impeachable offenses," Nov. 21, 2019
Donald J. Trump on Twitter, Nov. 21, 2019
Lis Power on Twitter, Nov. 13, 2019
Media Matters for America, "Alan Dershowitz: It's "unconstitutional" to impeach Trump," Nov. 11, 2019
The Byron York Show, "Talking Impeachment with Ken Starr," Oct. 28, 2019
Donald J. Trump on Twitter, Oct. 7, 2019
The Washington Post, "Trump pays IRS a penalty for his foundation violating rules with gift to aid Florida attorney general," Sept. 1, 2016
The Associated Press, "Ken Starr Leaves Baylor After Complaints It Mishandled Sex Assault Inquiry," Aug. 19, 2016
The New York Times, "Ex-Prosecutor Is Accused of Stalking," May 12, 2006
The Washington Post, "Source: Clinton Discussed Testimony With Secretary," Feb. 6, 1998
PolitiFact, "Fact-checking the Gordon Sondland impeachment hearing about Trump, Ukraine," Nov. 20, 2019
PolitiFact, "In context: Mick Mulvaney on quid pro quo," Oct. 18, 2019
PolitiFact, "Donald Trump, Pam Bondi and $25K: Was it pay to play?" Sept. 21, 2016
Email interview with Frank O. Bowman III, a professor at the University of Missouri School of Law and the author of a book on impeachment, Jan. 21, 2020
Browse the Truth-O-Meter
More by Bill McCarthy