Get PolitiFact in your inbox.
Says Joe Biden called for a jihad in a video.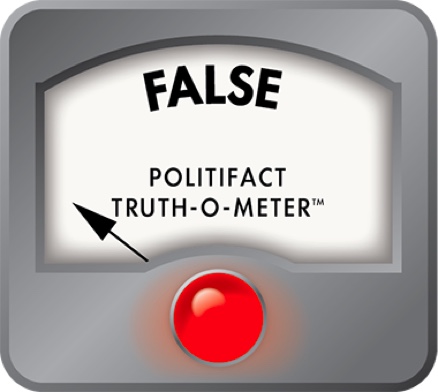 No, US government didn't promote video of Joe Biden 'calling for a Muslim jihad'
If Your Time is short
• Joe Biden quoted the Prophet Muhammed at a Muslim outreach event in July and said he would end "the Muslim ban."
• Biden did not call on Muslims to "wage jihad." He praised many Muslim Americans for promoting peace.
• Voice of America contractors were investigated after posting the pro-Biden video on its Urdu language service. The video was deleted.
An article by a far-right news site recently renewed interest in a months-old speech Democratic presidential nominee Joe Biden made to appeal to Muslim Americans. 
An Oct. 9 article by The Gateway Pundit, liked and shared on Facebook thousands of times, referred to a speech Biden made to Emgage Action, a Muslim advocacy group, in which he quoted a saying by the Prophet Muhammed. The article went on to claim that he called on Muslim voters to "wage jihad," and that a video promoting the message was created, translated and endorsed by the U.S. government. 
The headline read, "EXCLUSIVE UPDATE: Video of Joe Biden Calling for a Muslim Jihad Was Created, Translated, Promoted and Endorsed by the US Government."
"Yesterday The Gateway Pundit reported that most Americans didn't realize it or see it but Democrat Joe Biden in a recent ad called for Muslim Voters to wage jihad," the article goes on. "The former Obama vice president called for Muslim voters to wage jihad while attacking the police."
This post was flagged as part of Facebook's efforts to combat false news and misinformation on its News Feed. (Read more about our partnership with Facebook.) 
The video, which is embedded in the article, shows clips of Biden first promising to "end the Muslim ban on Day One," then quoting the Prophet Muhammed. After that, it plays a political ad Emgage created for its campaign to turn out one million Muslim votes. The entire video is accompanied by subtitles and a Voice of America logo in the corner.
The article claims that the video was translated into Urdu and aired on U.S.-sponsored sites "to promote jihad and the Biden campaign. What is our government doing?"
Here's what we know.
The clips of Biden in the video all came from Emgage's Million Muslim Votes Summit conducted virtually on Zoom in July. It was followed by a clip of Emgage's political ad to galvanize Muslim votes, which was also played at the same summit. 
Biden's campaign didn't respond to requests for comment. But in his speech that clocked in over 11 minutes, Biden quoted the Prophet Muhammed after encouraging Muslims to vote: "Whomever among you sees wrong, let him change it with his hand. If he is not able, then with his tongue. If he is not able, then with his heart." Biden went on to say that "so many" Muslims are living these values by acting to "make life better" for their communities and promoting peace. 
Yasir Qadhi, a prominent cleric and dean of the Islamic Seminary of America, said the hadith encourages Muslims to act if they see something that goes against their moral values. If they can't, they should say something about it or in the very least disagree with it in their hearts, Qadhi said. 
"Even the radical jihadists don't use this particular hadith to justify their misinterpretations," Qadhi wrote to PolitiFact by email.
"Jihad" in Arabic literally means "struggle." 
Voice of America, a U.S. government-sponsored broadcast that airs stories to international audiences, took a copy of the video, created captions in Urdu and promoted it as part of its Urdu-language news report. Voice of America said in a July statement that senior journalists removed the video after it had been published on VOA's Urdu language service and social media sites. The U.S. Agency for Global Media was investigating whether the video violated editorial standards or laws about government employees, the statement said. 
VOA's spokesperson directed PolitiFact's inquiry to the U.S. Agency for Global Media, which didn't respond to requests for comment. Politico reported on the controversy in July and said four contractors at VOA's Urdu language service had been responsible for publishing the video. 
It's not the first time Biden's words from the Muslim outreach event was taken out of context; PolitiFact in July debunked a claim that Biden wants Islam to be taught in schools. 
Our ruling
The Gateway Pundit article claims that a video of Joe Biden "calling for a Muslim jihad was created, translated, promoted and endorsed by the U.S. government."
Biden did not promote "a Muslim jihad." He was encouraging Muslim Americans to vote. He said many of them lived Muhammed's teachings by advocating for their communities and preaching peace. "Jihad," while often used to mean terrorism, is a broad word that can simply mean "struggle."
The Biden video cited by the Gateway Pundit was translated by contractors of Voice of America, a U.S.-sponsored site, for its Urdu language service. But the video was deleted shortly afterward by VOA's senior journalists. And the incident was being investigated.
We rate this claim False.
Browse the Truth-O-Meter
More by Hayat Norimine
Support independent fact-checking.
Become a member!
In a world of wild talk and fake news, help us stand up for the facts.