Stand up for the facts!
Misinformation isn't going away just because it's a new year. Support trusted, factual information with a tax deductible contribution to PolitiFact.
I would like to contribute
"Jaime Harrison is being left off of South Carolina ballots"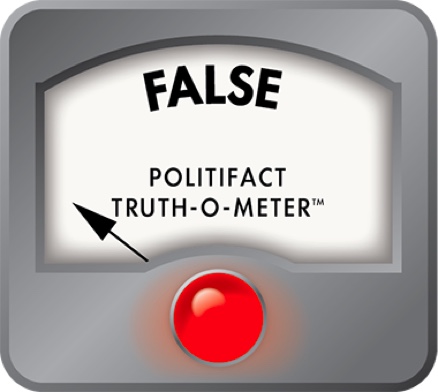 No proof that Jaime Harrison was left off touch-screen machines
If Your Time is short
South Carolina is one of a handful of states that give voters the option to use straight party ticket voting.

When voting straight ticket, a voter who selects the Democratic Party would see Harrison's name appear automatically on the Senate screen. However, if the voter then touches Harrison's name, that would deselect his name.

Voters are given warnings on the screen if they skip a race, and they can confirm their choices when the machine prints out a paper card showing the names of the candidates they voted for.
South Carolina Democrats are eager to see if Jaime Harrison, with a massive fundraising haul, can pull off an upset of Republican Sen. Lindsey Graham in the red state. 
But a Facebook post suggests — without evidence — that something nefarious is happening with the ballots. 
"Jaime Harrison is being left off of SC ballots," states the Facebook post. "South Carolinians who are voting 'straight Democratic' have noted that Jaime Harrison isn't included on their ballots. Voters have had to manually go through and select individual names."
The post was flagged as part of Facebook's efforts to combat false news and misinformation on its News Feed. (Read more about our partnership with Facebook.) 
The South Carolina Election Commission had received complaints from the state Democratic Party that some voters said Harrison's name was missing when they cast ballots on touchscreen machines at early voting.
Chris Whitmire, a spokesman for the commission, said the state consulted with local elections officials and checked out the complaints and found no proof of problems. Whitmire forwarded to us the email correspondence between Shaundra Young Scott, a voter protection lawyer for the state Democratic Party, and Whitmire between Oct. 12 and 14.
"We have had multiple reports that Jaime Harrison's name is missing from the ballot," Scott wrote Oct. 12, citing complaints from voters in Florence and Georgetown counties.
In an email the next day, Scott said that the Democrats had reports from two voters who said they were unable to vote for Harrison when they voted straight party and had to try multiple times. Scott wrote in a subsequent email that a similar situation occurred with a straight party voter in Beaufort who had to try three times before Harrison's name was included. It wasn't clear from the emails exactly how many voters had made allegations, but Scott told us in an interview it was a handful.
We spoke to Whitmire on a video call so he could show us how voting works on touch-screen machines in South Carolina, one of a handful of states that offer what is known as straight party voting. Roughly half of South Carolina voters generally opt for straight party voting, where they can select all of a party's candidates in partisan races without having to select them individually.
Here's how it works: The voter sees a screen that allows the voter to choose their party. (A voter who doesn't want to vote straight party hits the "next" button.) If a voter chooses Democrat, then the party's candidates automatically appear 
In this case, when the voter is on the Senate screen, Harrison's name automatically appears with a green check mark. But if the voter touches Harrison's name, then his name is deselected. 
Writer Jennifer Cohn tweeted an image of what deselecting Harrison's name would look like. The machine warns voters if they haven't chosen a candidate in a race.
The touch screen has a review screen at the end, and then prints out a card that shows the voter's choices. If a voter sees that their selection for Senate wasn't on the card, the voter can tell the poll manager that it's wrong, and then the voter starts over. (The printed card is scanned for tabulation. Only one card per voter is ultimately put through the scanner.)
State officials contacted the election directors in Florence and Georgetown counties, and neither one was aware of any voter seeing a ballot without Harrison's name, Whitmire told Scott in an email.
Whitmire wrote that one possible explanation is that some straight-ticket Democratic voters are touching Harrison's name to make sure they're voting for him and end up unintentionally deselecting his name.
"In this situation, when the voter reached the review screen, they would see no selection, and if they printed their ballot they would also not see Harrison's name," Whitmire wrote. "Of course, this situation could happen with any partisan candidate."
We asked Scott if it was possible that voters were unintentionally deselecting Harrison's name.
 "I don't want to speculate. We are still investigating and trying to figure that out," she said.
The party has poll watchers inside polling sites. So far, she said, no poll watchers told her that they had seen a situation with Harrison's name missing from ballots, but she has asked them to be on the lookout.
We also contacted the Harrison campaign and asked them to send any evidence they had that Harrison's name was omitted from the ballots. 
"We are not currently aware of the problem you described," said Guy King, a Harrison spokesman. "South Carolinians who experience any difficulty trying to vote should call 1-855-785-0222 or go to VOTEBLUESC.com."
Harrison is a former lobbyist who became the first African American to run the South Carolina Democratic Party. Some polls have shown the race as close while others have shown Graham with a lead. Harrison raised $57 million in the most recent quarter, shattering the quarterly record for a Senate candidate set by Beto O'Rourke in Texas in 2018. 
RELATED: Lindsey Graham's Truth-O-Meter from PolitiFact
Our ruling
A Facebook post said "Jaime Harrison is being left off of South Carolina ballots."
We found no evidence that Harrison's name has been left off the ballot, and Harrison's campaign told us they know of no evidence showing that, either. Elections officials investigated and said voters using touch screens may be accidentally deselecting Harrison after voting straight-party, but it's possible to fix such an error before casting a final vote. 
We rate this statement False.
Facebook post, Oct. 13, 2020
National Conference of State Legislatures, Straight Ticket Voting States, March 25, 2020
South Carolina Election Commission, Straight Party Voting, Accessed Oct. 15, 2020
New York Times, Lindsey Graham Leads Jaime Harrison in South Carolina Race, Poll Shows, Oct. 15, 2020
Jaime Harrison, campaign memo
The State, Jaime Harrison breaks record for biggest fundraising quarter by any Senate candidate ever, Oct. 11, 2020
AP, Democratic challenger in SC Senate race raises record $57 million, Oct, 11, 2020
Telephone interview, Chris Whitmire, spokesperson for the South Carolina Election Commission, Oct. 15, 2020
Telephone interview, Shaundra Young Scott, lawyer, Director of Voter Protection South Carolina Democratic Party, Oct. 16, 2020
Email exchange between Whitmire and Scott, Oct. 12-14, 2020
Email interview, Guy King, spokesperson for Jaime Harrison, Oct. 16, 2020
Jennifer Cohn, Election security advocate & writer; attorney, Twitter thread, Oct. 15, 2020
Browse the Truth-O-Meter
More by Amy Sherman
Support independent fact-checking.
Become a member!
In a world of wild talk and fake news, help us stand up for the facts.