Get PolitiFact in your inbox.
"A quarter of a million illegal votes found in Arizona's audit."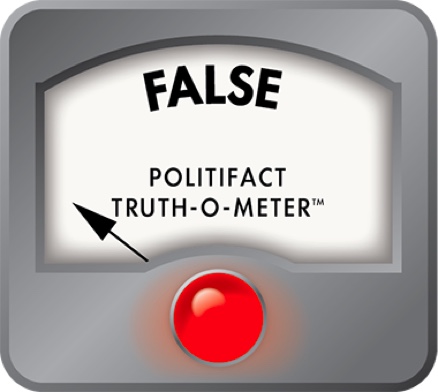 No, a quarter million fraudulent votes weren't uncovered in an Arizona election audit
If Your Time is short
The company overseeing a Republican-backed audit of the presidential election results in Maricopa County, Arizona, has not released the results of its analysis.

A former adviser to former President Donald Trump has speculated that there were about 250,000 possible illegal votes in the county.
Arizona Senate Republicans have hired contractors to audit the results of the 2020 presidential election in Maricopa County, where some Republicans have made allegations of widespread voter fraud.  
These claims have been dismissed in court and proven unsubstantiated by a previous audit of a sample of ballots. 
We don't yet know the results of the audit, which is being led by a company whose founder has shared unfounded conspiracy theories about the election results. However, some social media users are drawing their own conclusions. 
"A quarter of a million illegal votes found in Arizona's audit...so far!" said one post that's being shared widely on Facebook. 
"A quarter of a million illegal votes found in Arizona audit...we told you so," another said.
These posts were flagged as part of Facebook's efforts to combat false news and misinformation on its News Feed. (Read more about our partnership with Facebook.)
The posts don't cite a source. But in response to comments, one of the posters directed readers to a blog post on Worthypolitics.com, which couches the statistic with more uncertainty. The headline says: "The number of illegal votes in Maricopa County could easily reach more than 250,000 votes."
A graphic embedded in the piece shows what appears to be a breakdown of "possible illegal votes" that toal 254,722, or about a quarter million. 
We also found the graphic in a clip of a recent recording of the podcast "War Room," which is hosted by Steve Bannon, who was an adviser and strategist for former president Donald Trump. It appears around the 2:28 mark of the video. 
Peter Navarro, Trump's trade adviser, appeared on the April 24 episode of the podcast. He walked Bannon through the information in the graphic, which he described as the results of his own investigation — not the audit underway in Arizona. 
"I did a deep dive on this and identified six different types of election irregularities across the six battleground states," he said. "The possible illegal votes, my investigation uncovered, was 254,722. So that's 24 times the alleged Biden victory margin so there's a lot of possible slack in that system and that's what these forensic folks are gonna be looking for as they count the ballots in Maricopa County."
In December, Navarro put out a report titled "The Immaculate Deception: Six Key Dimensions of Election Irregularities." In the summary, he wrote that the report assessed the integrity of the presidential election by "examining six dimensions of alleged election irregularities across six key battleground states," including Arizona. The evidence to conduct this assessment included "more than 50 lawsuits and judicial rulings," "testimony in a variety of state venues," and "public comments," the summary says.
Of the lawsuits that Trump and his allies filed seeking to overturn President Joe Biden's victory, only one prevailed, and it was a case that did not prove that widespread voter fraud affected the outcome of the election. As we've previously reported, judges across the political spectrum rejected dozens of cases filed after the Nov. 3 election. 
A Washington Post analysis faults Navarro's report for describing as "near-certainties things that are unfounded, misrepresented or unimportant" and relying on "biased and flawed sources of information."   
In any case, Navarro's speculation about the election results in the six states does not mean that the audit uncovered a quarter of a million fraudulent votes in Arizona or anywhere else.
The Arizona Republic reported on April 26 that auditors have not provided any updates since the audit began. 
Cyber Ninjas, the Florida-based technology company that Republican senators hired to oversee the audit, did not respond to our questions about the post. 
We rate the claim False.
Facebook post, April 26, 2021
Facebook post, April 26, 2021
Arizona Republic, Answers to your questions about the Arizona Senate's audit of the 2002 election results in Maricopa County, April 26, 2021
Worthypolitics.com, THIS IS HUGE! — BREAKING NEWS FROM ARIZONA AUDIT: The number of illegal votes in Maricopa County could easily reach more than 250,000 votes, April 25, 2021
The Associated Press, Election conspiracies live on with audit by Arizona GOP, April 25, 2021
YouTube, Bannon & Peter Navarro - Arizona audit - explain how important this audit is. War Room Sat. April 24, April 25, 2021
The Washington Post, This might be the most embarrassing document created by a White House staffer, Dec. 18, 2020
The Immaculate Deception, Dec. 15, 2020
Politico, 'Never heard of them': Arizona GOP audit firm unknown even in home state, April 26, 2021
PolitiFact, Trump did not win two-third of election lawsuits 'where merits considered,' Feb. 9, 2021
The New York Times, Half a year after Trump's defeat, Arizona Republicans are recounting the vote, April 25, 2021
Browse the Truth-O-Meter
More by Ciara O'Rourke
Support independent fact-checking.
Become a member!
In a world of wild talk and fake news, help us stand up for the facts.