Stand up for the facts!
Our only agenda is to publish the truth so you can be an informed participant in democracy.
We need your help.
I would like to contribute
Says spending by Democrats is driving major jumps in car rentals, gas prices and hotel prices this summer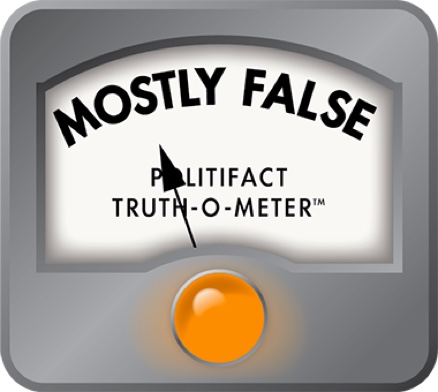 Tiffany misses the point behind why prices are rising for hotels, gas and car rentals
If Your Time is short
Inflation has gone up since the start of the coronavirus pandemic -- about 5% between May 2020 and May 2021

But the jump in inflation doesn't account for the rapidly increasing prices for travel

In fact, everyday consumers are driving prices higher as more and more people book trips
Since the introduction of the coronavirus vaccine, people have been spending more time outside their homes. 
With that has come more travel.
And if you're a traveler, you've surely noticed an increase in price for things such as gas, rental cars and hotels. 
U.S. Rep. Tom Tiffany, R-Wisconsin, certainly has. In a July 20, 2021 tweet, Tiffany attributed big jumps in the price for car rentals, gas and hotels to "reckless spending" by Democrats. 
The tweet noted that "car rentals" are up 87%, gas prices are up 45.1% and hotel prices are up 16.9%. 
Before we begin, an important note: Tiffany does not offer a timeframe for the period he is citing and, to be sure, "car rentals" is different than "car rental costs." We'll assume that he means the cost of rentals and that he is citing increases since the start of Biden's term -- but, in the end, the specific increases are not the most important part of this fact-check.
The real question is one of blame.
So, are Democratic bills and proposals -- many of which have not been passed or implemented yet -- fueling the rise in costs of travel? 
Let's unpack this one.
Tiffany points to inflation
When we asked Tiffany's staff for backup, staffers pointed to several articles about the American Rescue Plan Act-- advanced by President Joe Biden and Democrats in Congress -- and the risk that the plan would boost inflation to rates the country hasn't seen in decades. 
Of course, not every economist shares that view.
Inflation, of course, occurs when prices rise, decreasing your purchasing power. For example, in 1980, a movie ticket cost on average $2.89, but by 2019 an average ticket cost $9.16. So if you had saved a $10 bill from 1980, it would buy fewer movie tickets now than it did then.
According to economists, inflation is generally a product of several factors, including higher government spending, higher deficits and borrowing costs. (In this case, interest rates have remained steady, according to a June 10, 2021 report from the Washington Post, meaning it's cheap for the U.S. government to borrow money right now.)
Day-to-day price changes, though, are driven by other factors, chiefly the laws of supply and demand. When demand is high and supply is low, costs go up.
The same Post article notes that inflation rose by 5% between May 2020 and May 2021. That, of course, comes a year after most of the country was locked down and people were purchasing less -- and, notably, traveling much less.
So, if inflation went up 5%, why have travel costs grown so much more?
That's where supply and demand come in.
Rental cars
The rental car industry was hit especially hard by the pandemic. 
With almost no people traveling or renting cars, the top rental companies were forced to sell off about a third of their total fleet, according to a July 26, 2021 report in New York Magazine. Hertz, one of the largest, filed for Chapter 11 bankruptcy. 
Once the pandemic ebbed and people began to travel again, a shortage of microchips caused car manufacturing to stall, limiting the ability of rental companies to restock their fleets. 
The rising demand for rentals has forced prices higher and higher, reaching upwards of $1,000 per trip for some travelers, depending on location and duration. 
Gas prices
The average price for a gallon of regular gasoline in the United States was $3.18 on Aug. 3, 2021, according to the AAA Gas Price map. One year earlier, it was $2.18. Before that, prices had dipped as low as $.99 in some places. 
According to a June 10, 2021 fact check from USA TODAY, gas prices have been increasing since April 2020, after the pandemic forced prices down as people stayed home amid widespread closure orders aimed at controlling the coronavirus. 
The data also shows prices have been rising -- for the most part -- since before Joe Biden was elected and Democrats took control of the House and Senate. That is, when Republican Donald Trump was in office. So, clearly, action by Democrats is not solely responsible for the increase, as Tiffany claims.
"Gas prices fluctuate regardless of who is in office," said Molly Hart, a public and government relations spokesperson for AAA, in an email. "During the past year and a half, pump prices have primarily been driven by the pandemic's influence on supply and demand." 
Some critics have tried to link the higher prices to cancellation of the Keystone XL pipeline and other green energy policies proposed by the Biden Administration. But experts say they have not had any major impact on prices yet, though they may have an impact in the future. 
 
Hotel prices
According to a June 20, 2021 report from USA TODAY, the COVID pandemic itself -- not Democratic-backed relief packages -- are behind these increases, too. 
Now that restrictions have been lifted, people are leaving their communities more often to travel. They're heading to Disney World, the beach or mountains more often, meaning there's more demand for hotel rooms or other short-term rentals. 
"The price increase has been driven by a surge in demand," the USA TODAY report said.
For instance, a quarterly AAA survey of Wisconsin residents conducted in June 2021 found that 80% of respondents said they felt more comfortable traveling than they did three months earlier. 
Simply put, said Kevin Pahr, a professor of finance at the University of Wisconsin-Stevens Point, inflation did occur for many travel-related expenses, but it wasn't because of spending this year by the government. 
"The recent spike in inflation can be primarily attributable to three main factors (rather than any stimulus plan)," Pahr said. "The realization of pent-up demand, particularly in the travel, leisure, and hospitality industries, as the U.S. economy reopened and concerns over COVID-19 were mitigated, energy prices and supply chain disruptions."  
Our ruling
Tiffany claimed that spending by Democrats is driving major jumps in car rentals, gas prices and hotel prices this summer.
While inflation has gone up about 5% between May 2020 and May 2021, that doesn't account for the much larger spikes in the price of rental cars, gas and hotels, which are driven more by supply and demand issues, rather than a general growth in costs. 
During the pandemic, rental car companies sold off some of their cars to help make ends meet. Oil production dropped. And hotels stood mostly empty. 
But now demand is soaring, driving prices up. 
For a claim that is partially accurate but ignores critical facts that would give a different impression, we rate it Mostly False. 
Tom Tiffany, Twitter, July 20, 2021
Forbes, "How inflation erodes the value of your money," May 3, 2021
The Washington Post, "FAQ: Why inflation is rising and whether you should worry," June 10, 2021
AAA, Gas Prices, July 27, 2021
USA TODAY, "Fact check: Rising gas prices due to high demand and low supply, not Biden's policies," June 10, 2021
USA TODAY, "Vacation rental costs are surging: 'You better book something now," June 20, 2021
Email conversation with UW - Stevens Point professor Kevin Pahr, Aug. 3, 2021
New York Magazine, "If You Think Flying Sucks, Try Renting a Car," July 26, 2021
Browse the Truth-O-Meter
More by Laura Schulte
Support independent fact-checking.
Become a member!
In a world of wild talk and fake news, help us stand up for the facts.