Stand up for the facts!
Our only agenda is to publish the truth so you can be an informed participant in democracy.
We need your help.
I would like to contribute
Audio clips from ad show Pat McCrory supported Black Lives Matter protesters while condemning 'Trump supporters'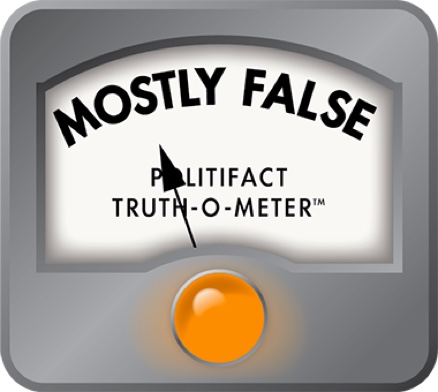 Did Pat McCrory support Black Lives Matter protests and condemn 'Trump supporters?'
If Your Time is short
A new Club for Growth Action ad uses clips from Pat McCrory's radio show to make it seem like he supported Black Lives Matter and condemned Trump supporters who rioted at the U.S. Capitol.
Audio from McCrory's Jan. 7 show reveals he wasn't expressing support for Black Lives Matter but was recalling a time their protesters became violent.
Later in that same show, he specifically condemned rioters who attacked police officers at the U.S. Capitol.
A new ad by a conservative political action committee attempts to portray Republican U.S. Senate candidate Pat McCrory as someone who supports Black Lives Matter protesters and condemns Republicans.
McCrory, the former governor of North Carolina, is one of several Republicans hoping to hold incumbent Richard Burr's seat when he retires next year. Club for Growth Action, the Washington-based anti-tax group, is throwing its weight behind U.S. Rep. Ted Budd, R-NC.
The group recently released a 30-second video ad that includes several audio clips of McCrory speaking on his radio show. Toward the end of the ad, its narrator suggests that McCrory defended the protestors and scolded "Trump supporters."
Here's a transcript, with quotations showing where the ad uses audio of McCrory.
Pat McCrory called Romney "a man of incredible courage." 
But on Trump? 
"Donald Trump is destroying democracy."
"If there was any fraud, I haven't seen the evidence."
"Donald Trump, get off the stage, let Joe Biden take over the number one position."
No wonder Biden loves McCrory.
"People rightfully protested for Black Lives Matter."
But Trump supporters?
"Riots by Republicans. Who in the hell do they think they are?"
We wondered: What was the full context of McCrory's comments about Black Lives Matter and "riots by Republicans?"
It turns out that the quote about Black Lives Matter is from one of McCrory's rants condemning a "mob" mentality among all protestors. And to form the final line about Republicans, Club for Growth Action appears to have combined audio clips from different parts of one of McCrory's radio show.
Jordan Shaw, McCrory's campaign spokesman, told PolitiFact NC that the former governor has condemned violence from both ends of the political spectrum on numerous occasions.
"In fact, when he was governor, he called the National Guard to deal with far-left protesters burning our cities," Shaw said in an email. "His radio show from January 7th makes it clear he condemns the violence at the Capitol. He condemns violent protests no matter who it is, and he's done so publicly on countless occasions with respect to BLM, Jan. 6, you name it."
'People rightfully protested for Black Lives Matter' in context
The quote, "people rightfully protested for Black Lives Matter" comes from statements McCrory made on his Jan. 7 radio show, the day after the insurrection at the U.S. Capitol. 
McCrory did compare Black Lives Matter protests and the protests at the U.S. Capitol on Jan. 6, but he was not condemning one protest and defending another. His statement did not express support for Black Lives Matter, as it appears in this ad. Rather, he was talking about how a "mob mentality" can lead any protest to become violent. Referring to rioters on Jan. 6, McCrory said:
"I think a lot of those protestors didn't plan to get violent. … (But) when you follow the mob, you become part of the mob. I saw this during protests in Charlotte, where people rightfully protested for Black Lives Matter. But then they didn't stop other people from breaking the windows. They didn't defend the police. And the exact same thing happened yesterday in Washington, D.C. People who had a right to protest did not protest the violence and the breaking of laws — the taking over a hallowed institutional building. It's inexcusable."
McCrory has previously distinguished between peaceful protestors and people who see protests as an opportunity to vandalize. 
NBC's "Meet The Press" featured McCrory as a commentator after a Minneapolis police officer killed George Floyd on May 25, 2020. Protests had broken out across the country. McCrory said "groups of anarchists" that infiltrate protests can cause "destruction and cause this massive call for the National Guard."
"They'll hit and run. They'll break windows. They'll set fires. Then they'll run and even using social media, they'll maneuver around very well trained police officers who are trained to do riots," McCrory said on the May 31, 2020, show. "It's a very complex situation in which you're dealing with people with legitimate protests, but you're also dealing with people that are basic terrorists."
About a week later, McCrory tweeted that police officers weren't getting enough credit for their work during the protests. 
'Riots by Republicans … who in the hell do they think they are?' misleadingly stitched together
The final quote in the ad appears to be stitched together from a pair of sentence fragments from different parts of McCrory's Jan. 7 episode and it distorts what he actually said. About three minutes into the episode, McCrory said this:
"I did a top five—a McCrory top five—about five weeks ago after the election ended and said some things that haven't happened since the election where Donald Trump was defeated. One thing I was proud of: no riots by Republicans. 
"Well, that ended yesterday. And it was disgusting. Violence and assaults against police officers trying to protect government property. Violence trying to get into the halls of our government of the United States of America. Gunfire. People being killed. There's no excuse for it. And I want to be consistent. I'm gonna speak against that violence and say there's no excuse no matter how mad you are."
While McCrory mentioned Republicans here, it's clear that he's calling out violence – not the fact that they were protesting. 
The day prior, McCrory tweeted: "Mob rule and violence was unacceptable in our cities across our country this past year and it is even more unacceptable today in our (nation's) Capital."
The "who in the hell do they think they are?" audio comes from later in McCrory's Jan. 7 show, around the seven-minute mark of the recording. McCrory did not condemn Republicans, specifically, as the ad suggests. He scolded rioters for assaulting police officers.
"To see protesters during this past year, and now yesterday at the U.S. Capitol, go into the chambers of the House of Representatives, which felt like an assault to those individuals, those representatives – that to me is an assault on our government. 
And then to see police officers defending themselves and having to spray individuals who were attacking them, it's inexcusable. Who in the hell do they think they are carrying an American flag and then assaulting a police officer?"
McCrory went on to say that even if he were protesting, he would have stopped to help police officers.
Our ruling
The Club for Growth Action ad played audio clips of McCrory that made it seem like he was defending Black Lives Matter protesters, while condemning Trump supporters by saying, "Riots by Republicans. Who in the hell do they think they are?"
The clip about the Black Lives Matter protests omits McCroy's full comments, which reference violence during their protests. 
The second quote was deceptively edited by pasting together using two sound bites. It's accurate for the ad to point out that McCrory was upset with Trump supporters, but it was misleading for the ad-makers to exclude McCrory's reasoning for condemning them: because those who rioted used violence against police officers. 
This part of the ad contains an element of truth but ignores critical facts that would give a different impression. We rate this claim Mostly False.
Video of the Club for Growth Action ad.
Email exchange with Jordan Shaw, spokesman for the Pat McCrory for U.S. Senate campaign.
Audio of WBT Radio's "The Pat McCrory Show with Bo Thompson" on Jan. 7, 2021.
Tweet by NBC's "Meet the Press" on May 31, 2020.
Tweets by Pat McCrory on June 4, 2020 and Jan. 6, 2021.
Browse the Truth-O-Meter
More by Paul Specht
Support independent fact-checking.
Become a member!
In a world of wild talk and fake news, help us stand up for the facts.