Stand up for the facts!
Our only agenda is to publish the truth so you can be an informed participant in democracy.
We need your help.
I would like to contribute
Says people are moving to Milwaukee "in record numbers"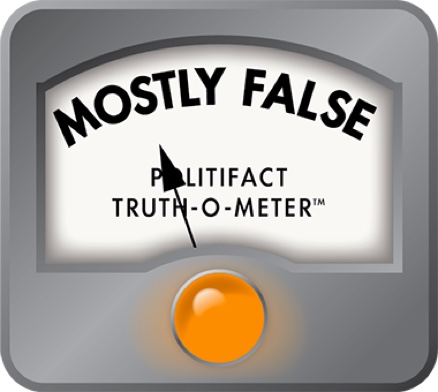 Yes, Milwaukee saw population growth during the pandemic. But hard to tell if it's 'record numbers'
If Your Time is short
Early data is showing that Milwaukee benefited from moving patterns during the pandemic. People left the country's major metropolitan areas in favor of smaller cities, like Milwaukee, which experienced a 4.5% increase in net arrivals during 2020 compared to 2019.

But it's unclear whether, as Feigin stated, these are "record numbers." It may be a record compared to the last decade, in which Milwaukee experienced sluggish population growth, but it's harder to tell whether it beats out years during the 19th and 20th centuries when the city's population was exploding.

More data is likely needed before a trend of record growth in Milwaukee can be established.
Correction: A previous version of this story incorrectly said that Our Town America had not responded to a request for further data. In the response, the group confirmed its research shows 10,000 new movers to Milwaukee since January of this year. The change does not affect the rating. 
If you live in Milwaukee, are from Milwaukee, or just love Milwaukee, you no doubt heard ESPN First Take's recent comments on the city. 
The program's host said she was glad they likely wouldn't make the trip to the site of the NBA finals this year because "it's going to be terrible cities." The potential cities, of course, include Milwaukee. When asked whether he'd want to make the trip to the Brew City, commentator Stephen A. Smith replied, "Hell no." 
And then outrage erupted. 
Milwaukeeans stepped up to defend themselves, from city leaders like Ald. Khalif Rainey to Twitter users unhappy with the slight. The Milwaukee Journal Sentinel published a lengthy list of all the things to love about the city, though columnist James E. Causey reminded readers that there is truth to the comments for many of the city's residents of color. 
The entity at the center of the controversy — the Milwaukee Bucks — didn't waste time jumping in. On June 23, 2021, team president Peter Feigin offered the First Take hosts a personal tour of the city, noting its eclectic neighborhoods, great dining scene and expansive Lake Michigan waterfront. 
"There's a reason people are moving to this welcoming gem of a city in record numbers," Feigin said in a statement, shared by the Bucks' official Twitter account. 
Are the Bucks accurate? Are people moving to the city in record numbers? 
Let's dive in. 
Very early data show pandemic boosted Milwaukee's population 
When asked for evidence for the claim, Bucks' chief communications officer Barry Baum pointed to a September 2020 study from LinkedIn's Economic Graph team showing that people fled the nation's largest metro areas during the pandemic, favoring smaller cities like Milwaukee.  
Milwaukee experienced a 4.5% increase in net arrivals to the city in April to August 2020, compared to the same stretch of months in 2019. That was the fourth-largest gain in net arrivals in the nation, the study found, following Jacksonville, Salt Lake City and Sacramento. 
Baum also cited a June 4, 2021 CBS-58 story that said 10,000 people had moved to Milwaukee since January of this year, many of them choosing to work remotely at the same job in a larger city they'd left behind. 
That story references research from Our Town America, a marketing company that helps businesses target new movers. An employee of Our Town America said at the time of the CBS-58 report, their company had sent mail to roughly 10,000 people who had newly moved to Milwaukee since January.
But that information Baum cited is based on estimates, extrapolated from other data. The official tallies come from the U.S. Census bureau.
A May 28, 2020 analysis from the Journal Sentinel's Ideas Lab found that the Milwaukee metro area was lagging far behind its Midwestern peers in adding to its population — adding about 19,000 residents, or a growth rate of 1.2%, between 2010 and 2019, for a total of 1,575,179. 
The city itself actually shrank by 0.7% between 2010 and 2019, according to Census estimates, from 594,498 residents to 590,157. Indeed, its population has been on a decline since the 1960s. 
In comparison, the population of Madison, Wisconsin's capital city and the second-largest in the state, grew by 9.8% between 2010 and 2019, the analysis found. 
In that context, adding 10,000 people in a matter of six months would seem to set a record. 
But Feigin didn't specify his "record numbers" claim in the context of the last decade. 
So is this the most people that have moved to Milwaukee — ever? 
Huge population gains were made in the 19th, 20th centuries 
Milwaukee's population grew dramatically in the 1800s and 1900s, according to the Milwaukee County Historical Society. 
A city of less than 10,000 when it was incorporated in 1846, it had more than doubled in size four years later. Immigrants flooded in for jobs following the Civil War, keeping Milwaukee growing and diversifying through the end of the 19th century. 
Historical census data shows that Milwaukee grew from about 1,700 residents in 1840 to more than 587,000 a hundred years later. Some of those decades marked particularly large waves of people moving to the city — between 1920 and 1930, the city's population grew by 121,102 people, and it grew by at least 80,000 people in each of the four decades prior. 
Since that old census data doesn't get more granular than breaking things down by decade, it's difficult to know exactly how many people moved to Milwaukee in a given year during that time. If we evenly divide that decade of largest growth by 10, that's about 12,110 people moving to the city per year during the 1920s. 
Still, to be fair, we don't know how many more people might move to Milwaukee during the rest of 2021. So, it's not yet possible to compare it to a year from a century ago. 
Both Ben Barbera, director of collections and exhibitions at the Milwaukee County Historical Society, and Milwaukee historian John Gurda were skeptical of whether any recent boost constitutes record numbers. 
Though Barbera said the lack of year-over-year data meant he couldn't guarantee whether a single year during the last two centuries added more than 10,000 new residents, he said that from a percentage standpoint, those decades were "much more impressive," particularly the city's 77% increase from 1880 to 1890. 
Gurda said that the term "record numbers" was likely an exaggeration. Milwaukee has seen slow growth for decades, he wrote in an email to PolitiFact Wisconsin. 
"If COVID has in fact made smaller cities attractive, that would be great news for Milwaukee," Gurda said. "But I think the trend has yet to establish itself." 
Our ruling 
Feigin said people are moving to Milwaukee in record numbers. 
While it may be true that the pandemic trend of people leaving larger cities for smaller ones has benefited Milwaukee, it seems more likely that it's too early to tell. And the explosive growth during the 19th and 20th centuries is hard to beat. 
In one way-back decade, the city saw a 77% population increase. 
Our definition of Mostly False is that the claim contains an element of truth but ignores critical facts that would give a different impression. 
That fits here.
Browse the Truth-O-Meter
More by Madeline Heim
Support independent fact-checking.
Become a member!
In a world of wild talk and fake news, help us stand up for the facts.