Stand up for the facts!
Our only agenda is to publish the truth so you can be an informed participant in democracy.
We need your help.
I would like to contribute
"President Biden says he wants to ban handguns."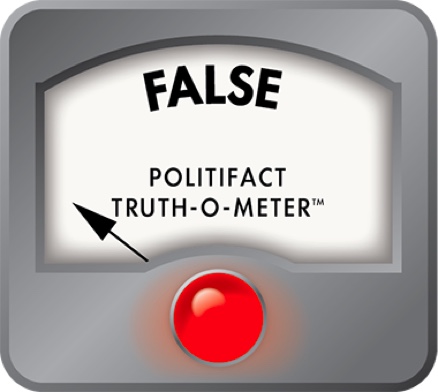 No, Joe Biden doesn't want to ban handguns
If Your Time is short
Biden wants to ban assault weapons and high-capacity magazines.

The most popular handguns would face no restrictions under Biden's policies.
When President Joe Biden was asked in his Ohio town hall what he plans to do about rising homicides, House Republicans were quick to fire off a tweet to their followers.
"President Biden says he wants to ban handguns," the House GOP account tweeted July 21.
The tweet included a video clip from the CNN town hall-style event where Biden was speaking. That clip doesn't back up the GOP tweet, and the full transcript goes further to sink this claim.
Biden's response followed a question from Andrea Solis Canto, a Cincinnati paralegal, about the spike in homicides.
"Gun violence has taken the lives of so many young students and young people," she said. "I'm tired, and I want to see change that's going to make our cities, like Cincinnati, safer."
Biden first noted that while crime generally is down, murders and gun violence are up. There's always a sizable lag in national crime statistics, but based on what's known today, Biden is broadly correct.
Many cities have seen trends like the ones in Cincinnati. In the past three years, homicides are up 17%, while other serious violent crimes such as rapes and robberies are down more than 20%, according to the city's police department.
Biden's main focus, though, was on guns.
"The idea you need a weapon that can have the ability to fire 20, 30, 40, 50, 120 shots from that weapon, whether it's a 9-millimeter pistol or whether it's a rifle, is ridiculous," Biden said. "I'm continuing to push to eliminate the sale of those things."
Those numbers Biden used apply to assault-style firearms and high-capacity magazines. As recently as June, when Biden rolled out his strategy to bring down murders, he said he wants to ban both.
Experts disagree over what is or isn't an assault weapon. States set different thresholds for what qualifies as a high-capacity magazine.
But regardless of the definition, neither term includes all handguns. 
For example, the Sig Sauer P365 was ranked the most popular handgun in a 2020 survey of Alabama gun dealers. The NRA's Shooting Illustrated Magazine named it the Handgun of the Year. The standard magazine for the P365 is 10 rounds, and depending on the model, the weapon can accommodate a 15-round magazine.
Nothing Biden said would curtail the purchase of the Sig Sauer P365. Nor would his policies touch any of the 15 standard handguns in the Alabama survey. It is possible that some models of pistols would be affected. There are designs that bridge the gap between handgun and rifle, and are built to accommodate larger magazines. But they represent a subset of firearms, and barring them would not constitute a ban on all handguns.
In the rest of his answer, Biden talked about his focus on black-market suppliers to stop the flow of illegal firearms. 
"It's not because the gun shops in the cities are selling these guns," Biden said. "They are either shadow gun dealers and/or gun shops that are not abiding by the law."
Again, that effort would not bar the legal sale of handguns. The House Republican video clip included none of Biden's expanded answer.
We reached out to the House Republicans and did not hear back.
Our ruling
House Republicans said Biden wants to ban handguns. That is incorrect.
Biden was talking about banning assault weapons and magazines that carry 20 to 120 rounds of ammunition. Those policies would not affect the most popular handgun models. Even if some smaller set of pistols came under such a ban, that would not translate to a ban on handguns across the board.
We rate this claim False. 
RELATED: Murders spiked in 2020. Why?
House Republicans, Tweet, July 21, 2021
White House, Remarks by President Biden in a CNN Town Hall with Don Lemon, July 21, 2021
Cincinnati Police Department, Crime statistics, July 10, 2021
White House, Remarks by President Biden and Attorney General Garland on Gun Crime Prevention Strategy, June 23. 2021
White House, Biden-Harris Administration Announces Comprehensive Strategy to Prevent and Respond to Gun Crime and Ensure Public Safety, June 23. 2021
AL.com, 15 most popular handguns in Alabama for 2020, Jan. 15, 2020
Sig Sauer, P365, accessed July 22, 2021
Firing Pins, The difference between High Capacity and Standard Capacity Magazines., Jan. 31, 2013
RAND, Mass Shootings in the United States, April 15, 2021
Inside Sources, Magazine Capacity Restrictions, Not Assault Weapon Bans, Have Potential to Save Lives, Aug. 19, 2019
Giffords Law Center, Large capacity magazines, accessed July 22, 2021
PolitiFact, Joe Biden says he will champion a ban on assault weapons, not all guns, July 9, 2019
Joe Biden for President, The Biden plan for educators, students and our future, May 28, 2019
Browse the Truth-O-Meter
More by Jon Greenberg
Support independent fact-checking.
Become a member!
In a world of wild talk and fake news, help us stand up for the facts.