Stand up for the facts!
Our only agenda is to publish the truth so you can be an informed participant in democracy.
We need your help.
I would like to contribute
Says North Carolina moved "from among the worst business rankings in the country, to the top 10."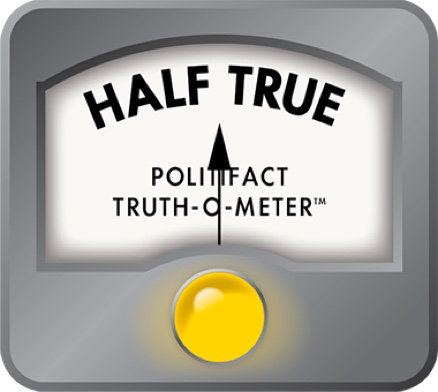 NC Republican ignores state's old business rankings
If Your Time is short
State Sen. Paul Newton, a Republican, said his party's tax code changes made North Carolina one of the best states for business.
It's true that North Carolina moved from 46th to 10th in the Tax Foundation's rankings after those tax changes.
However, his statement ignores the fact that CNBC, Chief Executive magazine and Forbes all placed North Carolina in the top five before Newton's party took over.
To hear North Carolina Republicans tell it, they turned their state around.
Democrats controlled the state government for more than 100 years before the GOP gained control of the legislature in 2010 and then the Governor's Mansion in 2012.
As state Sen. Paul Newton pointed out in his recent press conference, Republicans swiftly changed North Carolina's tax codes in 2013 to make the state more appealing to businesses.
"Our pro-business policies moved North Carolina from among the worst business rankings in the country, to the top 10," Newton said as he introduced the GOP's latest tax tweaks.
This made us wonder: When it comes to business rankings, how big was this turnaround?
It turns out, a credible think tank in 2011 did consider North Carolina's tax codes to be among the least business-friendly in the country. While Republican leaders cited that think tank by name in their press release, Newton overgeneralized. And in doing so, he ignored rankings by at least three media outlets who considered the Tar Heel state to be one of the best places for business.
The Tax Foundation
When we reached out to Newton's office, spokesman André Béliveau referred us to rankings by the Tax Foundation. The foundation, considered a top independent tax policy nonprofit, for years has been releasing a State Business Tax Climate Index.
Béliveau pointed out the Tax Foundation ranks North Carolina 10th this year, after ranking the Tar Heel state as low as 46th in 2011. And the Republicans' tax changes certainly played a role in the state's rise in the rankings, said Jared Walczak, the foundation's vice president of state projects.
"Before tax reform, North Carolina's tax rates were relatively high, with generous incentives for select industries, particularly in agriculture and textile manufacturing. These targeted incentives, however, were out of reach for firms outside these traditional industries," Walczak told PolitiFact in an email.
"In 2013 and thereafter, targeted incentives were pared back, tax bases broadened, and rates reduced. The individual income tax, the corporate income tax, and the franchise tax all saw rate reductions, while tax bases were revised to enhance neutrality so that the code did not put a thumb on the scale, picking winners and losers," he said. 
As a result, Walczak said the state's domestic product has improved.
"In the seven years prior to tax reform in 2013, state gross product only rose 1.8% in real terms, compared to a national average of 5.6%," he said. "In the seven years since — which includes the downturn from the coronavirus pandemic — state gross product rose 9.5%, exceeding the 9% national average."
Other rankings
While the foundation obviously wasn't keen on North Carolina's tax policies a decade ago, other analysts saw potential in North Carolina.
In 2011, the same year the Tax Foundation ranked North Carolina 46th, both Forbes Magazine and CNBC ranked North Carolina the third best state for business. Meanwhile, 
Chief Executive Magazine ranked North Carolina the second-best state for business in the country.
PolitiFact reviewed North Carolina's rankings in Forbes, CNBC and Chief Executive magazine dating back to 2007. In multiple years before Republicans took complete control over state government — including 2007, 2010, 2011, 2012 — the three outlets ranked North Carolina among the top five best states for business.
Only once, when CNBC rated North Carolina No. 12 in its 2013 rankings, did the state fall out of the top 10.
The disparity between findings by the Tax Foundation's and the others is largely due to ranking methodology.
Comparing rankers
The Tax Foundation study focuses solely on taxes, specifically: individual income, sales, corporate income, property, and unemployment insurance taxes. The foundation's focus "is narrower than other business indices" that include other factors, Walczak said.
Indeed, the other rankings used such factors as workforce quality, cost of living, and quality of life — elements that elected officials cannot control anywhere near as directly as tax policy.
Chief Executive said in 2011 that "more than 500 CEOs considered a wide range of criteria, from taxation and regulation to workforce quality and living environment, in our annual ranking of the best states for business."
CNBC said they "scored all 50 states on 43 measures of competitiveness developed with input from business groups including the National Association of Manufacturers and the Council on Competitiveness." The measures of competitiveness included everything from a state's tax codes to its infrastructure and cost of living.
Forbes said it looked at six categories: "costs, labor supply, regulatory environment, current economic climate, growth prospects and quality of life."
By focusing solely on a rating defined by tax policy, Newton ignored other ratings that included factors having less to do with partisan control.
Rankings by the other outlets are "all measuring meaningful things and tend to be taken seriously by policymakers and business leaders," Walczak said. He noted that CNBC's measures of competitiveness incorporated rankings by the Tax Foundation and other groups.
"These indices can provide a helpful snapshot of a state's business climate and identify areas of improvement, though it's important to remember that not all factors they measure matter equally to all businesses," Walczak said. "At their best, these indices are a valuable diagnostic tool and a shorthand way of identifying a state's economic climate and competitive standing. For businesses, moreover, the better indices are a useful rubric when considering states for expansion."
He added: "No one is going to choose a state just because of its ranking, but these rankings might help create the list of states that merit further consideration."
Our ruling
Newton said "Our pro-business policies moved North Carolina from among the worst business rankings in the country, to the top 10."
This statement gives the impression that North Carolina was ranked among the worst states for business in the country prior to 2013, when the Republicans ushered in sweeping tax reforms.
That's misleading. While the Tax Foundation ranked North Carolina's tax structure low in 2011, three media outlets with longstanding state rankings of business environments placed the Tar Heel State among the best states for business even before Republicans took control of the legislature.
We rate Newton's claim Half True.
Browse the Truth-O-Meter
More by Paul Specht
Support independent fact-checking.
Become a member!
In a world of wild talk and fake news, help us stand up for the facts.