Stand up for the facts!
Our only agenda is to publish the truth so you can be an informed participant in democracy.
We need your help.
I would like to contribute
COVID-19 vaccines contain "RNA-modifying transhumanism nanotechnology."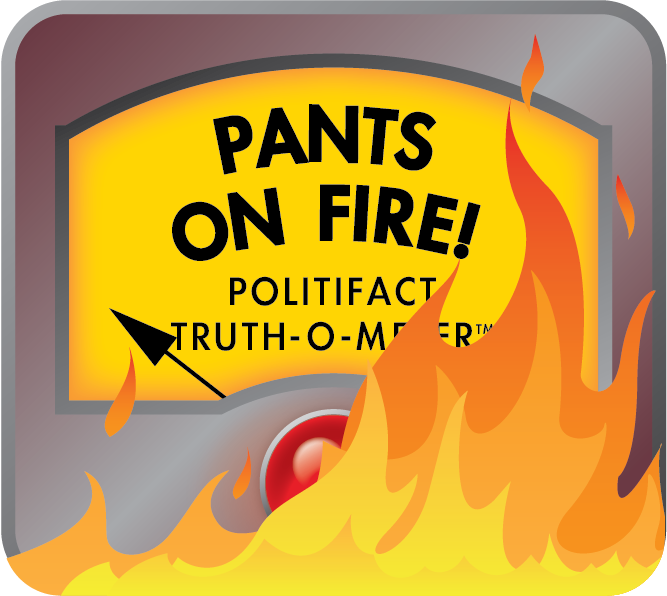 'Transhumanism nanotechnology' COVID-19 vaccine conspiracy theory is Pants on Fire
If Your Time is short
There is no evidence that the three vaccines used in the U.S. contain technology to permanently alter human beings.
A headline on a video widely shared on Facebook used multisyllabic words to make an alarming claim about the COVID-19 vaccines:
"Dr. Carrie Madej: Why Is RNA-Modifying Transhumanism-Nano-Technology Inside the COVID-19 Vaccines?"
The short answer to the question: It isn't. The vaccines don't contain any such thing.
The post was flagged as part of Facebook's efforts to combat false news and misinformation on its News Feed. (Read more about our partnership with Facebook.)
It's part of a baseless conspiracy theory about the vaccines being part of an effort to change humans through technology.
"None of the vaccines contain nanotechnology of any sort, let alone 'transhumanism nanotechnology,' which isn't even a thing," said Mark Lynas, a visiting fellow at the Alliance for Science and Cornell University. 
Planning to 'evolve humanity'
Madej describes herself as an osteopathic internal medicine doctor who stands for "freedom, truth, great love," and who is "practicing the truth in Jesus through medicine." She also indicates she is no longer practicing medicine, but rather "dedicates her time to educating others on vaccines, nanotechnology and human rights."
Madej has made multiple claims about the COVID-19 vaccines that fact-checkers have rated false.
In the 50-minute video, Madej described attending business owner meetings in metropolitan Atlanta several years ago in which the participants discussed "transhumanism," which she said is "taking the human body and making it better" through methods such as "genetic modification, nanotechnology, melding the human body with artificial intelligence." 
The COVID-19 vaccines, she suggested, are part of this effort.
"The people that are pushing these agendas" are also "pushing these injections on everybody around the world. They go hand in hand," she said. Their plan "is to change what it is to be human, and their goal is 2030."
Madej said she viewed the Pfizer, Moderna and Johnson & Johnson COVID-19 vaccines with a compound microscope and observed indications of "superconducting materials," or a "liquified computing system." 
She also said she observed "tentacle-like, spider-like organisms," and that people told her they were pond-water parasites.
We rated as Pants on Fire claims that the Pfizer vaccine contains "a deadly parasite" and "living particles" that could germinate in the body.
We can't say what Madej was looking at under a microscope or what she saw. We messaged Madej on Facebook, but did not get a reply. Madej does not list contact information on her website or on her Instagram, Facebook and Twitter accounts. We called two phone numbers listed online for her; neither were working.
A jumble of scientific terms
The only links between Madej's description of the vaccine and what's actually in it are the term "RNA" and the prefix "nano."
RNA — ribonucleic acid — is a molecule similar to DNA that carries coded genetic information to a cell. The Pfizer and Moderna COVID-19 vaccines use a form called messenger RNA, or mRNA, to carry genetic information about the coronavirus to the body's cells to teach the immune system to identify and prepare to fight off a COVID-19 infection. It does not modify a person's DNA or RNA. 
The mRNA technology dates to the 1990s, though this is the first time it has been used in widely disseminated vaccines. 
The Johnson & Johnson vaccine does not use mRNA. Instead, it uses a disabled adenovirus to deliver instructions to help the body recognize the coronavirus' spike proteins and activate the immune system. 
Lynas at Cornell said mRNA vaccines "have proven incredibly safe and effective and the technology is also looking promising for many other diseases and cancer."
Nanoparticles are not nanotechnology
The term "nano" is widely used to describe things that are very small, such as iPods and cars, but scientists use the prefix more specifically to refer to things on the scale of individual atoms. 
Nanotechnology, says the National Nanotechnology Initiative, is the "application of extremely small things" for uses in fields such as chemistry, biology and physics. These can be structures or even tiny machines. 
In the Pfizer and Moderna vaccines, the mRNA is contained in a "lipid bubble," or a shell of fat, that's described as a nanoparticle. That just means it's very small. That doesn't make it nanotechnology. 
"Even though the term is used here to imply that nanotechnology is being used to modify your RNA, that is completely false," said Cindy Prins, a professor of epidemiology at the University of Florida. "The mRNA in the Pfizer and Moderna vaccines doesn't have any effect on one's DNA or RNA. It doesn't become a permanent part of the cell."
Prins said Madej's explanation of what she says she observed "is ridiculous. She says she is using a compound microscope, which can be used to look at cells or bacteria, but certainly will not show nano-scale structures."
Translating 'transhumanism'
Transhumanism is the belief in changing and enhancing the human body through technology.  
Lynas said "there are people who believe we should try to transcend human biology and upload human consciousness to computers — but they are a fairly marginal group and don't have anything to do with vaccine developers, in my knowledge."
Prins said: "I have been vaccinated and can guarantee that the only modification I have is immunity to COVID-19."
Our ruling
Madej said the COVID-19 vaccines contain "RNA-modifying transhumanism nanotechnology."
There is no evidence that the three vaccines used in the U.S. contain any such thing. Two of the vaccines use mRNA technology that does not change the body's DNA or RNA or alter humans permanently.
The claim is false and ridiculous — Pants on Fire!
Rumble, "Dr. Carrie Madej | Why Is RNA-Modifying Transhumanism-Nano-Technology Inside the COVID-19 Vaccines?", (4:15, 9:00) Oct. 13, 2021
Email, Mark Lynas, fellow at Cornell Alliance with Science at Cornell University, Oct. 21, 2021
Email, Cindy Prins, University of Florida College of Public Health and Health Professions' assistant dean for educational affairs and clinical associate professor of epidemiology, Oct. 21, 2021
PolitiFact, "mRNA COVID-19 vaccines were tested in humans, have proven to be safe, effective," June 25, 2021
PolitiFact, "No, this isn't a picture of a parasite in the Pfizer COVID-19 vaccine," Oct. 13, 2021
Browse the Truth-O-Meter
More by Tom Kertscher
Support independent fact-checking.
Become a member!
In a world of wild talk and fake news, help us stand up for the facts.