Get PolitiFact in your inbox.
Human traffickers are putting toxin-laced tissues on gas pumps and door handles, then waiting for potential victims to pass out.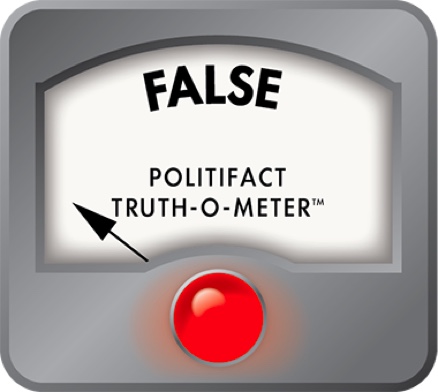 No evidence human traffickers using toxic tissues to kidnap victims
If Your Time is short
The Polaris Project, a nonprofit that combats human trafficking, said its National Human Trafficking Hotline team wasn't aware of any reports of toxic tissues being used to kidnap victims.

Human trafficking victims are rarely taken with force by strangers, experts said. Usually the perpetrator is a romantic partner, relative or acquaintance who uses psychological means such as threats or manipulation to exploit their victims.
Human trafficking is a real problem in the U.S. and around the world, but we've come across some myths in recent years about captors' strategies to ensnare victims.
We previously found claims that traffickers are using zip ties to mark or distract victims for kidnapping to be unfounded. Claims that retailers such as Walmart and Wayfair are involved in sex trafficking operations had no merit.
Now, a video shared on social media alleges that traffickers are using another tactic to trap victims: attaching tissues laced with toxins to gas pumps and door handles.
"Stay alert!! Traffickers are working overtime," read text overlaid on a video shared Dec. 12 on Instagram.
In the video, Egypt Sherrod, who is host of a real estate show on HGTV, warned her more than 1 million Instagram followers of the potential danger. She posted a video Dec. 11 of herself speaking at a gas station in Kennesaw, Georgia, and showed viewers a tissue wrapped around a gas pump handle. 
If you see a tissue wrapped on a gas pump or door handle, she warned, do not touch it, "because this is what traffickers are doing."
"They're putting a toxin on the tissue, and then they're putting it on a place you have to touch," she said. "And then they're waiting for you to pass out."
Sherrod's video was later shared by musician Ziggy Marley to his 1.4 million followers. 
The Instagram posts were flagged as part of Facebook's efforts to combat false news and misinformation on its News Feed. (Read more about our partnership with Meta, which owns Facebook and Instagram.)
PolitiFact wasn't able to find evidence that tainted tissues are being used in kidnapping attempts, though there have been accounts of people finding tissues on their cars.

Sherrod called 911 to report the incident she described in her Facebook video and officers were sent to the gas station, according to audio and a dispatch report provided by the Cobb County Police Department's 911 Open Records Unit. 
There is no police report for the incident because the officer had no information to gather at the scene, Cobb County police spokesperson Wayne Delk told PolitiFact. "No complainant, witnesses, or victims were there, so the officer conducted a check for the suspicious person and suspicious activity," he said.
In August, a Houston woman said she was poisoned after touching a napkin tucked into her car door handle at a restaurant parking lot.
Erin Mims, 37, said her fingers and arm started to feel numb after touching the handle. After making a video about it, she told the Houston Chronicle that doctors told her she had acute poisoning with an unknown substance. Mims told the Chronicle that she believed "the act was random and she wasn't directly targeted."
Houston police confirmed at the time that they were investigating the matter, the Chronicle reported. We reached out to the Houston Police Department to see if there were any updates in the case, but did not immediately hear back.
There is no question that human trafficking — either through sex trafficking, forced labor or domestic servitude — is an ongoing problem. Every year, millions of people worldwide are victims of trafficking, according to the Blue Campaign, a public awareness initiative within the Department of Homeland Security.
The Polaris Project, a nonprofit organization that works to combat human trafficking, 10,583 situations of human trafficking involving 16,658 victims were reported to its National Human Trafficking Hotline in 2020. Most reports were for sex trafficking, its data shows.
The Human Trafficking Institute, another organization combating trafficking, said in a 2021 report that there were 140 new criminal human trafficking cases filed in U.S. federal courts that year, 92% of which involved sex trafficking.
But according to those groups, myths about human trafficking are also widespread. 
Ayan Ahmed, a spokesperson for the Polaris Project, said she checked with her colleagues on the National Human Trafficking Hotline team about the alleged claim of toxins on tissues. The hotline, which is operated by Polaris, connects victims and survivors of sex and labor trafficking with services and support.
"They are not aware of any situations where traffickers used tactics like this to lure in potential victims," Ahmed said.
Polaris has tried to combat multiple myths and rumors about ways that traffickers find their victims.
"Although we can't really say where or how these stories originate, it could be as a result of common myths and misconceptions about how human trafficking happens," said Ahmed.
"Traffickers rarely target or abduct victims they don't know," said Ahmed, who added romantic partners, family members and acquaintances are usually the culprits.
Kidnapping and physical force are rarely used. Rather, "most human traffickers use psychological means such as tricking, defrauding, manipulating or threatening victims into providing commercial sex or exploitative labor," Ahmed said. 
The Human Trafficking Institute's report also said that sex trafficking victims are most likely recruited though the promise of a job or shelter. 
In 2021, the report said, there were 71 new criminal sex trafficking victims in which at least one method of recruitment was known, such as the promise of a job, drugs or shelter. Only one of those cases involved kidnapping.
"Contrary to the myth that victims of human trafficking are taken by force, only one (1) victim in one case filed in 2021 was kidnapped," the report said.
Our ruling
An Instagram video claims that human traffickers are placing tissues laden with toxins on gas pumps and car door handles in attempts to kidnap victims.
While there have been incidents in which people reported seeing or coming in contact with tissues being placed on gas tanks or car door handles, experts in human trafficking say they have not seen evidence that this is part of a wider human trafficking trend.
A spokesperson for an organization that runs a national human trafficking hotline said she wasn't aware of any similar situations being reported. And experts said it's a common misperception that human trafficking victims are physically kidnapped by people they don't know.
We rate this claim False.
Instagram post, Dec. 12, 2022
Email from Officer David Buchanan, public information officer for the Kennesaw Police Department, Dec. 13, 2022
Audio of 911 call, Computer Assisted Dispatch report provided by Cobb County Police Department's 911 Open Records Unit
Email from Wayne Delk, spokesperson for the Cobb County Police Department, Dec. 15, 2022
Email interview with Ayan Ahmed, spokesperson for the Polaris Project, Dec. 14, 2022
Polaris Project, "Myths, facts and statistics," accessed Dec. 13, 2022
Polaris Project, "Analysis of 2020 National Human Trafficking Hotline Data," accessed Dec. 14, 2022
Human Trafficking Institute, "2021 Federal Human Trafficking report"
Houston Chronicle, "A Houston mom was hospitalized after touching a napkin left on her car. She's still baffled.," Aug. 26, 2022
Federal Bureau of Investigations, "Human Trafficking," accessed Dec. 14, 2022
Browse the Truth-O-Meter
More by Jeff Cercone
Support independent fact-checking.
Become a member!
In a world of wild talk and fake news, help us stand up for the facts.