Get PolitiFact in your inbox.
"The Dems demand a photo ID to get a cheeseburger."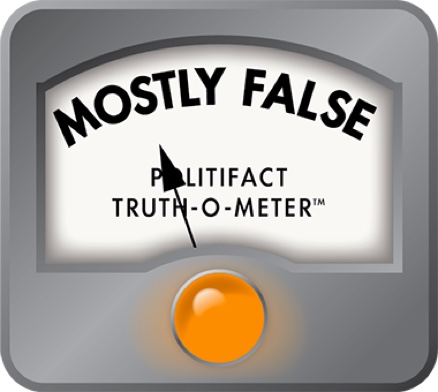 NC Congressman exaggerates Washington COVID restrictions
If Your Time is short
Rep. Greg Murphy, R-NC, tweeted a link to a story about Washington D.C.'s COVID-19 restrictions and said people need photo ID to "get a cheeseburger."
The city's recently-enacted rules do require adults to show proof of vaccination and photo identification to dine-in at restaurants and other eateries.
However, there are several other ways to get a cheeseburger in the city without having to show photo ID.
To hear one North Carolina congressman tell it, Democrats are going to great lengths to guard their grilled meats.
Republican Rep. Greg Murphy tweeted on Jan. 16: "The Dems demand a photo ID to get a cheeseburger but not one to vote. The height of hypocrisy."
We can't fact check whether Democrats are hypocrites. And it's well known that many Democrats oppose photo ID requirements at the polls. So let's set those things aside and focus on the most glaring declaration in Murphy's tweet: Are governments or businesses requesting photo identification from people who want cheeseburgers?
It appears Murphy is referring to new COVID-19 restrictions enacted by local officials in Washington, D.C.
Murphy's tweet included a link to a story by The Gateway Pundit, whose founder has been banned from Twitter for peddling misinformation. The founder, Jim Hoft, wrote the story Murphy shared, too. The headline says "Democrats Now Demanding Proof of ID to Walk the Streets of Nation's Capital — But NOT to Vote."
PolitiFact has already debunked a rumor spreading on Twitter and TikTok that Washington residents need a photo ID to leave their home or to "buy milk." And Murphy's tweet appears to be influenced by the same misinformation.
Murphy's office didn't immediately respond to messages seeking comment. 
The Gateway Pundit story includes a tweet by Washington Mayor Muriel Bowser, a Democrat, that reminded residents of new COVID-19 restrictions in the city starting Jan. 15. The tweet says residents older than 18-years-old should remember proof of vaccination and a photo ID when heading out to a restaurant. Residents 12 and over need proof of vaccination, the tweet said, adding that everyone needs a mask.
But the Gateway Pundit story and Murphy's tweet both exaggerate the scope of the new requirements. Murphy's tweet gives the impression that anyone ordering a cheeseburger will need to show a photo ID. That's not the case.
The vaccine and photo ID requirements only apply to people who want to enter a restaurant and stay a while. People can still order a cheeseburger and have it delivered. People are also allowed to enter briefly to pick up an order to go or grab a burger in a drive-thru. The restrictions don't apply to grocery stores. So residents could also buy the ingredients they want for a cheeseburger and then grill them at home.
Murphy's tweet also leaves out the fact that the congressman's workplace isn't bound by the Washington mayor's order. Eateries in the Capitol complex are continuing to serve patrons without requiring them to produce proof of vaccination, Roll Call reported last week. In fact, the Rayburn House Office Building is home to a Steak n' Shake, which sells something called a "steakburger with cheese." 
Our ruling
Criticizing Democratic opposition to voter ID requirements, Murphy said, "The Dems demand a photo ID to get a cheeseburger."
Murphy is greatly exaggerating the effects of Washington's latest COVID-19 rules.
Adults in Washington, D.C., do need to show a form of photo ID to dine inside a restaurant or other eatery. But there's more than one way to get a cheeseburger and we're not aware of any Democrats or businesses withholding them from people who don't produce photo identification. People without a photo ID can still go through a drive-thru, have one delivered, place an order to go, or head to the grocery store for beef, buns and condiments. 
We rate this claim Mostly False.
Tweet by U.S. Rep. Greg Murphy on Jan. 16, 2022.
Story by The Gateway Pundit, "Democrats Now Demanding Proof of ID to Walk the Streets of Nation's Capital — But NOT to Vote," posted Jan. 13, 2022.
Story by CNN, "Twitter banned Gateway Pundit founder Jim Hoft," posted Feb. 8, 2021.
TikTok video posted by PolitiFact on Jan. 22, 2022.
Guidance document with information on COVID-19 restrictions enacted by Washington D.C. on Jan. 15, 2022.
Story by Roll Call, "House, Senate eateries won't enforce DC vaccination mandate," posted Jan. 18, 2022.
Story by WTOP, "DC gets its first Steak n' Shake (in an unusual location)," posted Sept. 13, 2019.
Browse the Truth-O-Meter
More by Paul Specht
Support independent fact-checking.
Become a member!
In a world of wild talk and fake news, help us stand up for the facts.