Get PolitiFact in your inbox.
In its July "red alert" for extreme heat, the U.K.'s Met Office warned that high temperatures could cause blood clotting.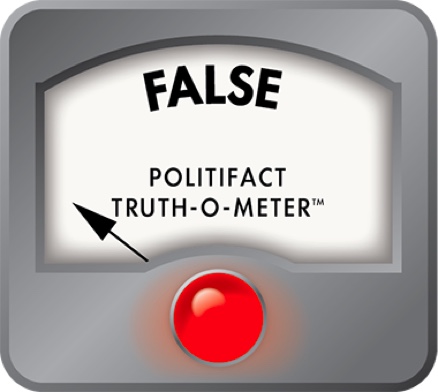 Overheating can cause blood clots, but the UK's Met Office didn't issue a warning about it
If Your Time is short
The U.K.'s Meteorological Office warned about extreme heat in the United Kingdom in mid-July. However, the office did not warn about blood clots, as the office focuses on weather.
The United Kingdom has been hot this summer — super, super hot. It's been so hot that U.K.'s health and meteorology agencies have issued unprecedented heat warnings. 
But contrary to some social media posts, these agencies have not warned that extreme heat would heighten the risk of blood clots.  
Recently, an image has been making the rounds claiming that the U.K.'s Meteorological Office, a weather and climate office, has warned that temperatures in the "high 20s and 30s Celsius" (or 68 degrees and 86 degrees Fahrenheit) is causing blood clotting. It shows a headline from The Telegraph stating "'Your blood thickens and then clots:' What extreme heat can do to your body." 
This is the social media preview headline for an article in The Telegraph, and it was previously a headline on the article itself, although now the headline is different.
The image appeared on Facebook, where it was flagged as part of Facebook's efforts to combat false news and misinformation on its News Feed. (Read more about our partnership with Facebook.)
The U.K.'s Meteorological Office, or Met Office, did issue its first-ever red extreme heat warning beacuse of temperature forecasts of 40 degrees Celsius (104 degrees Fahrenheit) and above. Red is the highest-level warning for the Met office, indicating it is "very likely that there will be a risk to life, with substantial disruption to travel, energy supplies and possibly widespread damage to property and infrastructure." However, PolitiFact found no Met statements that mentioned blood clots.
A press representative at the Met Office wrote in an email to PolitiFact: "I'm not aware of any claims we made about blood clots ourselves, but they might be getting slightly confused with the U.K. Health Security Agency Level 4 Warning — which would have spoken more about potential health impacts (as it's designed for the health industry)."
But the Level 4 alert from the Health Security Agency doesn't mention blood clots, either. 
Cardiovascular diseases and respiratory illnesses are among the more common causes of death from excessive heat; however, dehydration, heat exhaustion and heatstroke are bigger concerns overall. The U.S. Centers for Disease Control and Prevention calls heatstroke "the most serious heat-related illness."
That said, there was some truth in the initial headline of the Telegraph article captured in the screenshot. Although the headline "your blood thickens and clots" was framed in a way that sounds absolute, heat does sometimes cause blood clots, including fatal ones.
In 2017, the American Heart Association published a study about the danger of heat waves. Dr. Camilo Mora, lead author on the study and professor of geography and the environment at the University of Hawaii, Manoa, confirmed that heat waves can and do cause fatal blood clots. "Perishing during a heatwave is like a slow torture with 27 endings to choose from," he wrote. 
A study released May 19, 2022, analyzed excess deaths because of heat in the contiguous U.S. from 2008 to 2017. The findings state that "each additional extreme heat day in a month was associated with (a) 0.07 additional death per 100,000 adults." A 2014 study found that the most common excess hospital admissions during extreme heat events were for "fluid and electrolyte disorders." The National Institutes of Health wrote on July 21, 2022, that heat can put excess stress on the cardiovascular system, which "can lead to a faster heart rate and an increase in inflammatory markers related to severe blood clotting."
Some people who shared or commented on these social media posts indicated they suspected a cover-up for blood clotting that is actually caused by the COVID-19 vaccines. This may be because there were rare cases of blood clots linked to the Johnson & Johnson and AstraZeneca vaccines, the latter of which is not approved for use in the United States. But that link is small. 
Getting COVID-19 carries a risk of blood clots 8 to 10 times higher than the risk from the mRNA vaccines manufactured by Pfizer and Moderna. 
According to an April 2022 report, deep vein thrombosis, particularly blood clots in the leg, occurs four times more often in COVID-19 patients (0.4%) than in the control (0.1%). About 20% of people who end up in the intensive care unit because of COVID-19 develop blood clots, which is much higher than people in the ICU for other reasons. 
Our ruling
Social media posts claim that the U.K.'s Meteorological Office warned about blood clots with extreme heat. 
While blood clots are not the most common adverse effect of extreme heat waves, they can and do happen. 
However, the U.K.'s Met Office did not warn about blood clots, as that office focuses on meteorology rather than health. 
We rate the claim False.
Browse the Truth-O-Meter
More by Kristin Hugo
Support independent fact-checking.
Become a member!
In a world of wild talk and fake news, help us stand up for the facts.