Get PolitiFact in your inbox.
Image shows Ukrainian President Volodymyr Zelensky "has joined the front lines with his troops."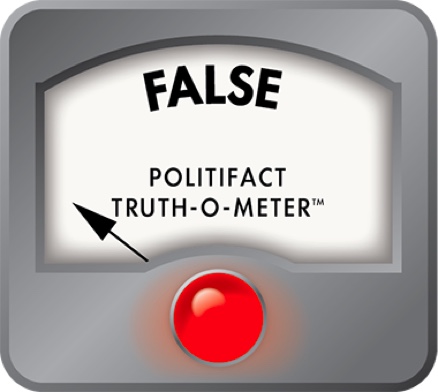 Image of Ukrainian president in military fatigues is not recent
If Your Time is short
• A photo of Ukrainian President Volodymyr Zelensky dressed in military fatigues is from 2021.
As Ukrainian President Zelensky has refused to leave his country during the Russian invasion, social media posts claim an image shows him fighting alongside the military.
A Feb. 27 video on Facebook shows a photo of Zelensky wearing military fatigues with a text overlay that says, "Volodymyr Zelenskyy, the Ukrainian president who has joint (sic) the front lines with his troops."
The post was flagged as part of Facebook's efforts to combat false news and misinformation on its News Feed. (Read more about our partnership with Facebook.)
But the photo included in the post of him wearing fatigues is from 2021, when he visited Ukrainian forces near the frontline with Russian-backed separatists in the Donbass region.
Since Russia began to advance into Ukraine on Feb. 24, Zelensky, 45, has stayed in Ukraine, frequently posting videos of himself on the streets of Kyiv while urging Ukrainians to resist the invasion. In a March 2 column that ran in the New York Times, one of his top aides described the experience of taking shelter with Zelensky in a Kyiv bunker. And on March 3, Zelensky wore a military T-shirt as he hosted his first press conference since the invasion began, according to journalists who covered it.
Fact-checkers, meanwhile, have debunked claims that viral images of Zelensky in uniform are current, noting that they are from 2021. The image used in this Facebook post was published by Reuters in April 2021.
The Reuters caption said Zelensky was visiting "positions of armed forces near the frontline with Russian-backed separatists in Donbass region, Ukraine April 9, 2021." It is credited as a handout photo from the Ukrainian Presidential Press Service.
The 22-second video includes more claims about what it describes as Ukraine's "greatest soldiers" so far:  "Vitaly Skakun blew himself up with a bridge to stop the Russian advance. The 13 soldiers who were killed on Snake Island after telling a Russian warship to 'go f--- yourself.' The ghost of Kyiv, he shot down six Russian fighter jets in under 24 hours making him the only ace pilot of the war."
The account of Skakun appears to be largely accurate; media reports indicate he died while detonating a bridge to slow the Russian invasion. The stories alternately give his name as Vitaly Skakun Volodymyrovych and Vitaliy Volodymyrovych Skakun. 

Thirteen soldiers on Snake Island in the Black Sea were initially believed to have died after a Russian warship attack. But they were later confirmed by both Russia and Ukraine to be alive and in Russian custody. Russia claims that the soldiers surrendered, while Ukraine maintains that they were taken captive. 

Finally, it is unclear if the so-called "Ghost of Kyiv" pilot actually exists. Aviation experts have said it is doubtful a single fighter pilot could down six planes in a day, PolitiFact reported. 
Our ruling
A Facebook video says an image of Zelensky in military fatigues shows him on the frontline with his troops.
Zelensky has filmed himself numerous times and said he is defending the capital of Kyiv from advancing Russian troops. But this photo is from 2021.
We rate this claim False. 
AFP Fact Check, "Old photos circulate in misleading posts claiming Ukrainian president led troops on the battlefield amid Russian invasion," March 2, 2022
CNN, "Zelensky refuses US offer to evacuate, saying 'I need ammunition, not a ride,'" Feb. 26, 2022
Facebook post, Feb. 27, 2022
Facebook post, Feb. 28, 2022
The Hill, "Ukraine military says soldier blew himself up on bridge to halt Russian advance," Feb. 25, 2022
New York Times, "As I Write, President Zelensky Is Beside Me. Please, Help Us Show Putin the Mistake He Has Made," March 2, 2022
People, "'Heroic' Soldier Died While Detonating a Bridge to Slow Russian Invasion, Ukraine Military Says," Feb. 26, 2022
PolitiFact, "Ukrainian soldiers believed to be alive, details of their captivity unclear," March 3, 2022
Reuters, "Ukraine's Zelenskiy to Putin: Meet me for peace talks in conflict zone," April 21, 2021
TASS, "Ukrainian garrison at Snake Island surrenders to Russian Armed Forces — Defense Ministry," Feb. 25, 2022
USA Today, "Fact check: Viral image of Volodymyr Zelenskyy in uniform is from 2021," Feb. 28, 2022
U.S. News and World Report, "Russia Invades Ukraine: A Timeline of the Crisis," Feb. 25, 2022
Washington Post, "What to know about Volodymyr Zelensky, Ukraine's TV president turned wartime leader," March 1, 2022
Browse the Truth-O-Meter
More by Monique Curet
Support independent fact-checking.
Become a member!
In a world of wild talk and fake news, help us stand up for the facts.