Get PolitiFact in your inbox.
"50% of the guns sold in Texas, because of the loopholes, do not pass through a background check."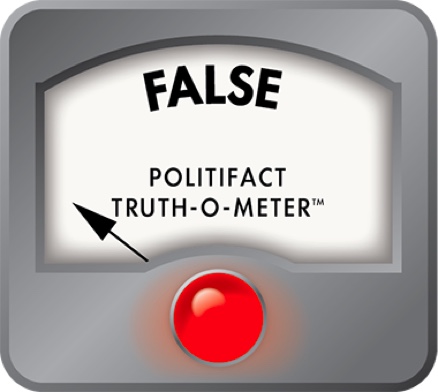 No proof for claim in wake of Uvalde that 50% of Texas guns sales lack background checks
If Your Time is short
Experts said there is no data to show what percentage of Texas gun sales is done without a background check.
In the first hours after the nation's 27th school shooting this year, Texan and MSNBC commentator Matthew Dowd told viewers that he owns three shotguns and two rifles, and described hunting as part of the culture in Uvalde, Texas. 
Then Dowd, a one-time strategist for Republican President George W. Bush who also briefly ran as a Democrat for Texas lieutenant governor in 2021, alluded to laws "on the books" and urged support for more gun control. He claimed:
"50% of the guns sold in Texas, because of the loopholes, do not pass through a background check."
We reached out to Dowd through his website, MSNBC and his book publisher, but did not get a reply. 
The research director for Giffords, an anti-gun violence organization, and two university gun researchers told PolitiFact they know of no data to support Dowd's statistical claim about background checks, which are getting renewed attention in Congress in the wake of the May 24 mass shooting at Robb Elementary School in Uvalde that left 19 children and two educators dead. 
It was the 27th shooting on K-12 school property in 2022 that resulted in firearm-related injuries or deaths, according to Education Week.
When background checks are required 
Background checks are required in Texas for some gun sales. 
Federal law generally requires federally licensed firearms dealers, including those in Texas, to conduct background checks when making gun sales. The federal law does not apply to private sellers, and Texas does not have a law that applies to private sellers, either.
In Texas, individuals can also buy guns from a licensed seller without going through a background check if they have a state license to carry a handgun.
"So, there is no source of administrative data that provides a comprehensive estimate of the percentage of gun transactions or guns currently possessed in which there was no National Instant Criminal Background Check System check," said Philip Cook, a public policy professor and gun researcher at Duke University.
Because some gun sales are not recorded, what's known about the proportion of gun sales not involving a background check is based on surveys. 
But experts said those are national surveys of gun owners and not data based on actual Texas gun sales.
What the surveys say
Giffords research director Kelly Drane pointed us to a 2017 article in the Annals of Internal Medicine journal that reported a 50% finding about background checks. But it does not back up Dowd's claim, as it does not address the sale of guns in Texas.
The article reported the results of a nationally representative survey of 1,613 gun owners done by researchers from Northeastern and Harvard universities in 2015. The gun owners were asked about where and when they acquired their last firearm, if they purchased it and whether they had a background check. 
One finding was that, for firearms purchased privately within the previous two years — that is, other than from a store or pawn shop, including sales between individuals in person, online, or at gun shows — 50% were obtained without a background check. But the study found that private transfers were a minority of all gun transactions.
The survey found that among all gun transfers, 22% of gun owners said they obtained their most recent firearm without a background check.
A more recent study, published by the same researchers in the American Journal of Preventive Medicine, utilized a 2019 nationally representative survey of 2,950 firearm owners. That study also does not back up Dowd's claim.
The study estimated the proportion of firearm transfers that occur without background checks, noting differences in the 21 states that have so-called comprehensive background check laws. Those laws vary, but they require background checks for at least some types of private gun sales or transfers, and for at least some types of guns.
The study found that 12% of gun owners in states without comprehensive background checks said that when acquiring their most recent firearm, they did not undergo a background check. That compared with 24% in states with comprehensive background check laws. The survey asked about all gun transfers — sales as well as gifts.
The Uvalde gunman legally purchased two AR 15-style rifles at a local federal firearms licensee, according to news reports.
Such a licensee would have had to conduct a background check to legally make the sales.
Our ruling
Dowd said "50% of the guns sold in Texas, because of the loopholes, do not pass through a background check."
We could find no data to confirm the claim, and available studies and surveys contradict the idea that such a large percentage of gun buyers in Texas were not subject to a background check. 
We rate the claim False.
PolitiFact staff researcher Caryn Baird contributed to this report.
NBC.com, Matthew Dowd interview on "Dateline: White House," (1:28:30) May 24, 2022
Interview, Giffords Law Center research director Kelly Drane, May 24, 2022
Interview, Deborah Azrael, director of research of the Harvard Injury Control Research Center, May 25, 2022
USA Today, "Fact check: New Texas gun carry law doesn't change purchase regulations," Aug. 16, 2021; updated Aug. 25, 2021
Giffords, "Universal Background Checks in Texas," May 20, 2021
Giffords, "Background Check Procedures in Texas," Feb. 12, 2021
Annals of Internal Medicine, "Firearm Acquisition Without Background Checks — Results of a National Survey," Feb. 21, 2017
Texas State Law Library, "Background Checks," accessed May 24, 2022
Email, Philip Cook, ITT/Terry Sanford distinguished professor emeritus of public policy studies and gun researcher at Duke University, May 24, 2022
American Journal of Preventive Medicine, "Firearm Background Checks in States With and Without Background Check Laws," e-published Oct. 24, 2021; February 2022
PolitiFact, "Alyssa Milano: no background checks in Texas for long gun sales. Is that true?", Nov. 6, 2017
Austin American-Statesman, "What we know about the Uvalde, Texas school shooting: Firearms purchased legally," May 25, 2022
Texas Department of Public Safety, "Benefits of a Texas Handgun License," accessed May 25, 2022
Browse the Truth-O-Meter
More by Tom Kertscher
Support independent fact-checking.
Become a member!
In a world of wild talk and fake news, help us stand up for the facts.