Stand up for the facts!
Our only agenda is to publish the truth so you can be an informed participant in democracy.
We need your help.
I would like to contribute
"President Trump and I lost an election in 2020 because of a rigged election."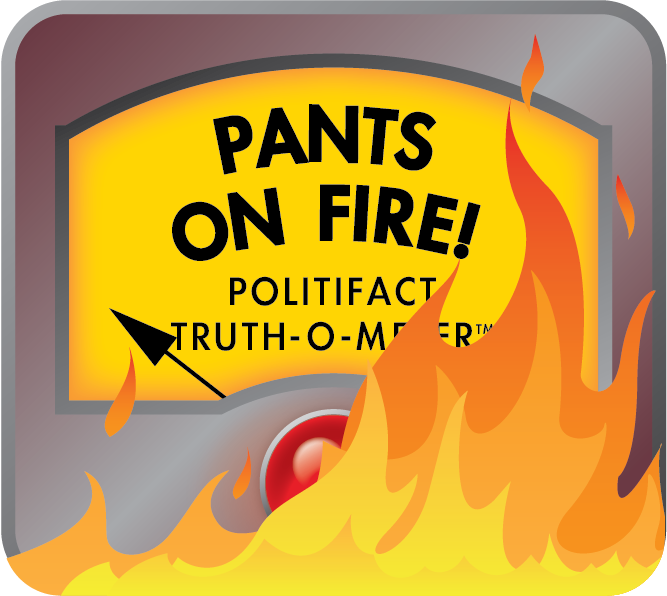 Nevada Republican echoes Trump's Pants on Fire about 'rigged election'
If Your Time is short
Federal and state officials, including Republicans, rejected Trump's allegations of a rigged or stolen election.

Marchant lost his 2020 race for Nevada's 4th Congressional District to the Democratic incumbent.

A judge dismissed Marchant's lawsuit seeking a new election in Clark County in part on jurisdictional grounds.
Nevada secretary of state candidate Jim Marchant has won more elections in his political career than he's lost, but he's been telling his supporters the election systems have long been rigged.
When he joined former President Donald Trump onstage at an Oct. 8 rally at the Minden-Tahoe Airport and urged voters to cast their ballots again in his favor, Marchant described the 2020 election he lost as fraudulent.
"We have something in common," Marchant told the audience during the rally. "President Trump and I lost an election in 2020 because of a rigged election."
PolitiFact has repeatedly debunked statements that the 2020 election was rigged or stolen or illegitimate. Marchant's claim that his own election was rigged is also wrong.
Marchant leads the America First Secretary of State Coalition, a group of candidates running for statewide office across the country on a platform of denying the legitimacy of the 2020 election.
His Trump rally claim was the latest in a series of statements he's made painting the entire elections system as broken. His claims overlook that he's won four primary or general elections since first running for state office in 2016.
"We haven't in Nevada elected anybody since 2006," Marchant said in a January video on Rumble, a website aggregating politically conservative content. "They have been installed by the deep state cabal."  
"Your vote hasn't counted for decades," he said at a debate in February. "You haven't elected anybody. The people that are in office have been selected. You haven't had a choice."
But Marchant told the Oct. 8 crowd of Trump supporters that they can win.
"No matter how much rigging they can do of the system, if you show up on Nov. 8 en masse, with such a turnout, it doesn't matter what they do. We overwhelm the system, " Marchant said.
Marchant faces Democrat Cisco Aguilar, a lawyer and former Nevada Athletic Commission appointee, to replace Secretary of State Barbara Cegavske, a Republican who is term-limited. We contacted Marchant's campaign to ask for his evidence and did not hear back by our deadline.
Trump's own attorney general told him the election wasn't rigged
Trump said before the 2020 election that a rigged election would be the only way Democrats would win. We rated his statement Pants on Fire. 
A conspiracy to rig an election would require thousands of people conspiring across multiple jurisdictions to commit felonies. There's no evidence it happened.
After Trump lost, Attorney General Bill Barr told Trump that he did not agree with calling the election "stolen" and that Trump's statements were "bull----." 
Republican state officials in Nevada, Georgia and Arizona said the election was secure. Dozens of judges, including GOP appointees, rejected Trump's claims of widespread fraud. 
Marchant lost his own congressional race in a blue district
Marchant's statements that his own congressional race was rigged against him are also wrong.
Marchant served one term in the state Assembly and then lost to a Democrat in 2018. In 2020, he ran for Congress and lost to Democratic Rep. Steven Horsford by about 5 percentage points. Biden won the district by about 4 percentage points. Hillary Clinton won the district in 2016 and Barack Obama won the district in 2012.
When Marchant ran, the 4th Congressional District sprawled across multiple counties including rural areas, but most of the population was concentrated in northern Clark County, which includes parts of Las Vegas.
In November 2020, Marchant sued alleging voter fraud and challenging Clark County's use of a ballot sorting machine as a first step to match voters' signatures on their ballot envelopes. A judge quickly dismissed Marchant's lawsuit seeking a new election in Clark County. The judge ruled that the district court lacked jurisdiction and noted that Marchant lost by 33,000 votes in Clark County, "which the Court finds to be an insurmountable deficit to overcome on the facts before it."
Evidence of voter fraud in the 2020 election in Nevada was scarce. The conservative Heritage Foundation's database of voter fraud cases only shows one in Nevada from the 2020 election. Donald Kirk Hartle, a Republican, told a TV station that someone voted a mail ballot in his dead wife's name, but Hartle later pleaded guilty to filling out her ballot. 
Cegavske, the Republican secretary of state, reviewed allegations by Republicans of thousands of illegal votes cast, including by people who died or voted twice or had inaccurate addresses. Cegavske concluded that the Nevada GOP's allegations were "based largely upon an incomplete assessment of voter registration records and lack of information concerning the processes by which these records are compiled and maintained."
Our ruling
Marchant said, "President Trump and I lost an election in 2020 because of a rigged election."
State and federal officials — including Trump's own attorney general — rejected Trump's allegations that there was widespread fraud in a rigged election.
Marchant lost his bid for Congress to the Democratic incumbent in 2020. There was no evidence of widespread fraud in that race, either. Democrats have routinely won races in that county for a decade.
We rate this statement Pants on Fire!

RELATED: A coalition of 'stop the steal' Republicans aims to take control of US elections. QAnon is helping
RELATED: How could U.S. voting be affected if election deniers win?
RELATED: Trump's own advisers add to evidence that election wasn't stolen
RELATED: Nevada Republican misleads about Department of Motor Vehicles registering "illegals" to vote
Browse the Truth-O-Meter
More by Amy Sherman
Support independent fact-checking.
Become a member!
In a world of wild talk and fake news, help us stand up for the facts.