Stand up for the facts!
Our only agenda is to publish the truth so you can be an informed participant in democracy.
We need your help.
I would like to contribute
A coalition of 'stop the steal' Republicans aims to take control of US elections. QAnon is helping
If Your Time is short
A coalition of more than a dozen Republicans, organized around a false belief that the 2020 election was stolen, is running to take control of the chief elections offices in swing states including Nevada, Arizona, Michigan and Pennsylvania.

Involved in the effort is a mysterious but influential promoter of the QAnon conspiracy theory, who goes by the alias "Juan O Savin." Some adherents of the movement falsely believe he is the late John F. Kennedy Jr. in disguise.

While their ideas for overhauling elections are extreme, some of the candidates are serious contenders and hold fundraising leads. Four have landed endorsements from former President Donald Trump.
A coalition of far-right "stop the steal" Republicans is working to put Trump loyalists in charge of elections across the U.S. At its helm is a shadowy QAnon influencer who some segments of the conspiracy theory believe to be the late John F. Kennedy Jr.
The America First Secretary of State Coalition includes more than a dozen Republican candidates for secretary of state and other positions with purview over elections, including in battleground states such as Nevada, Pennsylvania, Michigan and Arizona. The candidates say they don't believe that President Joe Biden won the 2020 election. And at least some have demonstrated strong enough support to be competitive in their races to control elections.
Four of the group's candidates are endorsed by former President Donald Trump. They include Pennsylvania gubernatorial candidate Doug Mastriano, who already won his primary. Another, Michigan's Kristina Karamo, also got the nod from her state's Republican Party to be its secretary of state nominee this November. A third, Mark Finchem, has raised about $900,000 in his effort to be Arizona's next secretary of state.
"We definitely can't write these candidates off as fringe candidates," said Joanna Lydgate, CEO of States United Action, which is tracking election deniers running for statewide office. "There is a real cause for concern right now. People need to pay attention."
The emergence of the coalition underscores the sticking power of Trump's unfounded allegations that the 2020 election was fraudulent and "stolen." It illustrates the growing influence within the Republican Party of a conspiracy movement that helped fuel an insurrection at the U.S. Capitol and numerous other incidents of violence and extremism.
It also threatens to transform the often obscure, largely bureaucratic offices that administer elections — the very agencies that resisted Trump's attempts to reverse his loss in 2020.
PolitiFact reviewed more than 30 hours of video featuring the cowboy boot-wearing QAnon promoter who claims to be organizing the coalition. He appears under the alias of "Juan O Savin." We also reviewed interviews and other public statements from the group's candidates.
Their comments reveal a coordinated push to drastically change how Americans vote — a potential overhaul of voter registration lists, early voting and other mainstays of the democratic process, based in large part on conspiracy theories. The far-reaching changes that the various America First candidates have proposed include eliminating early voting; wiping out existing voter registration lists; pulling states out of a successful information-sharing program that helps them remove ineligible voters from their voter rolls; and getting rid of electronic voting machines.
Mike Rothschild, author of the book "The Storm Is Upon Us: How QAnon Became a Movement, Cult, and Conspiracy Theory of Everything," said the coalition's QAnon connection signifies "the Q movement is becoming more mainstream, more focused on actually changing the outcomes of elections, and not waiting around for mass arrests anymore."
"If this group succeeds in getting potentially insurrectionist secretaries of state installed, it could have terrible consequences for democracy," Rothschild said.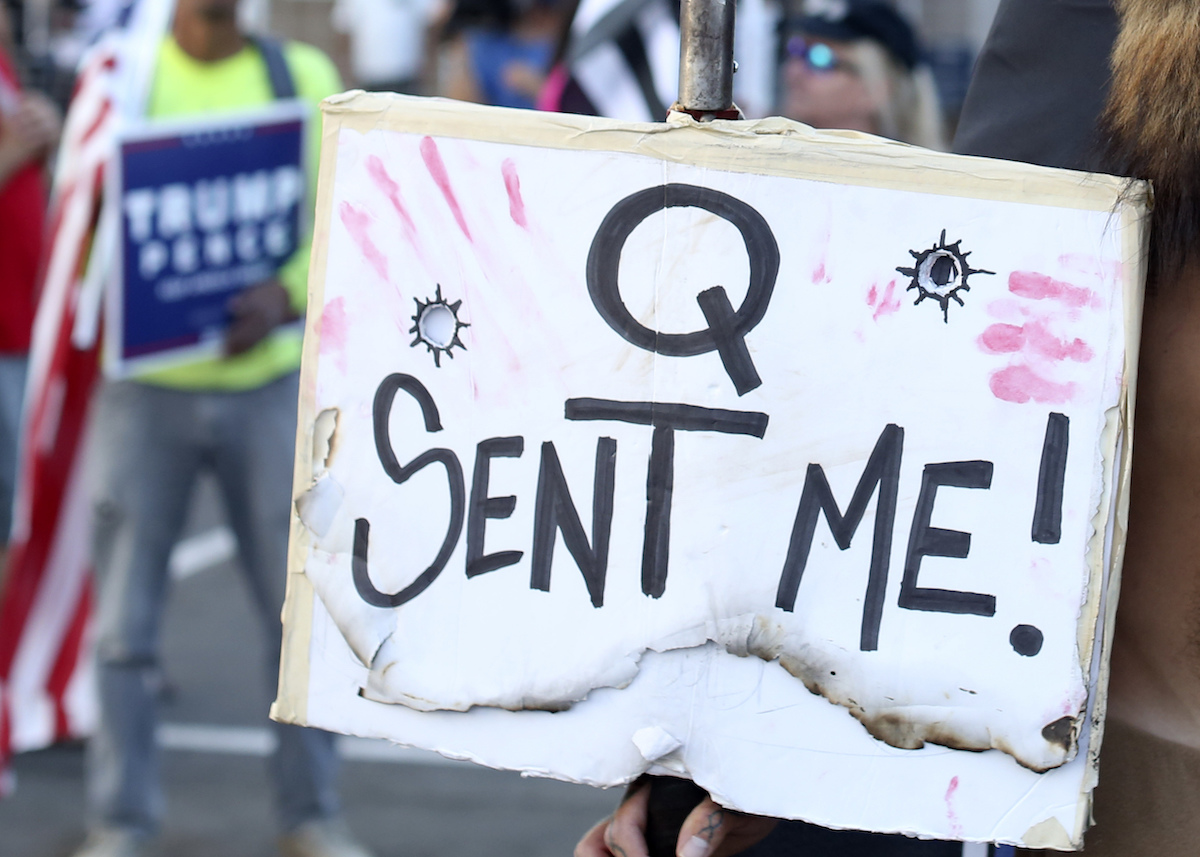 A Qanon-themed sign is seen outside of the Maricopa County Recorder's Office in Phoenix on Nov. 5, 2020. (AP)
Juan O Savin's real-life collaboration with secretary of state candidates was the subject of scattered news reports over the last year. The Daily Beast has reported extensively on his background. But in a number of videos posted since the America First coalition took shape in May 2021, Juan O Savin and some of the participating candidates have shared more details about his involvement in what he has referred to as "our coalition," "our group," and a "project" that he "helped put together."
The coalition is, in Juan O Savin's words, focused on "looking at how we're going to get to a lawful election this next time around, and get to the right result … how are we going to coordinate between the various states to get the right outcome?"
It's likely a first: A pseudonymous persona with a strange-sounding alias is organizing actual political campaigns across the country to elect candidates that will make real-world changes to American voting laws.
The origins of the coalition
The day after the 2020 election, Jim Marchant had just settled into a suite across the hall from Trump attorneys and allies at the Venetian Las Vegas hotel. Election results showed he was losing his Nevada congressional campaign to a Democrat, a contest he would soon falsely claim was stolen and challenge unsuccessfully in court.
"And guess who showed up at my suite? It will blow you away," Marchant recounted on Oct. 25, 2021. "Juan O Savin."
Jim Marchant speaks about the origins of the America First Secretary of State Coalition during the Patriot Double Down conference in Las Vegas on Oct. 25, 2021, while rehashing false claims about the 2020 election.
In Marchant's retelling — delivered during the Patriot Double Down conference hosted at a Trump supporter's Las Vegas hotel and organized by another QAnon influencer — he and Juan O Savin got to work "trying to expose the fraudulent election." But Juan O Savin and people who Marchant described as "other President Trump allies" also pitched him on a more forward-looking plan.
Instead of vying for Congress again in 2022, Marchant would run for secretary of state and recruit others to do the same elsewhere. The Nevada seat was one that Marchant and Juan O Savin baselessly claimed had been used to rig state elections under a plot hatched by a "cabal" that included billionaire Geoge Soros. (Soros was involved in a project focused on electing Democrats to secretary of state seats between 2006 and 2010, but there's no evidence the initiative led to fraud. Nevada's secretary of state is a Republican.)
"Not only did they ask me to run, they asked me to put together a coalition of other like-minded secretary of state candidates," Marchant said during the conference. "So I got to work, Juan O Savin helped, and we formed a coalition."
Juan O Savin was so instrumental that Marchant summed up what he called the team's "plan A" in two words: "See Juan."
Juan O Savin was one of about 50 people who attended or dialed in remotely to the May 1, 2021, inaugural meeting of prospective coalition candidates.
The coalition's website, set up in January, says four of the group's candidates were there: Karamo, Finchem, Rachel Hamm of California, and U.S. Rep. Jody Hice, R-Georgia, who got Trump's endorsement but lost the GOP's primary election to the incumbent secretary of state, Brad Raffensperger.
Marchant named more pro-Trump figures who were there from the start: MyPillow CEO Mike Lindell, a Trump donor who promoted election falsehoods and filed numerous failed lawsuits alleging fraud; Jim and Joe Hoft with the Gateway Pundit, a website that has published false news stories about the election; and Patrick Byrne, the former CEO of the internet retailer Overstock.com, who donated millions to the Cyber Ninjas firm that conducted the Republican-led review of votes in Arizona's Maricopa County.
"I started with Jim Marchant here in Nevada, who has then taken a primary role in this coalition as other candidates have come in, going out around the country and helping vet that we got the right players that are inside the coalition," Juan O Savin told QAnon promoter and former boxer David Niño Rodriguez, who calls him "Juanito," in an April interview on Rodriguez's show.
Juan O Savin told Rodriguez that the secretary of state position is the office with the control to "cook the vote."
"We are working hard to get a leveraged position in the most important place of all," Juan O Savin said a month later.
The coalition has grown to include 15 website-listed candidates, although Juan O Savin has claimed in multiple interviews that the number is up to 19 or 20. In June, he estimated that they had about "24 states represented." The group also set up a PAC, which raised about $98,000 as of April.
The group infrastructure helps the candidates share "best practices" and sound "early alarms" over what they perceive to be voter irregularities in their states, said Allen Whitt, a spokesperson for Tina Peters, the coalition's recently indicted candidate running in Colorado. They hold weekly meetings with each other. They have hosted a dozen events around the country centered around sowing doubts about the 2020 election. And they hope the coalition provides a model for 2024.
Juan O Savin has recounted in various videos how he helped arrange events for the candidates, spoke with Marchant "about what kind of office would make sense" and then "privately numerous times," spent a weekend with Hamm and her husband, and had dinner with Peters and her campaign manager.
This video is a compilation of clips in which Juan O Savin talks about the America First Secretary of State Coalition. It is drawn from video found on Twitter, Rumble, YouTube and 107 Daily website.
South Carolina Secretary of State candidate Keith Blandford told Juan O Savin during a May interview that his leadership was pivotal. "Everybody was really frightened after Nov. 3," said Blandford. "You were the one that provided us some light in this tunnel."
"I am so proud to be in the foxhole with you," Blandford said.
How Juan O Savin became the coalition's 'plan A'
Before he became Marchant's "plan A," Juan O Savin built a brand within the QAnon conspiracy movement. QAnon grew out of an anonymous internet persona's posts on far-right message boards starting in 2017 and coalesced around beliefs that a cabal of elite Satanic pedophiles is running a global sex trafficking ring that Trump was tapped by the military to defeat.
The moniker, "Juan O Savin," is a phonetic play on the number 107. It may be a nod to the seventeenth letter in the alphabet, Q, or to gematria, a form of numerology often cited by QAnon adherents. "When you see 107, drop the zero," Juan O Savin said in April.
Factions of the movement believe Juan O Savin is actually the late John F. Kennedy Jr., who died in a plane crash in 1999, while others believe that Juan O Savin is a grifter and that the Kennedy myth makes the movement look bad, according to researchers who follow QAnon.
The delusion that Kennedy faked his own death has hardened into gospel in some QAnon circles. It's become so popular that multiple influencers have been rumored to be Kennedy in disguise, and a group unrelated to Juan O Savin camped out in Dallas to await his return to life — even after "Q," the anonymous poster behind the movement, explicitly said Kennedy is not alive.
But Juan O Savin's appeal also hinges on the mystique he's created as a QAnon insider. He revealed himself at the Patriot Double Down conference in October, rolling up in a red Aston Martin and entering the conference to cheers as Phil Collins' "In the Air Tonight" played in the room. Until then, Juan O Savin took care to conceal his identity.
He typically records interviews without showing his face, with the camera instead aimed out the window, at his boots or at the steering wheel while he drives. On at least one occasion, however, he accidentally showed his face, giving online sleuths a window to dig up more information about him.
Those sleuths, along with reporters from Vice and the Daily Beast, have reported that Juan O Savin's real name is Wayne Willott, a private investigator from Washington state who court documents show was involved with insurance investigations in Alaska as of 2009.
A blurb beside Juan O Savin's book on the website EBooksStore says the book is a "transcript of speeches by Wayne Willott, using his nom de plume Juan O Savin."
A 2015 lawsuit filed against radio host Douglas Hagmann and other people in Hagmann's orbit made repeated references to a Wayne Willott, revealing that Willott had frequently appeared on Hagmann's show in the years before QAnon under another alias, "W the Intelligence Insider." W the Intelligence Insider's voice in those radio segments sounds similar to Juan O Savin's, and the Daily Beast reported that Hagmann also interviewed Willott under the "Juan O Savin" alias.
PolitiFact found other indicators connecting the two personas, as well.
According to Rothschild, the QAnon expert, Juan O Savin's entry into QAnon influencer status started with his minor involvement with a group called "E-Clause," which sprung out of outlandish claims that state Child Protective Services agencies were stealing children and forcing them into slavery. Around 2019, Juan O Savin began appearing on an online show that promoted such claims, and he played a small role in the case of a QAnon follower who planned to raid her child's foster home and then fled law enforcement.
Juan O Savin's celebrity within the QAnon community has grown since.
At the Patriot Double Down conference in October, he appeared on stage with "The Passion of the Christ" actor Jim Caviezel. He has recorded conversations with comedian Roseanne Barr, one of the earliest celebrities to embrace QAnon, and anti-vaccine advocate Sherri Tenpenny, a top spreader of COVID-19 misinformation. He also claims to have spent time with an unnamed senator, an unnamed Supreme Court justice, and the son of a legendary boxer.
In his conversations with Rodriguez and other QAnon personalities, Juan O Savin references the Bible, riffs about near-death experiences, asserts baseless claims of a stolen election and prophesizes about the takedown of the pedophilic cabal that was promised under QAnon's mythology.
According to Juan O Savin's recorded statements, he believes that the military views the 2020 election as stolen and is still recognizing Trump as the commander in chief. COVID-19 is a myth, the pandemic was planned, and the vaccines contain snake venom. Mark Zuckerberg is a "deep state" figurehead, not the inventor of Facebook. Globalists are working to depopulate the nation as part of a plot inscribed on a set of stones in the state of Georgia. The Statue of Liberty and the Washington Monument are secret tributes to the Egyptian god of the underworld. And Trump was sending coded messages as president via semaphore, a method of visual signaling that was used before the invention of the telegraph, by embedding them in the patterns of former first lady Melania Trump's dresses.
Some of Juan O Savin's ideas appear to have been taken up by some of the America First candidates — and especially by Hamm, a YouTube host and author before she entered politics.
Hamm says she was inspired to run for office after Jesus Christ appeared before her son at her home; she's also claimed that California really went for Trump in a "landslide" in 2020, echoing Juan O Savin's false belief that the deeply blue state is actually conservative but overridden by fraud.
After Juan O Savin told the crowd at Patriot Double Down in October that "a court in Gitmo" could be used for those who upheld the 2020 election outcome, Hamm two days later echoed his words.
"Remember, Juan told us the other night that if we can't get justice through our courts, he has built another one," Hamm said, speaking on a Patriot Double Down panel with Marchant, Karamo and Finchem. "Remember? He said that the other night. We built one in Gitmo, he said."
Who are the candidates?
Once an out-of-the-way job that kept the democratic process moving, the secretary of state position took on a heightened importance in 2020, when Raffensperger and others faced pressure from Trump to overturn their states' results on his behalf.
Now, the America First coalition's effort to replace those seats with candidates who refuse to accept the reality of the 2020 election has democracy scholars and QAnon watchers who have followed Juan O Savin worried that they could thwart the will of the voters in 2024 and beyond. Several of the candidates have themselves invoked QAnon rhetoric in recent years.
In the battleground states, the candidates are:
Candidates running in non-battleground states include Hamm in California; Peters in Colorado; Blandford in South Carolina; Audrey Trujillo in New Mexico; Diego Morales in Indiana; Mike Brown in Kansas; Jim Ziegler in Alabama; and Dante Sabatucci, who is running for Congress in Ohio. The coalition also featured Hice, Dorothy Moon in Idaho and Robert Borer in Nebraska, each of whom has already lost their state's primary. (Hice denied affiliation with the coalition in a statement to Vice.)
The group previously included David Winney, who stepped aside in Colorado when Peters jumped in the race and who consulted with Joan O Savin regarding the decision to drop out. Juan O Savin has also repeatedly mentioned Nevada gubernatorial candidate Joey Gilbert, attorney general Sigal Chattah and U.S. Senate candidate Sam Brown as candidates he is involved with.
"What we are seeing right now is this coordinated effort to undermine the integrity of the system, to run candidates who are election deniers," said Lydgate, the CEO of States United Action. "This is not business as usual."
PolitiFact researcher Caryn Baird contributed to this report. PolitiFact video producer and editor Jillian Banner contributed to video editing.
RELATED: 'Stop the steal' Republicans seek office in hopes of restricting voting
RELATED: All of our fact-checks about elections
RELATED: Ask PolitiFact: What steps do election officials take to prevent fraud?
RELATED: Michigan Republican secretary of state pick leveled baseless claims of election misconduct
America First Secretary of State Coalition, Website, accessed June 6, 2022
American Citizens & Candidates Forum for Election Integrity, Website, accessed June 6, 2022
107Daily, accessed June 6, 2022
Domain Big Data, "Americafirstsos.com," accessed June 6, 2022
Ballotpedia, "Endorsements by Donald Trump," accessed June 6, 2022
Electronic Registration Information Center, Website, accessed June 6, 2022
Various Telegram posts, accessed June 6, 2022
Various Truth Social posts, accessed June 6, 2022
Various Google and Nexis searches, June 6, 2022
The Q Origins Project on Twitter, accessed June 6, 2022
Alex Kaplan on Twitter, accessed June 6, 2022
Joey Gilbert for Governor, "Joey Gilbert and Juan o Savin," accessed June 6, 2022
Joey Gilbert for Governor, "Kid by the Side of the Road by Juan O Savin," accessed June 6, 2022
EBooksStore, "Kid By The Side of the Road by Juan O. Savin," accessed June 6, 2022
107Daily, "Coalition of Candidates – Juan O Savin on the Race to the Truth," June 6, 2022
Rumble, "Juan O Savin and Military – Let's Make America Great Again!," June 6, 2022
The New York Times, "In Races to Run Elections, Candidates Are Backed by Key 2020 Deniers," June 5, 2022
The Daily Beast, "This QAnon Leader Could Control Key Elections in 2024," June 1, 2022
The Brennan Center for Justice at New York University School of Law, "Financing of Races for Offices that Oversee Elections," May 2022
Rumble, "AMERICA DIVIDED Military Is The Only Way! Juan O Savin," May 30, 2022
Rumble, "May 20 2022 - Juan O Savin w/ Flyover Conservatives > We're About To Unwind All Their Evil Schemes," May 24, 2022
The Daily Beast, "A Treasure Hunter, a Satanism Expert, and Mike Lindell Fight to Overturn Biden Win in Arizona,", March 22, 2021
BitChute, "Ninos Corner-Juan O Savin – America Will Rise from the Depths of Hell 5-20-22," May 21, 2022
BitChute, "Juan O'Savin & Sean Stone May 19 2022," May 20, 2022
Media Matters for America, "A Republican secretary of state candidate in South Carolina is collaborating with a QAnon influencer," May 18, 2022
Popular Information, "The man who could rig the 2024 election,", May 18, 2022
Rumble, "JUAN O SAVIN !!! FBI DIGGING FOR 2000 MULES' SOURCE," May 17, 2022
Rachel Hamm on YouTube, "Juan-O-Savin & Rachel Hamm," May 17, 2022
Doug Mastriano on Rumble, "Doug Mastriano Rally at FUGE [The Last Stop On The DOUG4GOV Bus Tour]," May 14, 2022
Rumble, "JUAN O SAVIN - THE RINO FRONT," May 12, 2022
The Washington Post,"Judge bars indicted official Tina Peters from overseeing 2022 elections," May 11, 2022
107Daily, "Q & A with Juan O Savin," May 7, 2022
Rachel Hamm on YouTube, "What You Need to Know About What Method to Use for Voting," May 6, 2022
Rumble, "Apr 24 2022 - Juan O Savin w/ Tom > Official McAfee Is The Official Rebirth Of Q," May 4, 2022
107Daily, "Clean Up Process with Juan O Savin on Corrupt GOP in California and Nevada," May 3, 2022
Mark Finchem for Secretary of State, "Mark Finchem Talks ElectionIntegrity Specifics On The Greg Medford Show," April 2022
107Daily, "FULL INTERVIEW Justice will be Served," April 27, 2022
Bannons War Room on Rumble, "Governor Candidate Doug Mastriano Lays Out His Plan for Pennsylvania,", April 23, 2022
107Daily, "FULL INTERVIEW Escalation Crisis Approaching Midterms with Nino Rodriguez and Juan O Savin," April 23, 2022
Bridge Michigan, "Kristina Karamo, election critic, is GOP choice for Michigan Secretary of State," April 23, 2022
Rumble, "Updates and Intel with Patriots Purim, It's Almost Time – Trump News," April 20, 2022
107Daily, "Resurrection of the American Conversation," April 17, 2022
The John Fredericks Show on Rumble, "Doug Mastriano: 'I'll stop illegal aliens from being dropped into PA on day one'," April 12, 2022
107Daily, "Biden, Kiss my @SSES! with Nino, Barbara & Juan (FEB 2022)," April 13, 2022
107Daily, "Summer of Discontent with Nino Rodriguez & Juan O Savin (FEB 2022)," April 13, 2022
107Daily, "Let's Go Brandeau with Nino Rodriguez and Juan O Savin (FEB 2022)," April 13, 2022
Rumble, "Apr 7 2022 - Juan O Savin w/ Denise Boland > We're Going To Take Our Country Back," April 12, 2022
107Daily, "The Fight to Restore America with Juan O Savin on Nino Rodriguez," April 9, 2022
107Daily, "Juan O Savin, Matt Le Tissier, Tom Numbers & Rachel WriteSide Blonde," April 7, 2022
Rightwing Watch, "CA GOP Secretary of State Candidate Rachel Hamm Wants to 'Make It Hard' for People to Vote,", April 7, 2022
107Daily, "The Called," March 31, 2022
QAnon Anonymous on Apple Podcasts, "Episode 182: A Tale Of Two JFK Juniors (2022 Election Edition)," March 18, 2022
Rumble, "Kristina Karamo – March 15, 2022," March 16, 2022
Media Matters for America, "QAnon influencer says he impacted decisions of secretary of state candidates in Colorado," March 11, 2022
Doug Mastriano Fight for Freedom on Facebook, "Gettysburg Voter Integrity Conference," March 19, 2022
The Washington Post, "Who Wants to be a State Secretary of State? Everyone," Feb. 28, 2022
Flyover Conservatives on Rumble, "Rachel Hamm: Was California Red in 2020?", Feb. 22, 2022
VoteBeat, "No clear explanation for Louisiana's decision to pull out of voter-roll program,", Feb. 21, 2022
CNN, "Trump's pick for Arizona secretary of state suggested Covid didn't exist and called vaccine a 'crime against humanity,'" Feb. 16, 2022
The Guardian, "'We have a project': QAnon followers eye swing state election official races," Feb. 11, 2022
Writeside Blonde on YouTube, "Juan O Savin talks about the wall outside the White House and more," Feb. 6, 2022
Alabama Today, "John Merrill: Response to Representative Wes Allen on ERIC Membership," Feb. 1, 2022
The New York Times, "Campaigning to Oversee Elections, While Denying the Last One," Jan. 30, 2022
Louisiana Secretary of State Kyle Ardoin, News Release, Jan. 27, 2022
The Guardian, "Trump loyalists form alliance in bid to take over election process in key states," Jan. 13, 2022
WHYY, "Mastriano campaign spent thousands on buses ahead of D.C. insurrection,", Jan. 12, 2021
The Republican Accountability Project on Twitter, Jan. 4, 2022
The Gateway Pundit, "Who's "Cleaning" Our Voter Rolls? Soros Founded and Funded ERIC Is Now Used In 31 States," Jan. 20, 2022
Mike Rothschild, "The Storm Is Upon Us: How QAnon Became a Movement, Cult, and Conspiracy Theory of Everything," 2021
107Daily, "Juan O Savin Dark To Light," Dec. 25, 2021
107Daily, "Sean Stone/Juan O Savin Interview," Dec. 24, 2021
107Daily, "Juan O Savin Christmas Message," Dec. 24, 2021
107Daily, "Juan Tipping Hat to Robert David Steele," Dec. 24, 2021
Associated Press, Far too little vote fraud to tip election to Trump, AP finds, Dec. 14, 2021
QAnon Anonymous on Apple Podcasts, "Episode 164: Double QAnon Conference Weekend (2X JFK Jr)," Oct. 29, 2021
Arizona Mirror, "GOP legislators spoke at a QAnon convention chock full of conspiracies and hate,", Oct. 28, 2021
Vice, "Trump-Backed QAnon Candidates Launch Group to 'Control the Election System,'" Oct. 27, 2021
The Daily Beast, "Jim Caviezel's QAnon Guru Wants to Control Elections," Oct. 27, 2021
The ULTRA Patriot Voice on Telegram, Oct. 25, 2021
The ULTRA Patriot Voice on Telegram, Oct. 25, 2021
The ULTRA Patriot Voice on Telegram, Oct. 25, 2021
Rachel Hamm on YouTube, "Rachel Hamm Speaks at The Patriot Voice: For God & Country Double Down,", Oct. 25, 2021
Rumble, "Juan O Savin REVEALED: "The Man Behind The Boots"- LIVE In Person @Patriot Double Down in Vegas!!!!," Oct. 24, 2021
Rumble, "Doctors, Lawyers, Coaches warning on Vaccine Mandates with Juan O Savin," Oct. 20, 2021
8NewsNow, "I-Team: Las Vegas QAnon conference finds new home with major Trump supporter,", Sept. 14, 2021
Media Matters for America, "Multiple people seeking to run state elections are connected to QAnon," Aug. 16, 2021
Midnight Rider Channel on Telegram, July 22, 2021
Kristina Karamo for Secretary of State on Rumble, "The Mo-Town Showdown with Kristina Karamo," June 29, 2021
Joey Gilbert Law on YouTube, "Las Vegas with Juan O Savin and Sigal Chattah," April 1, 2021
The Daily Beast, "QAnon Incited Her to Kidnap Her Son and Then Hid Her From the Law," Aug. 16, 2020
BitChute, "Shorter Version: Juan O Savin is Promoting Timothy Charles Holmseth: PPTF?" May 2, 2020
Hagmann Report, "Life as an Investigator is like a Box of Chocolates – Updated," Dec. 21, 2019
YouTube, "RMR: Post-Inaugural Coverage (01/20/2017)," March 13, 2017
U.S. District Court for the Southern District of New York, "Marinka Peschmann, Plaintiff, against BlogTalkRadio Inc.; Cinchcast, Inc.; Stephen Quayle; Douglass Hagmann and DOES 1-20, Defendants," 2015
Hagmann Report on SoundCloud, "'W' On The Hagmann & Hagmann R," 2014
Hagmann Report on SoundCloud, "Hagmann & Hagmann Special: Intelligence Insider 2 May 2014," 2014
Alaska Workers' Compensation Board, "Floyd D. Cornelison, Employee, Claimant, v. Rappe Excavating, Inc., Employer, and Tig Premier Insurance Co., Insurer, Defendants," Dec. 26, 2013
PolitiFact, "JFK Jr. died over 20 years ago — he is not a QAnon leader," May 5, 2022
PolitiFact, "What is QAnon, the baseless conspiracy spilling into US politics?" Aug. 27, 2020
Phone interview with Joanna Lydgate, CEO of States United Action, June 2, 2022
Phone interview with Michelle Bassett, spokesperson for Wayne County Community College District, June 2, 2022
Phone interview with Eliza Sweren-Becker and Ian Vandewalker, counsel and senior counsel for the Democracy Program at the Brennan Center for Justice, June 1, 2022
Phone interview with Jennifer Morrell, partner at The Elections Group, June 1, 2022
Phone interview with Allen Whitt, spokesperson for Tina Peters, May 31, 2022
Email interview with Mike Rothschild, the author of "The Storm Is Upon Us: How QAnon Became A Movement, Cult, and Conspiracy Theory of Everything," May 31, 2022
Email interview with Hany Farid, media analysis expert and professor at the University of California, Berkeley, May 31, 2022
Email interview with Jonathan Kaplan, spokesperson for Open Society Foundations, May 31, 2022
Email interview with Matt Mulkey, spokesperson for Pew Charitable Trusts, May 27, 2022
Email interview with Shane Hamlin, Electronic Registration Information Center executive director, May 25, 2022
Phone interview with Mike Rains, the pseudonymous QAnon researcher behind Poker and Politics and the "Adventures in HellwQrld" podcast, May 12, 2022
Phone interview with Al Jones, the pseudonymous founder of The Q Origins Project, May 5, 2022
Browse the Truth-O-Meter
More by Bill McCarthy