Stand up for the facts!
Our only agenda is to publish the truth so you can be an informed participant in democracy.
We need your help.
I would like to contribute
"QAnon violence! There is none."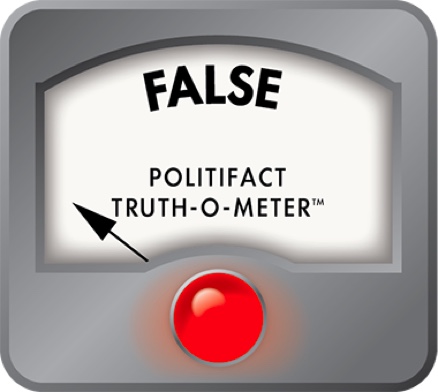 QAnon hoax has been linked to violence. Fox News' Greg Gutfeld falsely claimed it hasn't
If Your Time is short
QAnon is a baseless conspiracy theory. The FBI has identified it as a potential domestic terrorist threat, and it has been linked to multiple instances of violence.

QAnon has been associated with various crimes, including the blocking of a bridge near the Hoover Dam by a man in an armored truck and the killing of a New York mob boss.
QAnon, the sprawling and baseless internet conspiracy theory labeled by the FBI as a potential domestic terrorist threat, has on several occasions been linked to real-world violence. Fox News host Greg Gutfeld falsely claimed in a recent episode of "The Five" that it had not. 
"QAnon violence! There is none," Gutfeld said, while laughing and clapping, during an Aug. 20 exchange with co-host Juan Williams. "That's funny. You are hilarious."
In reality, the QAnon hoax has been connected to several incidents of violence or threatened violence. Gutfeld is wrong to say that "there is none."
Gutfeld's comment came one day after President Donald Trump demurred when he was asked for his thoughts about the conspiracy theory, telling a reporter who asked about the movement during a press conference that he had heard QAnon followers "are people that love our country" and "like me very much."
The once-fringe conspiracy theory has expanded its influence since the start of the coronavirus pandemic by pushing miracle cures and misinformation. Supporters of QAnon believe or promote the belief that a cabal of Democrats and celebrities are Satan-worshipping pedophiles operating a global child sex-trafficking ring, and that Trump is leading a covert effort to stop them.
The QAnon hoax takes its name from a user on the online forum 4chan, known as "Q," who claims to be an anonymous government official. Q's cryptic posts beginning in 2017 set in motion a wide-ranging conspiracy theory embraced by Trump supporters. 
Since then, QAnon symbols and paraphernalia have been spotted at Trump rallies and events. Trump has also amplified QAnon Twitter accounts and lent support to QAnon followers running for Congress, including Republican House candidate Marjorie Taylor Greene in Georgia. 
On some occasions, the hoax has helped spur its followers to violence. Kathryn Olmsted, a history professor at the University of California, Davis, and the author of a book on conspiracy theories in American politics, said Gutfeld's QAnon claim has "no foundation."
"It's a theory about a deep-state coup against the president," Olmsted said. "If its adherents truly believe the theory, it's not surprising that they might turn to violence to stop the conspirators."
Fox News did not respond to requests for comment.
The FBI and other groups have linked QAnon to violence
The FBI named QAnon specifically in a May 2019 intelligence bulletin produced for distribution among intelligence and law enforcement agencies that described "conspiracy theory-driven domestic extremists" as a growing threat in the U.S. The document was obtained by Yahoo! News.
The memo detailed multiple cases in which violent incidents or the threat of violence inspired by QAnon and other conspiratorial beliefs led to arrests.
"The FBI assesses these conspiracy theories very likely will emerge, spread, and evolve in the modern information marketplace, occasionally driving both groups and individual extremists to carry out criminal or violent acts," the memo said.
West Point's Combating Terrorism Center, an academic institute within the United States Military Academy, also cited a number of examples of violence related to QAnon in a July report. 
"QAnon has contributed to the radicalization of several people to notable criminal acts or acts of violence," the report said.
Facebook, which recently joined other social media platforms working to crack down on QAnon content when it removed hundreds of groups that had promoted the conspiracy theory, cited the discussion of potential violence among those groups as reason for their removal. 
"We have seen growing movements that, while not directly organizing violence, have celebrated violent acts, shown that they have weapons and suggest they will use them, or have individual followers with patterns of violent behavior," Facebook said in the statement.
Examples of QAnon-linked violence
The FBI memo and the Combating Terrorism Center report both logged multiple instances where QAnon beliefs were connected to real-world crime, as have news outlets and activist groups such as the liberal research organization Media Matters for America. 
Those incidents of violence, potential violence or criminal activity include:
QAnon has also been associated with various threats and other crimes, including vandalism.
There have also been violent incidents related to the Pizzagate conspiracy theory, which has been largely subsumed into QAnon. Supporters of the Pizzagate theory also believe a child sex trafficking ring is being run by Hillary Clinton and other Democratic officials. 
One armed man entered a Washington pizzeria in 2016 to investigate the baseless theory; another man motivated by conspiracy theories started a fire at the same pizza joint in 2019. 
People may question whether QAnon caused the acts or was offered as a rationale after the fact, said Mark Fenster, a University of Florida law professor and the author of a book on American conspiracy theories. But it's wrong to say that there's been no violence related to QAnon, he said.
Our ruling
Gutfeld said, "QAnon violence! There is none."
In fact, there have been a handful of examples.
The FBI identified QAnon as a potential terrorist threat in a May 2019 memo that listed some incidents of violence or threatened violence associated with the hoax and others like it. News reports, activist groups and an academic institute have also highlighted examples of violence. 
And two experts on American conspiracy theories said Gutfeld's claim is wrong.
We rate this statement False. 
Fox News, "The Five," Aug. 20, 2020
Media Matters for America, "There have been numerous examples of QAnon-related violence. A Fox host wrongly claimed no such examples exist," Aug. 20, 2020
The Daily Beast, "Inside the Completely Nutso Universe of QAnon," Aug. 21, 2020
ABC News, "QAnon: What is it and how did we get here?" Aug. 20, 2020
The New York Times, "What Is QAnon, the Viral Pro-Trump Conspiracy Theory?" Aug. 20, 2020
The New York Times, "Facebook Removes 790 QAnon Groups to Fight Conspiracy Theory," Aug. 19, 2020
Facebook, "An Update to How We Address Movements and Organizations Tied to Violence," Aug. 19, 2020
Combating Terrorism Center at West Point, "The QAnon Conspiracy Theory: A Security Threat in the Making?" July 2020
MassLive, "Boston man livestreams 20-mile police chase through Massachusetts and New Hampshire with his 5 children in the car," June 12, 2020
Insider, "A woman inspired by QAnon conspiracy videos was arrested after live-streaming her trip to 'take out' Joe Biden," May 1, 2020
The Daily Beast, "A QAnon Devotee Live-Streamed Her Trip to N.Y. to 'Take Out' Joe Biden," April 30, 2020
The Daily Beast, "QAnon Promotes Pedo-Ring Conspiracy Theories. Now They're Stealing Kids," April 16, 2020
ABC News, "Man pleads guilty to terrorism charge after blocking Hoover Dam bridge with armored truck," Feb. 13, 2020
The Daily Beast, "Accused Pizzagate Arsonist Pleads Guilty to Setting Fire at D.C. Pizzeria," Dec. 17, 2019
The New York Times, "Accused of Killing a Gambino Mob Boss, He's Presenting a Novel Defense," Dec. 6, 2019
AZCentral, "Vandalism at Sedona's Chapel of the Holy Cross linked to QAnon supporter," Oct. 1, 2019
Tucson.com, "Pedophilia conspiracist arrested for stealing, damaging water tanks meant for migrants," Aug. 6, 2019
Just Security, "Trump's Encouraging QAnon May Result in Violence—Just ask the FBI," Aug. 1, 2019
Yahoo! News, "Exclusive: FBI document warns conspiracy theories are a new domestic terrorism threat," Aug. 1, 2019
The Daily Beast, "Qanon-Believing Proud Boy Accused of Murdering 'Lizard' Brother With Sword," Jan. 9, 2019
The Seattle Times, "'God told me he was a lizard': Seattle man accused of killing his brother with a sword," Jan. 8, 2019
The Daily Beast, "QAnon Fan Arrested for Threatening Massacre at YouTube Headquarters," Sept. 27, 2018
The Daily Beast,"QAnon Referenced by Man Arrested for Threatening to Kill Trump," Aug. 11, 2018
NBC News, "Arizona veterans group finds homeless camp — and fuels a new 'pizzagate'-style conspiracy," June 7, 2018
PolitiFact, "Donald Trump gives oxygen to baseless QAnon conspiracy theory," Aug. 20, 2020
PolitiFact, "QAnon and Donald Trump rallies: What's that about?" Aug. 3, 2018
PolitiFact, "How Pizzagate went from fake news to a real problem for a D.C. business," Dec. 5, 2016
Email interview with Kathryn Olmsted, professor of history at the University of California, Davis, and the author of "Real Enemies: Conspiracy Theories and American Democracy, World War I to 9/11," Aug. 21, 2020
Email interview with Mark Fenster, professor of law at the University of Florida Levin College of Law and the author of "Conspiracy Theories Secrecy and Power in American Culture," Aug. 24, 2020
Browse the Truth-O-Meter
More by Bill McCarthy
Support independent fact-checking.
Become a member!
In a world of wild talk and fake news, help us stand up for the facts.