Stand up for the facts!
Our only agenda is to publish the truth so you can be an informed participant in democracy.
We need your help.
I would like to contribute
"1,900 food production companies have been destroyed" as part of conspiracy.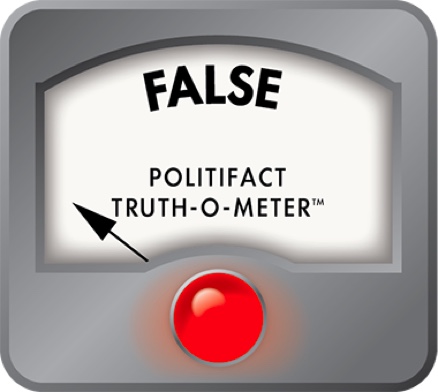 Fires and accidents at food plants are common, not a conspiracy
If Your Time is short
Many fires or accidents have made headlines, but such things are not uncommon in manufacturing plants or farms, experts said.

Two recent fires at egg farms killed hundreds of thousands of birds, but the farms are still operating. The causes haven't been determined, but there's no sign of foul play.

We found no groups that track food plant fires. But when we have fact-checked more detailed claims that suggest widespread, coordinated destruction of food processing facilities, we learned that most of the incidents cited were not deemed suspicious by authorities investigating them.
Baseless claims that unnamed bad actors are planning food shortages to control U.S. citizens have proliferated on social media throughout the COVID-19 pandemic.
They point to headlines about real fires or accidents at food processing plants as evidence that such a plot is happening, though PolitiFact and other fact-checkers have repeatedly debunked the claims.
Now, a podcaster and author has joined the fray, making unsubstantiated claims about the U.S. food supply in a video that's being widely shared online.
"1,900 food production companies in the past year have been destroyed," the man says in an April 19 Instagram video. "The two largest egg manufacturers in the United States have burned down in the past 36 hours; we've had two planes smash into meat processing centers."
"The only commonality amongst all of them are these two things," he said. "They make food for Americans, and it's on American land."
"Are you awake yet?" reads text across the video as a digitized Anonymous mask bobs over the screen. "It's war against us, the population, controlling food to control and us," a comment on the post said.
This post was flagged as part of Meta's efforts to combat false news and misinformation on its News Feed. (Read more about our partnership with Meta, which owns Facebook and Instagram.)
We traced the original video to an April 2 episode pf a podcast called "About Violence." The speaker is Tim Kennedy, an author, former Ultimate Fighting Championship fighter and U.S. Army Green Beret, according to his website.
Kennedy didn't give a source for his information, but in the full podcast he said that most of our meat comes from overseas and increasingly people who are "not Americans" are buying U.S. farmland. "There is no way you cannot be alarmed or concerned about food in the United States," he said.
We emailed Kennedy using an address listed on YouTube for the "About Violence" podcast, but got no response.
The claim is similar to baseless claims that have circulated on social media and on Fox News since last year. 
We found no evidence that 1,900 food production plants have been intentionally "destroyed" in the past year. News reports show there have been many fires and accidents that have damaged some sites in recent years, but nothing on the scale claimed here, and no evidence any were intentionally damaged. The U.S. Department of Agriculture said it doesn't track fires or incidents at food production facilities, and we didn't find any private groups that do.
Twice last year, PolitiFact rated False separate claims that alleged a string of specific accidents or fires at food processing plants or farms were part of an intentional effort by unnamed forces to create food shortages in the U.S. Examining the details of fires that were included in a 95-item list, we found most of the incidents cited were deemed not suspicious by authorities or the details being shared about them were factually incorrect. 
Nor is there any evidence of widespread food shortages in the U.S.
"​​The public can have full confidence in the security of the nation's food supply," said Heather Garlich, a spokesperson for the Food Industry Association, a national trade group. 
Although there is no official data of all fires or accidents at food production sites or farms, the National Fire Protection Association, a nonprofit devoted to fire safety, reported that fires at food manufacturing plants or animal housing facilities are not uncommon.
From 2015 to 2019, the association's data, which comes from the U.S. Fire Administration's National Fire Incident Reporting System, showed that there was an average of 5,038 fires per year at manufacturing or processing plants (though numbers were not specific to food production). 
The data also showed 961 agriculture fires, 1,155 grain or livestock storage fires and 35 refrigerated storage fires yearly in that period. Those categories could all include food processing operations, the organization said in a 2022 blog post debunking the conspiracy theories.
Birgitte Messerschmidt, the National Fire Protection Association's research director, told PolitiFact last year that fires are more common than most people think. Fires in food manufacturing and food storage have "been happening around the globe, regularly" for years, she said.
Messerschmidt said in a National Fire Protection Association blog post last year that food processing plants are prone to fires and explosions because of heat from cooking, combustible dust and other risks.
We found no evidence in a Google and Nexis search that any large egg producers burned down on or near April 2, when the podcast was released on YouTube. The two largest egg producers, according to the trade publication Egg Industry are Cal-Maine Foods and Rose Acre Farms. We found nothing about fires at either producer in April. A November fire did cause minimal damage at a Rose Acre Farms barn in Missouri, however.
It's possible the speaker was referring to fires at two egg producers that made headlines in recent months. 
A fire at Kreider Farms in Pennsylvania in December killed about 250,000 chickens, according to news reports. One of six layer houses on the property caught fire. It did not spread to other buildings, and the site is still in operation. The blaze's cause is undetermined, the Pennsylvania State Police said April 26.
In January, a fire at one of several buildings at Hillandale Farms in Bozrah, Connecticut, killed about 100,000 hens. The farm, the third-largest egg producer in the United States, is still operating. The fire's cause is still under investigation, but similar fires have killed tens of thousands of chickens at Hillandale properties in 2016 in nearby Lebanon, Connecticut, and in 2017 in Tyrone Township, Pennsylvania, The Associated Press reported.
Fires at animal housing facilities happen frequently, according to the National Fire Protection Association, and the Animal Welfare Institute, an advocacy group.
A 2022 report by the National Fire Protection Association found that most animal housing fires are from heating devices or electrical systems that have malfunctioned. The report found that there were 1,310 fires per year at livestock or poultry storage facilities (barns, stockyards and animal pens) from 2014 to 2018, and about 750 per year in livestock production properties. 
A 2022 Animal Welfare Institute report also found that heating devices and electrical systems were the leading cause of barn fires. It found that nearly 3 million animals died in barn fires from 2018 to 2021, and 98% of those were poultry. Most fatal barn fires occurred in colder states, where heating devices are necessary, the report said.
So far in 2023, nearly 150,000 farm animals have died in fires, the majority of those being chickens killed in the January Hillandale Farms blaze, the Animal Welfare Institute said.
That number includes more than 18,000 cattle killed in an April 10 explosion at a dairy farm in Texas. The explosion's cause is under investigation.
As for planes crashing into meat processing plants, the only recent plane crashes involving food plants we could find were in April 2022. Neither were meat processing plants.
In one, a pilot delivering packages for the United Parcel Service died after her plane crashed into a Gem State Processing Plant. The plant processes potatoes and was not significantly damaged.
That same month, another small plane with a pilot in training crashed into trucks parked in an isolated area of a General Mills cereal plant, killing two aboard the plane. The plant was not damaged.
Both crashes were featured in a segment about food processing plant fires on former Fox News host Tucker Carlson's show.
Our ruling
An Instagram post claimed that 1,900 food production companies were destroyed in the past year and suggested it was part of a conspiracy.
We were not able to substantiate the 1,900 figure — we found no one who tracks such fires, and the speaker in the video didn't share evidence. Although there are many news reports of fires or other accidents at food processing plants and fires at farms, there's no evidence they are coordinated or intentional.
We rate the claim False.
PolitiFact Researcher Caryn Baird contributed to this report.
Instagram post, April 19, 2023
"About Violence" podcast, "Ep. 10 Cannon Republic - American Animal Feed Supply," April 2, 2023 
Egg Industry, "45 largest egg producers in 2022" Jan. 2022
Lancaster Farming, "Kreider Farms loses 250,000 chickens in fire," Dec. 14, 2022
Meat & Poultry, "Fire breaks out at Kreider Farms' layer house," Dec. 15, 2022
Email from Pennsylvania State Police spokesperson, April 26, 2023
Email from Heather Garlich, Food Industry Association spokesperson, April 26, 2023
Warransburg Star Journal, "Fire damages barn at Rose Acre Farms," Nov. 14, 2022
CT Insider, "Thousands of chickens were killed in CT fire. Now legislators are taking a closer look," Feb. 6, 2023
The Associated Press, "Officials: Estimated 100,000 hens died in Conn. fire," Jan. 30, 2023
National Fire Protection Association, "Fires in animal housing facilities," August 2022
National Fire Protection Association, "Fires in animal housing facilities summary," August 2022
National Fire Protection Association, "Fires by occupancy or Property Type," accessed April 25, 2023
National Fire Protection Association, "Nothing to see here," May 2, 2022
National Fire Protection Association, "Conspiracy theory brewing over chicken farm fires is false, experts say," Feb. 1, 2023 
U.S. Department of Agriculture, email exchange, April 26, 2023
Animal Welfare Institute, "Barn Fires: A Deadly Threat to Farm Animals," January 2022
Animal Welfare Institute, "Barn Fires," accessed April 26, 2023
Animal Welfare Institute, "2023 Barn fire statistics by state," accessed April 26, 2023
The Atlanta Journal-Constitution, "NTSB: Pilot doing flight training across metro Atlanta before Covington crash," May 14, 2022
Potato News Today, "Idaho UPS pilot killed instantly after her plane crashes into potato processing plant," April 20, 2022
Texas Tribune, "More than 18,000 cows are dead after dairy farm explosion in Texas Panhandle," April 13, 2023
Browse the Truth-O-Meter
More by Jeff Cercone
Support independent fact-checking.
Become a member!
In a world of wild talk and fake news, help us stand up for the facts.