Get PolitiFact in your inbox.
Electrically charged stones discovered in Congo.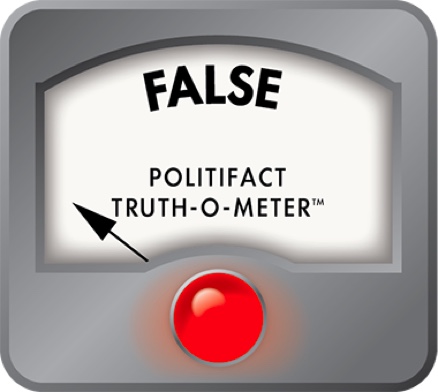 Electrically charged stones found in Congo? Science says it's not possible
If Your Time is short
Scientists rebut that there has been any such breakthrough.
 
Experts say that while minerals within rocks can conduct electricity, rocks cannot store it or function as batteries on their own.
Have scientists discovered electrically charged stones in the Congo?
Videos shared on social media claim to show just such a discovery, and they suggest it could alter the way we live.
"Miners in #RepublicofCongo have discovered a rock that is electrically charged. These could aid in making phones, laptops and electric cars," a Jan. 23 Instagram post read.
The post contains two videos. One shows a person using a rock and a wire to power a light bulb. The second shows two rocks being rubbed together to produce sparks.
This post and others like it were flagged as part of Facebook's efforts to combat false news and misinformation on its News Feed. (Read more about our partnership with Facebook.)
Could these stones really be the next breakthrough for generating power? Science says no.
Although the original source of the videos is unclear, we found that one of the clips was posted a few months ago. BBC reported that the video showing two rocks producing sparks appeared on the Facebook page of the Mohammed First University in Morocco in November 2022. The video was captioned with the text: "Lithium!!?"
Using Google reverse image search, PolitiFact also found this video on multiple LinkedIn posts published two months ago.
One such post had the caption "LITHIUM SPODUMENE, 3.7%." Another post also claimed it was lithium.
We couldn't verify whether the rock in these posts was lithium. But lithium is already used to make phones, laptops and electric vehicles.  
The Energy Department's Geothermal Technologies Office identifies lithium as a "critical mineral" for rechargeable electric batteries, saying it's the "major ingredient" in the rechargeable batteries of phones, hybrid cars, electric bikes, and even large, grid-scale storage batteries.
However, the mineral by itself does not produce electricity the way it was depicted in the videos.
Rock alone does not have the capacity to store electricity, but it can conduct electricity. According to Encyclopedia Britannica, this can happen if the rock contains briny pore water or metals.
Simon Jowitt, an associate professor of economic geology at the University of Nevada, Las Vegas, told PolitiFact the rocks in the video seem to be conducting electricity from a battery or similar object. He said rocks containing metallic minerals, such as pyrite, chalcopyrite or graphite, can conduct electricity but cannot effectively store it. 
Jowitt said the rocks shown in the video don't resemble lithium, and that as a metal, lithium can combust easily at high temperatures. Lithium would need to have an electrochemical reaction with other metals or minerals to enable the storage and release of electricity, Jowitt said. 
Our ruling
Social media users circulated videos of supposed electrically charged stones found in Congo.
Scientists say there have been no such breakthroughs. Although rocks can conduct electricity, they cannot store electricity. 
We rate this claim False.
RELATED: Mining lithium poses environmental risks. The Biden administration isn't ignoring them
RELATED: CO2 output from making an electric car battery isn't equal to driving a gasoline car for 8 years
BBC, "The mystery of 'electricity-producing' rock," Jan. 24, 2023
Britannica.com, "Rock - Electrical properties," accessed Jan. 25, 2023
Geothermal Technologies Office, Lithium, accessed Jan. 25, 2023
The Associated Press, "Posts falsely claim electrically-charged rocks found in Congo," Jan. 25, 2023
Lead Stories, "Fact Check: NO 'Electrically Charged' Rocks Discovered In Democratic Republic Of Congo," Jan. 25, 2023
Email interview with Simon Jowitt, associate professor of economic geology at the University of Nevada Las Vegas, Jan. 26, 2023
Tweet, https://twitter.com/danielmarven/status/1616668450117541889 
Tweet, https://twitter.com/Africa_Archives/status/1616893566499917826 
Facebook post, Jan. 23, 2023
Facebook post, Nov. 24, 2022 
Instagram post, Jan. 23, 2023
LinkedIn post, Nov. 2022
Linkedin post, Nov. 2022
Browse the Truth-O-Meter
More by Loreben Tuquero
Support independent fact-checking.
Become a member!
In a world of wild talk and fake news, help us stand up for the facts.