Stand up for the facts!
Our only agenda is to publish the truth so you can be an informed participant in democracy.
We need your help.
I would like to contribute
Minority Leader Robert Reives "sent out a statement … encouraging us to resign and/or (face) a primary challenge."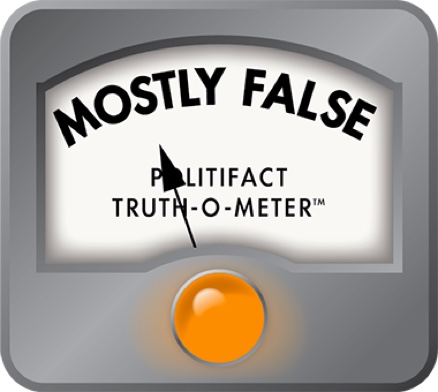 Cotham exaggerates statements of Democratic leader
When North Carolina state Rep. Tricia Cotham announced in April that she was switching parties to Republican, she said it was because members of the Democratic Party had treated her poorly.
Cotham's move delivered a supermajority to legislative Republicans and made national news as it unexpectedly handed the GOP power to override vetoes by Democratic Gov. Roy Cooper.
During an April 5 press conference, Cotham cast her old party as controlling. She claimed party members tried to bully her into toeing the party line, citing a recent statement by Minority Leader Robert Reives, D-Chatham. 
"When Representative Reives sent out a statement last week encouraging us to resign and/or (face) a primary challenge really showed the low blow of where we are in this institution," Cotham said during the press conference. 
Reives, she said, "never talked to me all session. I've tried. I've reached out. I've offered to help. So I guess he gets his wish."
Did Reives try to push out Cotham a week before her decision to switch parties? We couldn't find any evidence of that.
PolitiFact North Carolina called, texted, emailed and approached Cotham at the Legislature asking her to provide insight into her claim. She didn't respond.
Exactly a week before Cotham's announcement, Reives released a statement about a vote Cotham missed. It pertained to GOP legislators' vote to scrap a state law involving handgun permits.
Lawmakers earlier this year introduced and passed a bill that required North Carolinians to obtain a permit from their local sheriff before buying a handgun. Cooper vetoed it. Then, on March 29, GOP legislators voted to override Cooper while three Democratic House members — including Cotham — were absent.
That same day, Reives released a public statement regarding gun violence. It said:
"Gun violence is at an all-time high in our country. We see it daily in every place in our communities, including churches and schools. Just two days ago, three nine-year-olds were killed in their school, joining an ever-growing list of children who will never return home to their families. 
"The response of the Republican leadership of the North Carolina General Assembly? Create a loophole to allow guns on private school property. Make it quicker and easier for mentally ill people to get firearms. Refuse to close a loophole to keep guns out of the hands of convicted domestic abusers. Eliminate local sheriff criminal background checks for pistol permits. 
"House and Senate members who voted to override Governor Cooper's veto made North Carolina less safe from gun violence moving forward.
"The true defenders of public safety are the House and Senate Democrats who made sure they were on the floor to vote to keep our neighborhoods safe. This includes one House Democrat who, suffering from multiple bone fractures, postponed necessary surgery to travel to Raleigh just for this vote. And another who came to vote despite his mother passing away this week.
"Elections have consequences. If voters want a different direction on gun safety, the 2024 primary and general elections are their only avenue for change."
Although the statement didn't specifically name Cotham or other Democrats who were absent for the vote, it praised Democrats who did vote to uphold Cooper's veto.
Reives provided PolitiFact NC with photos of text exchanges he said he had with Cotham. According to those screenshots, Cotham told Reives that she had a medical appointment the day of the override effort, but said, "I will try to make the vote."
Reives encouraged people unhappy with the pistol permit vote to seek change at the ballot box — but didn't specifically call for members of his caucus to be primaried. He didn't call for Cotham to resign or mention her by name.
In a telephone interview, Reives described the statement language as boilerplate. He said the caucus needs more members, not fewer, and suggested Cotham was reading too much into the statement.
"You've got to be looking to be insulted to get insulted by me saying 'You've got to vote, if you don't like this result,'" Reives said.
Our ruling
Cotham said "Reives sent out a statement … encouraging us to resign and/or (face) a primary challenge."
We asked Cotham what statement she was referring to. She didn't respond to repeated requests for comment.
Exactly a week before Cotham's announcement, Reives, a party leader, released a statement about a vote Cotham missed. In it, he praised Democrats who showed up to vote against a gubernatorial veto override on gun permits. He called on people who were unhappy with the GOP's veto to cast their vote in 2024. But Reives didn't call for anyone to resign nor did he specifically encourage a primary against anyone who helped Republicans repeal the pistol permit requirement.
We rate Cotham's claim Mostly False.
WRAL video, "Long-time Democrat Rep. Cotham explains why she changed parties," April 5, 2023.
Tweet by North Carolina state Rep. Robert Reives on March 29, 2023.
WRAL, "North Carolina ends pistol permit system," March 29, 2023.
Telephone interview with North Carolina state Rep. Robert Reives on April 13, 2023.
Screenshots of text messages state Rep. Robert Reives said he exchanged with state Rep. Tricia Cotham, provided to PolitiFact North Carolina by Reives on April 21, 2023.
Browse the Truth-O-Meter
More by Paul Specht
Support independent fact-checking.
Become a member!
In a world of wild talk and fake news, help us stand up for the facts.