In Florida, no permit needed for driverless cars, Florida senator says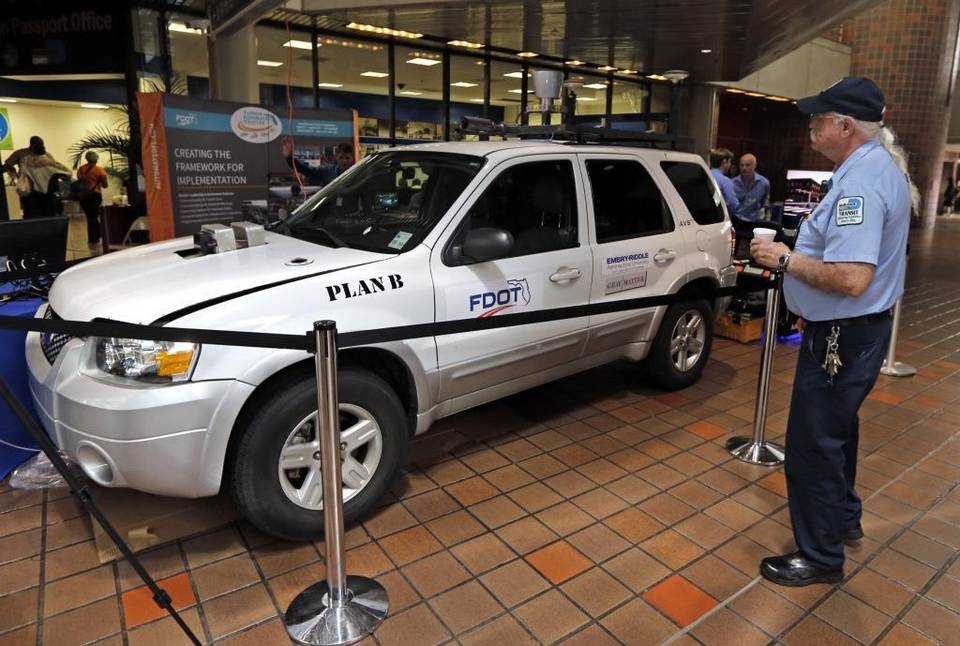 Uber hit the road with self-driving cars in San Francisco in December, but California regulators quickly hit the brakes.
In Florida, state Sen. Jeff Brandes, R-St. Petersburg, saw an opening for the Sunshine state.
"Hey @Uber, unlike California we in Florida welcome driverless cars - no permit required. #OpenForBusiness #FlaPol," Brandes tweeted Dec. 22.
Brandes, who has been advocating for laws to allow driverless cars, is correct that Florida does not require a permit to operate or test a driverless car. But that doesn't mean people should expect to hitch an automated ride any time soon.
Driverless car laws
Several car companies are developing fully autonomous or self-driving cars operated by computers and testing them in some states. But it could be several years before they are broadly publicly available due to the cost, questions about liability and the technology and as state government officials grapple with oversight.
In September 2016, federal transportation officials issued loose guidelines for driverless cars which gave companies the green light to push ahead. The rules included safety standards and called for states to come up with uniform policies.
Some states have already done so. Since 2011, eight states -- Nevada, California, Florida, Louisiana, Michigan, North Dakota, Tennessee and Utah -- and the District of Columbia have passed legislation related to autonomous vehicles, according to the National Conference of State Legislatures. Governors in Arizona and Massachusetts issued executive orders related to autonomous vehicles. Legislation has failed or is pending in several other states.
The law is more strict in California than Florida.
California passed a law in 2012 that allowed the testing of autonomous vehicles on public roads. Companies must apply for state permits and put up a $5 million bond. About 20 companies, including Tesla, Google and Mercedes-Benz, have been granted such permits.
California revoked the registration of 16 Uber cars in December 2016 because the state said Uber lacked required permits. Uber complied but argued it didn't need the permits because the vehicles required monitoring by a person in the car.
While California's law requires a permit, that's not the case in Florida.
"Florida has the least restrictive active state laws for the operation of autonomous vehicles," said John Terwilleger, an attorney at Gunster, Yoakley & Stewart in West Palm Beach. Terwilleger represents a company that is involved in developing and using autonomous vehicles in Florida.
In 2012, the Florida Legislature passed a law co-sponsored by Brandes that allowed a person with a valid driver's license to operate an autonomous vehicle. Before companies could test autonomous cars, they had to submit proof that they had $5 million in insurance.
But in 2016, the Florida Legislature passed new rules that eliminated some of the previous requirements, including the $5 million in insurance. The new law also got rid of the requirement that a human operator be present in the vehicle, as long as an operator can be alerted in case of technology failure and stop the vehicle.
Since there is no permit for autonomous vehicles, the state has no information regarding how many Floridians own one, said Beth Frady, spokeswoman for the Florida Department of Highway Safety and Motor Vehicles.
Florida law treats an autonomous vehicle in the same manner as any other motor vehicle operating on our roads, said Chris Spencer, a spokesman for Brandes.
"There are no requirements for additional permitting, licensing, or approval from any state or local government body to operate an autonomous vehicle on our roads," he said.
That's still the case, even though Florida was the location of the first fatality involving a self-driving car. In May, Joshua Brown, was killed when his Tesla while on autopilot crashed into a tractor-trailer in Williston.
Taking a ride without a driver
While Brandes is correct that there is no special permit requirement, don't expect driverless cars to flood Florida roads anytime soon.
When Florida required testers to provide proof of insurance until that provision was dropped earlier this year, only one did.
Brandes' tweet was a shout-out to Uber, so we checked on Uber's autonomous car plans.
Currently, Uber only operates self-driving cars in Pittsburgh, but they still have a human in the driver's seat, said Javi Correoso, an Uber spokesman for Florida. Uber moved its San Francisco cars to Arizona but hasn't started operating them yet.
Another hurdle to Uber's autonomous cars in Florida is that Uber's human-driven cars aren't everywhere in Florida. Only a handful of jurisdictions specifically allow Uber: Miami-Dade, Broward, Palm Beach, and Hillsborough counties, as well as the cities of Gainesville and Tallahassee.
Correoso said that Uber wants a statewide law to allow for Uber before it would move ahead with driverless cars in Florida.
"Until Florida passes statewide regulations, we haven't even started the process of bringing this technology to Florida," he said.
Our ruling
Brandes tweeted, "Unlike California, we in Florida welcome driverless cars - no permit required."
Florida does not require a permit to operate driverless cars. California requires companies that are testing such cars to get a permit. Although Florida law welcomes driverless cars, we found no evidence that they are commonly used in Florida.
Brandes' comment is accurate, and we rate it True.
https://www.sharethefacts.co/share/233ecdc6-d73c-42fc-8c11-25c35e0380bb