Pet-death claim leaves out important details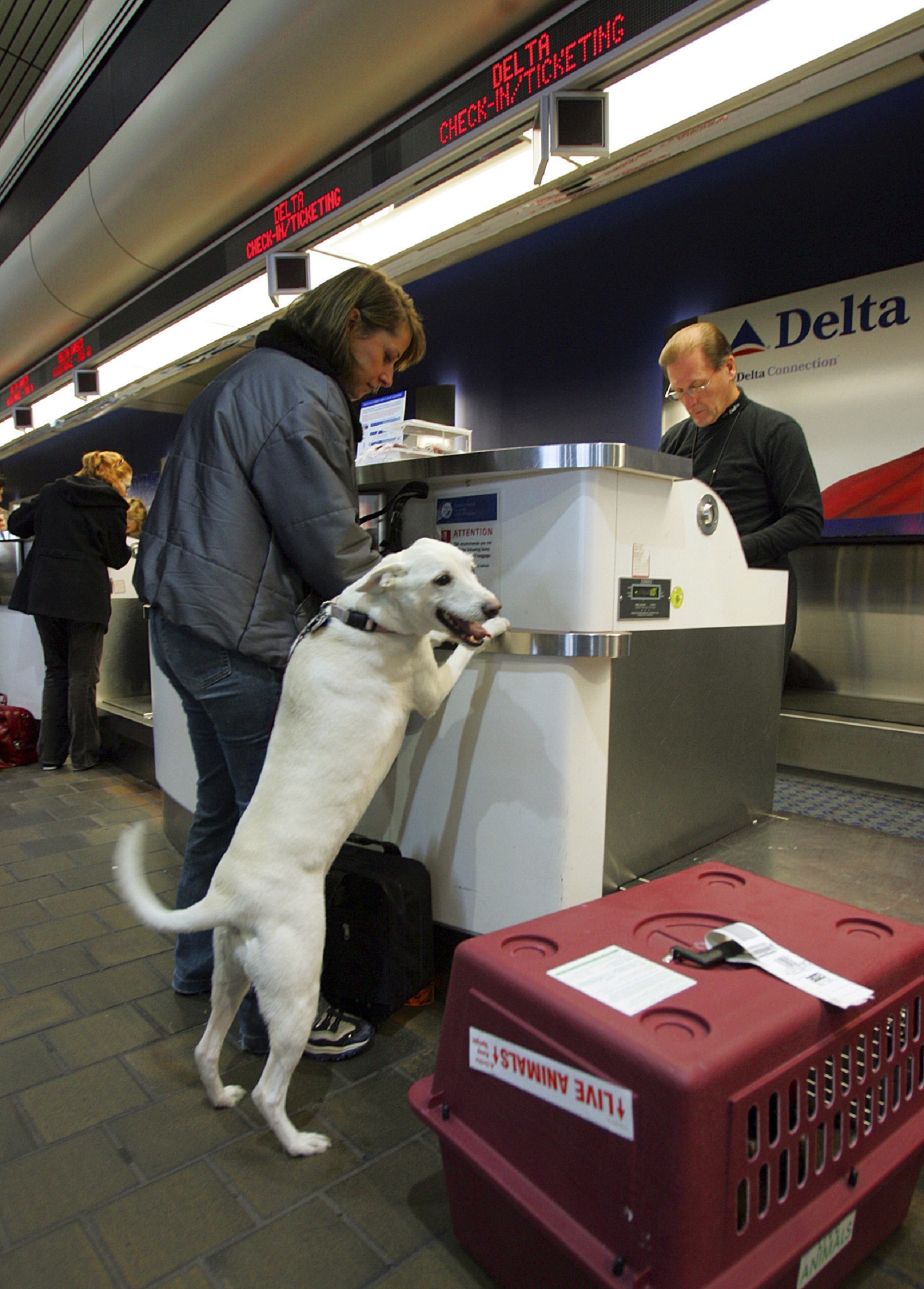 A new tracking device available to pets being transported in the cargo hold was supposed to calm passengers about flying with Fido on Delta Air Lines.
But coverage of gadget to monitor temperature and crate positioning also included some data that may have had the opposite effect.
"Delta has had the most animal deaths among U.S. carriers in the past five years, with 51, though it has had only 6 since 2013," according to a Bloomberg.com news report on March 31, 2015.
Reaction on social media was less measured, at one point calling the Atlanta-based airline "responsible" for the most pet deaths on U.S. carriers.
So PolitiFact Georgia decided to look at the statistics to see how Delta measures up when it comes to ferrying our furry friends.
The U.S. Department of Transportation requires airlines to file "animal incident" reports regarding injuries or deaths to animals being flown in the cargo hold. The data is compiled into monthly reports that also include information such as arrival times and lost baggage.
(As an aside, while the government requires reports on pet deaths, there is no similar requirement for any people who may perish during flights).
PolitiFact Georgia reviewed annual tallies of the animal incidents for the past five years and found Bloomberg was correct on the numbers:
| | | | | | | |
| --- | --- | --- | --- | --- | --- | --- |
| Carrier | 2010 | 2011 | 2012 | 2013 | 2014 | 5-yr Total |
| Alaska | 4 | 4 | 1 | 8 | 3 | 20 |
| American | 6 | 5 | 6 | 1 | 3 | 21 |
| American Eagle | 1 | 0 | 0 | 0 | 0 | 1 |
| Continental | 6 | 3 | 0 | 0 | 0 | 9 |
| Delta | 16 | 19 | 10 | 2 | 4 | 51 |
| Hawaiian | 2 | 2 | 1 | 1 | 2 | 8 |
| United | 4 | 2 | 12 | 9 | 5 | 32 |
| Total | 39 | 35 | 30 | 21 | 17 | 142 |
But there is more to the data than just numbers.
First, it's important to recognize that some airlines accept pets only if they are small enough to fit in the cabin. Southwest Airlines, for instance, wouldn't be on the list of cargo hold deaths because its policy does not allow for that kind of transport.
And mergers in the industry will skew the numbers, too. Continental did not see zero animal deaths since 2011, for instance. It is just now part of United.
It is also worth noting that when Delta saw the number of pet deaths increase in 2011, it carried far more pets than other airlines in part because of its broad route network.
That year, the number of pets that were injured or died on Delta was less than 0.2 percent of those it carried, the airline said.
Looking at it that way, it's highly misleading to compare Delta with airlines such as Hawaiian. The smaller airline flies about a tenth of the miles that Delta does, yet in recent years has seen nearly as many animal deaths.
Still, Delta was concerned about its increase and expanded its restrictions on certain pets. In particular, it stopped accepting snub-nosed pets such as bulldogs or Pekinese as checked items, since the animals have more difficulty breathing.
As Bloomberg notes, the changes have helped dramatically reduce the number of animals that ran into trouble, with deaths down nearly 79 percent from 2011.
Those numbers have fallen even as the sheer volume of animals it transports remains high.
Delta flies tens of thousands of pets every year, out of the half a million that federal data show are in plane cargo holds. About a thousand Delta flights take off out of Atlanta every day alone.
"We can't say that every flight had pets on it. We can say that even one death is unacceptable," said Delta spokesman Morgan Durrant. "Every pet is important to us. We wouldn't accept the animal if we didn't feel confident about their safety."
Incident reports back up Delta's confidence. The majority of injuries and deaths are not from crew mishandling of the animals or in-flight problems.
Rather, reports show the animals panicked in the kennels and attempted to chew or scratch their way out. Some animals died in their attempts.
The American Veterinary Medicine Association recommends that pet owners acclimate their dogs and cats to crates well before flights, to help minimize that level of stress on the animals.
The organization does not recommend tranquilizers, since that can depress breathing and increase stress.
Likewise, it agrees with airlines on restrictions on some short-snout dog breeds, given they are already susceptible to breathing problems, said Dr. Kendall Houlihan, the assistant director of the AVMA's animal welfare division.
The limitations can vary for every pet, considering underlying health conditions, age and other factors, she said.
"The most important thing is for owners to speak to veterinarian as early as possible before the trip," Houlihan said. "Part of that discussion needs to be whether air travel is appropriate."
Many pet owners have already decided that air travel is right for their dogs and cats, and nearly a half million fly every year without incident.
Bloomberg news said that Delta has had the most animal deaths of U.S. carriers in the last decade. The numbers back up that claim, but they miss many of the reasons why.
As one of the nation's largest carriers, Delta cannot be accurately compared to significantly smaller airlines who may have higher pet deaths per miles flown, a statistic unavailable from airlines or government data.
Without that missing context, the claim is just about numbers.
And the numbers are accurate but misleading. We rate the claim Half True.