MARTA official correct about commuters' limited options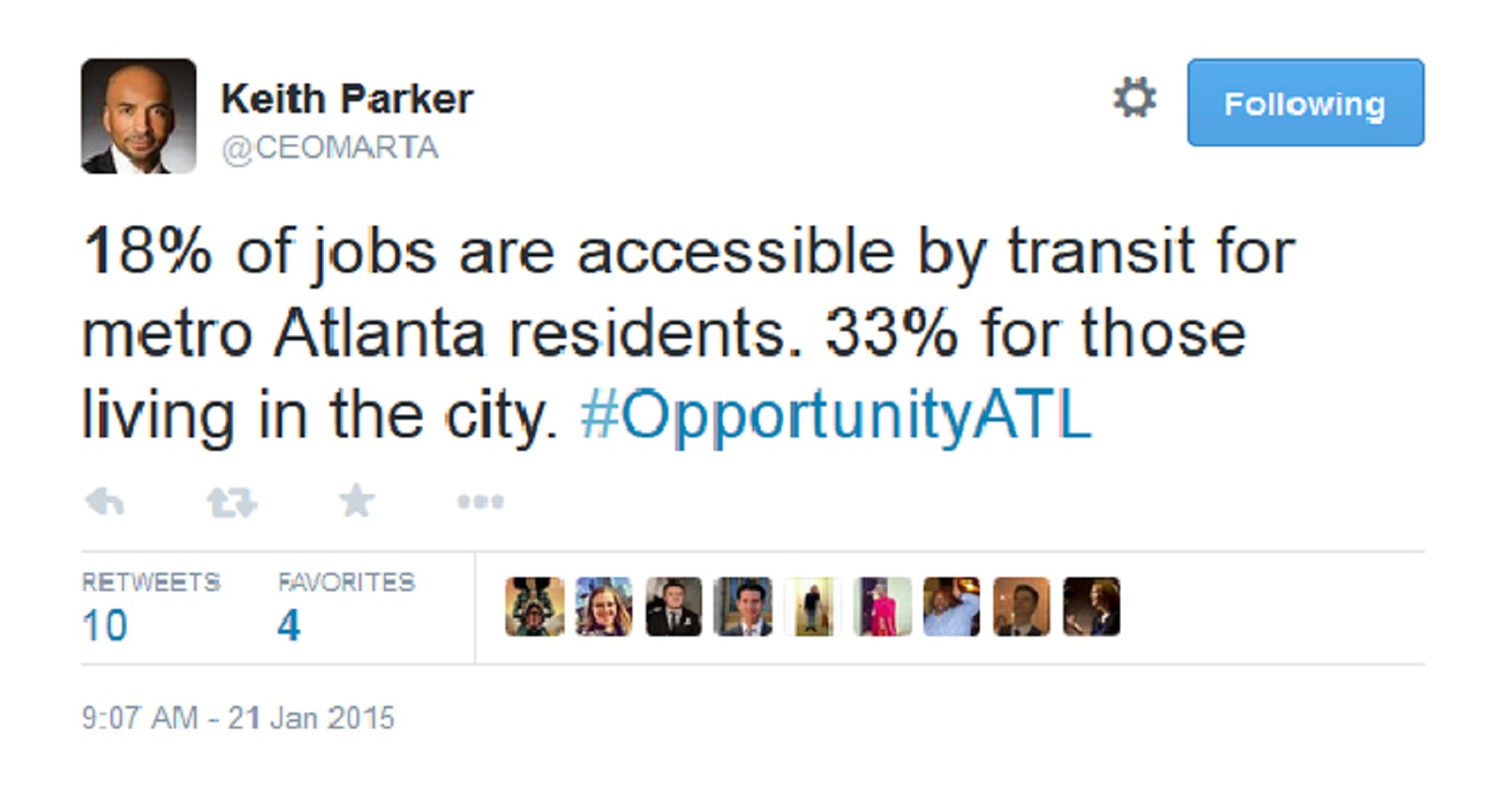 One day before a pedestrian death last Thursday triggered a massive traffic jam that made thousands of Atlanta workers late for work, the head of MARTA posted a provocative Tweet.
MARTA General Manager Keith Parker wrote, "18 percent of jobs are accessible by transit for metro Atlanta residents, 33 percent for those living in the city."
The statement came with the hashtag OpportunityATL, days after yet another major business, Mercedes-Benz USA, announced a corporate relocation that puts it next to both highways and MARTA rail.
Is there something to the claim that stretches beyond the miles of snarled traffic on four highways last week? We decided to check it out.
First, as the hashtag indicates, the statement did not come out of the ether. Parker posted the figures as he live-Tweeted presentations at a forum sponsored by the Atlanta Regional Commission and St. Vincent de Paul Society.
Author Rebecca Burns was the keynote at the Building Opportunity event focused on poverty and transportation. She cited The Brookings Institution for those statistics on a slide during her presentation.
To find out if those stats are accurate, we reached out to Brookings' Metropolitan Policy Program. That's the unit that conducts research for cities and their surrounding suburbs and exurbs.
A 2011 report, "Missed Opportunity: Transit and Jobs in Metropolitan America," found that the Atlanta-Sandy Springs-Marietta metro area was among the worst in the nation for residents trying to reach work via transit.
The study, the most recent available, looked at how many people can reach work in 90 minutes between 6 a.m. and 9 a.m. on a Monday morning.
Typical residents in the nation's largest 100 metro areas can reach about 30 percent of jobs by transit in 90 minutes, the study found.
In Atlanta, the transit systems studied included MARTA, Georgia Regional Transportation Authority (GRTA) and regional bus services in Cobb and Gwinnett counties. Yet workers here can reach just 22 percent of jobs that way.
That ranked Atlanta 91st out of the 100 largest metro areas studied. The numbers are, as Parker's Tweet suggested, even worse for the region's suburbanites.
The study found that 33 percent of the region's jobs are accessible for city residents by public transportation and just 17 percent for suburbanites.
"In some ways, it's not surprising, given the age the cities developed in," said Adie Tomer, a research fellow at Brookings who co-authored the study. "Atlanta was really built in the era of the car, and so it's built out in a suburban style."
So the numbers are pretty on target and somewhat expected. More than the exact numbers, though, is the overarching point.
Tomer said cities with more transit access are effectively providing more options for workers. They can drive to work, ride a train, ride a bike, or even walk.
Meanwhile, the traffic jam last week showed the "virus" effect a back-up can have on highways as well as surface streets when those options are limited.
That ripple effect is prompting more suburban counties to gear up for serious talks about transportation options and has even put "public transit" in the mix of the state Legislature's debate this year about transportation improvements.
The challenges are clear. An exclusive Atlanta Journal-Constitution poll recently found that almost 70 percent of Georgians support new bus and rail lines. But only 36 percent said they'd pay higher taxes to pay for transportation improvements.
Yet the benefits are just as clear. Mercedes-Benz USA's CEO recently cited easy access for workers as a factor in its planned to move to Sandy Springs – suburban but adjacent to rail lines. Other major firms, from State Farm to PulteGroup, have made similar statements about their relocations.
MARTA and other public transit projects have likewise had a run of good headlines. Clayton County residents voted in November for their county become the third to join MARTA – the first in 40 years.
The Atlanta Streetcar's launch in December, the first expansion of a new rail line in years, drew attention nationally.
To that end, Parker said he posted that Tweet because the statistics startled him. Looking at them another way, at least six out of every 10 metro workers lacks access by public transportation to jobs.
Like Tomer, Parker hopes the existing collaboration between MARTA and bus lines in outlying counties will be seen by policy makers as an option - one to further investigate and expand.
"We want people to look at us as a real alternative to get them to work, to school, to recreation," Parker said. "You can know with a sense of certainty that 95 percent of the time we are on time with train service. I dare say we don't have that level of certainty on the highway system right now. We want people to see this is a viable option."
So as state and local leaders hash out ideas to discuss those options, can they count on the statistics reflecting workers' access to jobs by public transit today?
Parker posted a Tweet from a forum, claiming 33 percent of people in the city and 18 percent elsewhere have that access. An independent analysis confirmed the point, if not the precise number for suburbanites.
We rate the claim True.