Madigan says his primary opponent's campaign funded with more than $1 million from Rauner allies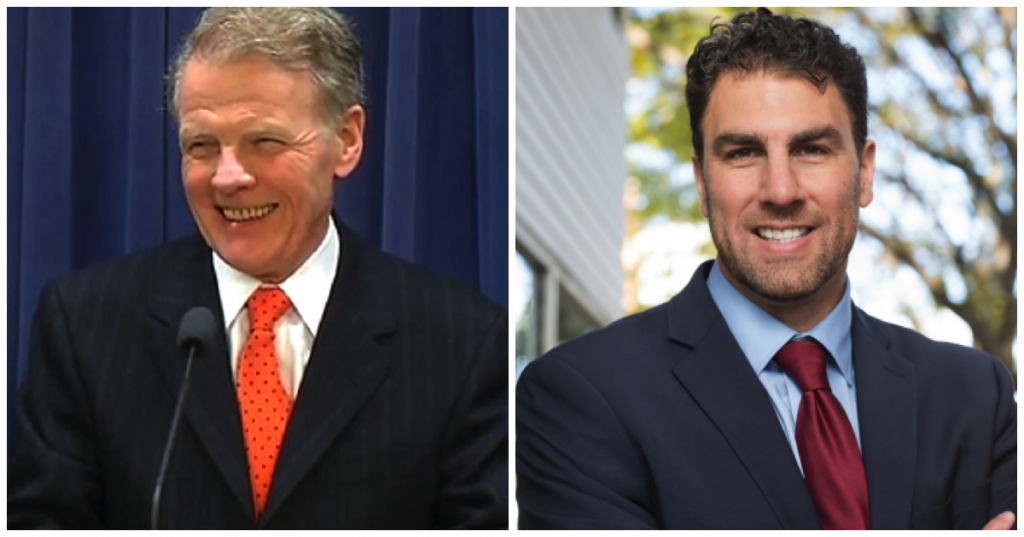 Is Jason Gonzales a wholly-owned subsidiary of Gov. Bruce Rauner and his associates as Illinois House Speaker Mike Madigan claims?
Madigan, who has served as speaker for all but two years since 1983, was challenged in the 2016 Democratic primary election for the 22nd District by Jason Gonzales, an entrepreneur and high school dropout who went on to receive degrees from Duke, MIT and Harvard. Despite labeling himself as a progressive, Gonzales had the backing of Republicans and supporters of Gov. Bruce Rauner.
Nearly six months after being defeated in the primary by more than 38 percentage points, Gonzales filed a lawsuit on Aug. 8 accusing Madigan -- who also is chairman of the Illinois Democratic Party -- of dozens of illegal and fraudulent acts during the election season.
The 39-count suit accuses Madigan and others of defaming Gonzales by calling him a convicted felon in campaign ads and committing fraud by putting up two "fake" candidates on the ballot to "dilute" the Latino vote, among other allegations.
In response to the lawsuit, Madigan issued a statement calling Gonzales' claims without merit, but one sentence in particular stood out: "Gonzales' losing campaign against me last spring was funded with more than $1 million from supporters and allies of Governor Bruce Rauner."
While it's no secret Gonzales was backed by Republicans and supporters of Rauner -- Madigan's biggest political foe -- is it true his campaign was funded with more than $1 million from them?
Following the money
Madigan spokesman Steve Brown told PolitiFact Illinois the $1 million figure came from the Illinois State Board of Elections.
Campaign finance records from the State Board of Elections show Gonzales received $278,771 in individual contributions during the primary race.
We found some of the top contributors to Gonzales' campaign fund also have donated to Rauner and some top contributors to Gonzales also have donated to other Democrats.
In a phone interview, Gonzales acknowledged he received financial support from the governor's supporters, but said there never was a quid pro quo between him and Rauner or his allies.
Gonzales pointed out many of his donors have contributed to both parties.
And not all of his top contributors have donated to Rauner.
Robert Hirsch, CEO of Gold Eagle, a company that manufactures automotive chemicals, donated $27,500 to Gonzales -- the largest individual contribution to the campaign -- but there is no record of Hirsch contributing to Rauner's political committees. However, Hirsch did support redistricting reform efforts backed by Rauner and opposed by Madigan in 2014 and 2016, though that is an issue that has bipartisan support.
"I had to dial for money every day, and a lot of donors I dialed on Democratic lists happened to be supporters of Bruce Rauner and there was nothing I could do about that," Gonzales said.
Among Gonzales' top donors was Blair Hull, a wealthy Chicago businessman who unsuccessfully ran in the 2004 Democratic primary race for U.S. Senate, which eventually was won by then-state Sen. Barack Obama.
Records show Hull donated $7,250 to Gonzales' campaign on March 3. He also contributed $5,000 to Rauner during the 2014 gubernatorial race.
But Hull's company, Hull Investments LLC, donated $450,000 to the Illinois United for Change super PAC, which spent $506,000 in support of Gonzales and $367,000 against Madigan.
Calls to Hull Investments LLC were not returned, but Hull told the Capitol Fax blog in February that Madigan "is not a team player" and "does not cooperate well with others." Hull added that he believed "the state of Illinois and the Legislature would be improved significantly without Michael Madigan."
If you combine the total amount spent in the race by Illinois United for Change and individual contributions to Gonzales' campaign fund, it comes out to about $1.15 million.
While Brown noted spending by the super PAC was included in Madigan's claim, it's illegal for an independent expenditure committee to contribute directly to a candidate's campaign.
Kent Redfield, an Illinois campaign finance expert and professor emeritus of political science at the University of Illinois-Springfield, said Madigan's statement is a "reasonable assumption," but there's no evidence to suggest the super PAC coordinated with Rauner's office, his political committees or supporters.
"The statement makes it sound like it was a coordinated campaign that involved different entities," Redfield said. "While it may be the case, you don't have anything on public record."
Redfield characterized Madigan's claim as an "overstatement." He added that while it "assumes a connection that very well may be there," there's no definitive link.
However, the issue of dark money makes it extremely difficult to determine where exactly the money is coming from, notes Sarah Brune, executive director of the Illinois Campaign for Political Reform.
For example, Illinois United for Change received $20,000 in donations from the Illinois Opportunity Project, a 501(c)4 organization that is highly critical of Madigan and supportive of Rauner. The group is led by Dan Proft, Matthew Besler and Pat Hughes, all of whom are Republicans.
Non-profit 501(c)4 groups can spend unlimited amounts of money on politics without disclosing their donors, making it impossible to identify direct ties to certain politicians or their supporters.
Our ruling
Madigan said, "Gonzales' losing campaign against me last spring was funded with more than $1 million from supporters and allies of Governor Bruce Rauner."
Indeed, Gonzales' campaign received big donations from people who also gave to Rauner's campaign fund, but the speaker implies that every donation came from individuals and groups aligned with the governor. In fact, a few of Gonzales' top donors have also contributed to Democrats and one of his top five donors contributed to Gonzales and no one else.
Further, Madigan's "more than $1 million" includes spending by the Illinois United for Change super PAC, despite the fact that super PAC money cannot be given directly to a candidate's campaign nor can it be coordinated with a candidate's campaign.
We rate Madigan's claim Mostly False.
https://www.sharethefacts.co/share/7a1d2957-50ad-4415-a9b1-895f7e25d265