A Chicago alderman misses the mark comparing Donald Trump's deportation policy to Hitler's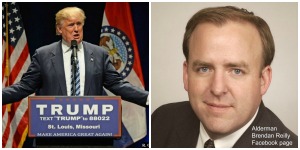 A quick glance at Brendan Reilly's Twitter feed shows the Chicago Alderman from the 42nd Ward is no friend to President Donald Trump.
Reilly regularly tweets about federal politics, criticizing the president, White House Press Secretary Sean Spicer and Trump's Cabinet picks. In March, Reilly found a CNN story where Trump described his deportation plan as a military operation. Reilly retweeted the story saying, "I seem to recall a guy in mid-1930s Germany who said the same thing."
It's not uncommon for politicians to compare their opponents to Adolf Hitler or his policies. This comparison differs from most, though. Reilly refers to an actual statement from Hitler that deportations in the 1930s were part of a "military operation."
For this fact-check, we looked back at the policies of Germany's Third Reich, and specifically whether Hitler or his inner circle had publicly characterized forced deportations in the 1930s as a military operation.
Nazi Germany's anti-Semitic policies
To begin, we reached out to Reilly's office to see where the alderman found the source he used for the tweet.
A staffer told us on background that it's a well-known fact that soldiers aided with the deportation of Jews and that the military, known as the Wehrmacht, guarded concentration camps. The staffer said the information came from the United States Holocaust Memorial Museum (USHMM) website.
We turned to the museum in order to see whether Hitler actually called the deportation of Jews a "military operation."
Anti-Semitism grew in the early-to-mid-1930s as the Nazi Party became more powerful. With the help of the Gestapo, the Sutrmabteilungen (Stormtroopers) and the Schutzstaffel (more commonly known as the SS), Hitler's Germany restricted Jews from having many basic human rights. According to the museum, for six years, Nazi-inspired legislation restricted Jews from entering certain parts of town and stripped them of any meaningful employment. In 1939, many German Jews were being deported to concentration camps.
According to the museum website, the deportations were spurred through the Nisko, or Lublin plan, which were Jewish "reservations" in what was then a German-occupied area of Poland. Adolf Eichmann of the Reich Main Security Office (RSHA) coordinated the transfer of roughly 3,500 Jews through the Lublin plan.
There were other instances of deportations in the 1930s. The USHMM website notes Germans also were deported three days after the official start of WWII if they spoke out against the war. This was enacted by Reinhard Heydrich, commander of the Security Service.
However, there is no record on the USHMM website of Hitler publicly announcing his intentions for deportations or of him describing them as military operations.
While Hitler often spoke about his goals regarding racial purity, he never actually tied them to his military pursuits, publicly or otherwise.
According to the USHMM, it still is unknown when exactly, during 1941, Hitler officially authorized the Final Solution, the name given to the Nazi Plan to exterminate the Jews. In fact, there still is no trace of a written order from Hitler ordering the deportation of Jews.
This kind of internal secrecy was common in Nazi Germany. The website Holocaust Denial on Trial, a joint project of Emory University and Emory's Tam Institute for Jewish Studies, cites Heinrich Himmler, the head of the SS, as saying, "We will never speak of it publicly … I mean the evacuation of the Jews, the extermination of the Jewish race…This is a page of glory in our history which has never been written and is never to be written."
Evidence of Hitler publicly connecting his military plans to the deportation is lacking, though Reilly's tweet indicates otherwise.
The Trump comparison
In the CNN story Reilly retweeted, Trump called his deportation plan a military operation. When asked to clarify, the White House told CNN the president meant "military" as an adjective.
But Reilly's conflation of German deportations in the 1930s and Trump's plan is an inaccurate premise on its face, said Johannes Evelein, a professor of language and cultural studies at Trinity College in Hartford, Conn.
Reilly's comparison of Hitler's deportation raises more differences than similarities, Evelein said.
"What we are seeing with Trump's plan is the deportation of immigrants who came here illegally and being returned back to their original country," Evelein said. "In Hitler's Germany, actual German citizens were being deported. Trump's plan is more of a question of who is illegal and who's not, rather than Hitler's plan, which gauged which citizens were pure and which ones weren't."
Evelein says as a general rule he hesitates to compare any figure to Hitler.
"I have seen a lot of these comparisons and I understand where they are coming from, but I tend to stay away from the comparison," Evelein said. "I feel others should, too, unless people have the time to develop the point and zero in on a very specific element. It's very easy to write a tweet and be done."
He even considers these kinds of comparisons "dangerous," especially when done in a short format like Twitter.
"There are limits to how much you can explain yourself," Evelein said. "Given the limited amount of text (on Twitter), it invites a kind of glibness. Oftentimes, it's provocative. Politically, it seems unwise to do that precisely because you cannot explain yourself."
Our ruling
A recent tweet from Chicago Ald. Brendan Reilly compared a quote from President Trump to the military aspirations of Adolf Hitler. Trump was quoted as saying his deportation plan is a military operation. Reilly responded in a tweet saying, "I seem to recall a guy in mid-1930s Germany who said the same thing."
After reviewing sources from the United States Holocaust Memorial Museum and the Holocaust Denial on Trial website, we could not find any record of Hitler expressly calling his deportation of Jews a military operation. The Nazis were known for keeping their plans secret, and while Hitler spurred the majority of the anti-Semitic rhetoric in Nazi Germany, there are no records expressly describing deportations in the 1930s as a military operation.
Information from Trinity College's Professor Evelein and the Hamburg Institute for Social Research revealed the German army did have a hand in carrying out the deportation of Jews.
Finally, as Evelein pointed out, there are many differences between Trump's deportation plan and the plan Hitler carried out, including the criteria for deportation and in the case of European Jews, torture and execution.
Reilly's statement contains an element of truth but ignores many important facts.
Overall, we rate this claim Mostly False.