False: McCaskill says 1 Mar-a-Lago trip could fund Missouri meals on wheels for 2 years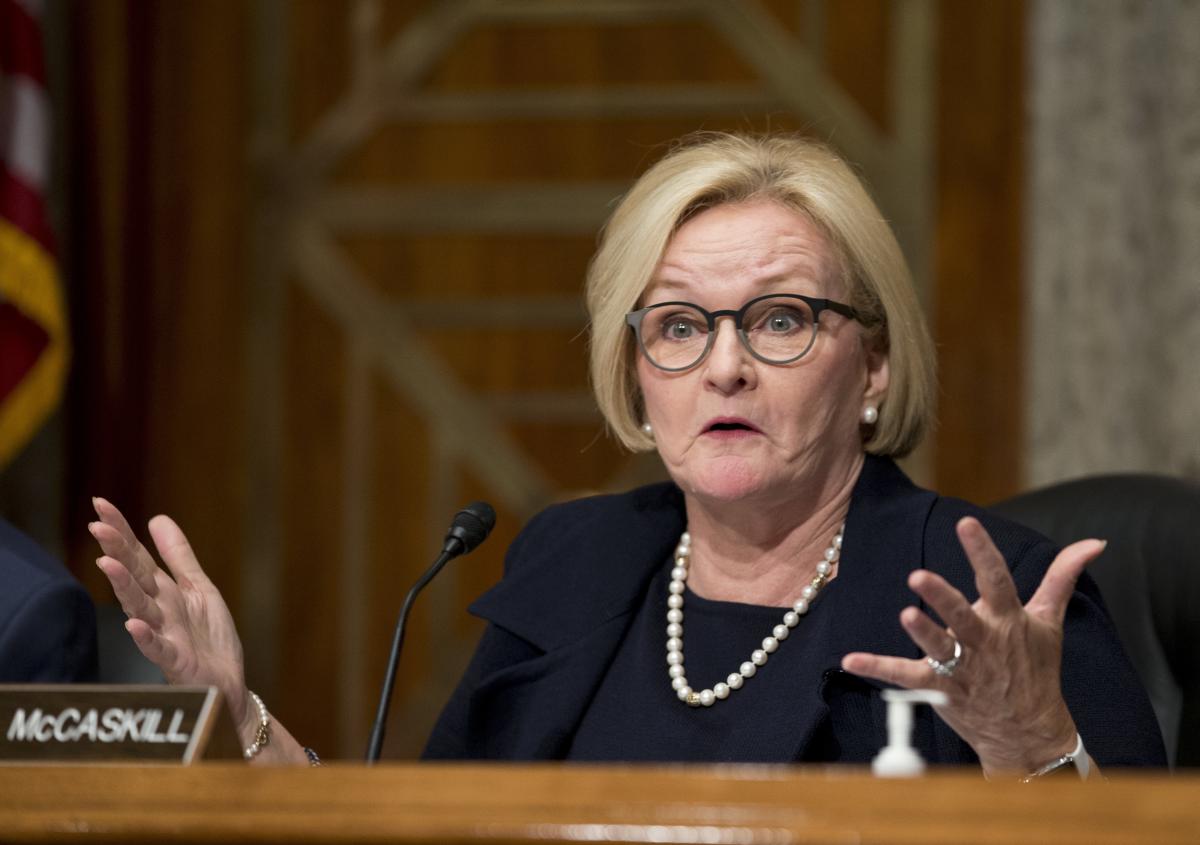 Democrats are criticizing President Donald Trump for proposed budget cuts to social programs. They also aren't happy how Trump often spends his weekends away from the White House visiting one of his properties.
Sen. Claire McCaskill, D-Mo., put the two criticisms together recently.
"The thing that I'm most disappointed about so far, and this is a little thing, but Trump's budget cut the meals on wheels program. Completely, gone," McCaskill said at an April 14, 2017, town hall.
"If we are not doing meals on wheels, it is cutting off our nose to spite our face, because the people who can't get nutrition at home and don't stay well end up in a nursing home, and you end up paying the bill, so meals and wheels is a small investment," McCaskill said. "If Donald Trump would stay home from Mar-a-Lago one weekend, if he would stay home from Mar-a-Lago for one weekend, it would pay the entire meals and wheels budget for the state of Missouri for almost two years. One weekend."
McCaskill continued.
"So, if he -- he has not called me ever -- and there hasn't been a particular reach out to me ... but if he did, I would say you know what I would do if I were you, it'd be a really smart idea. I would announce on a Friday I'm not going to Mar-a-Lago, and this week I'm going to make sure that the money that we would've spent, the $3 million that we would've spent goes to the meals on wheels program in Tennessee or in Kansas, or in how about Missouri."
Trump's budget proposal would cut $192 billion from federal nutritional assistance programs, the New York Times has reported. The question of this fact-check is: Would one fewer trip to Mar-a-Lago save Missouri's meals on wheels programs for two years?
Trump's Mar-a-Lago trips
Pinning down the cost of a trip to Mar-a-Lago is difficult. As PolitiFact has previously reported, the closest thing we have is a 2016 Government Accountability Office report detailing the costs of a 2013 trip taken by President Barack Obama. The trip was four days from Chicago to Palm Beach, Fla., and cost $3.6 million.
But the author of that report has said it should not be used to estimate the cost of Trump's travel to Florida.
"We wouldn't recommend substituting the numbers from President Obama's trip to any other trip," Brian Lepore, director of defense capabilities and management at GAO, told PolitiFact in April. (We rated a fact-check saying Trump's trips cost $3.6 million Half True.)
When the president travels, generally several military aircraft are involved. These include Air Force One, carrying the president, his entourage and guests, cargo planes packing motorcade limousines and other equipment, and aircraft to transport personnel who conduct security sweeps before the president arrives.
This is the main driver of presidential travel costs. Air Force One alone costs nearly $180,000 per hour of flight as of 2012, according to the Congressional Research Service. The GAO report found that total air and boat support accounted for more than 85 percent of the $3.6 million spent on Obama's 2013 trip.
But these costs change significantly from trip to trip, so it's hard to nail down the average cost.
For example, a president could take two identical weekend trips to Palm Beach, both trips requiring a C-130 Hercules transport aircraft. But one trip could cost a good deal more than the other depending on where the C-130 has to fly in from. Military logistics could mean that one week it comes from Delaware, the next from Texas.
Or, if the president's event schedule for one of the Palm Beach weekends requires a helicopter, an additional or bigger plane might be necessary to transport the helicopter.
Another group has estimated Trump's trips to Florida have cost much less. Judicial Watch, a conservative group, said public records show that two Trump weekend Mar-a-Lago trips cost $1.28 million.
The authority on the matter, the GAO, has accepted a request to examine the costs of Trump's Mar-A-Lago trips. Unfortunately that report isn't available yet.
Missouri's meals on wheels costs
While there are difficulties estimating the cost of a trip to Mar-A-Lago, McCaskill's bigger issue is with how she discussed Missouri's meals on wheels budget.
Meals on wheels is a catch-all term for companies or organizations that provide nutrion assistance to low-income people, primarily seniors. Meals on Wheels is one specific organization that provides delivered meals, but it's only one.
McCaskill spokeswoman Sarah Feldman said McCaskill was speaking specifically about one federal funding source, Community Development Block Grants. The block grants help fund nutrition assistance programs in five Missouri cities: St. Louis, St. Charles, St. Peters, St. Joseph and Independence. In fiscal year 2016, grants for home-delivered meals totaled $356,900. Spread over two years, that's a total of $713,800.
What's not clear from McCaskill's comments, however, is that meals on wheels programs in Missouri include much larger funding streams. Jenny Bertolette, spokeswoman for Meals on Wheels America, said the main source of funding for meals on wheels is the Older Americans Act. That program provided about $10.5 million in federal funding for meal assistance in Missouri, according to a 2017 fact sheet (the figures are from 2014).
That's way more -- in one year -- than any estimate for a Mar-a-Lago trip. And the Older Americans Act isn't the only source of funding.
For instance, Meals on Wheels of Greater St. Louis, says it does not receive any government funding. Yet it spent nearly $340,000 in 2013 on program expenses, according to required government filings.
Our ruling
McCaskill said that if Trump stayed home from Mar-a-Lago for one weekend, then it would pay for the cost of meals on wheels in Missouri for two years.
We don't know how much it costs for Trump to visit Mar-a-Lago for the weekend. A GAO report said it cost $3.6 million for Obama to take a four-day, two-city trip in 2013, but the author of that report said that figure should not be used to make other estimates. Another group pegged the cost much lower.
More problematic, McCaskill only looked at Community Development Block Grants when considering the cost of home-delivered meal programs in Missouri. The comparison falls apart entirely when you look at a fuller set of funding streams.
We rate this claim False.
Update (5 p.m. May 23): This post was updated to include additional comments from McCaskill. The rating remains unchanged.