Richard Cordray says Ohio payday lending law is worst in nation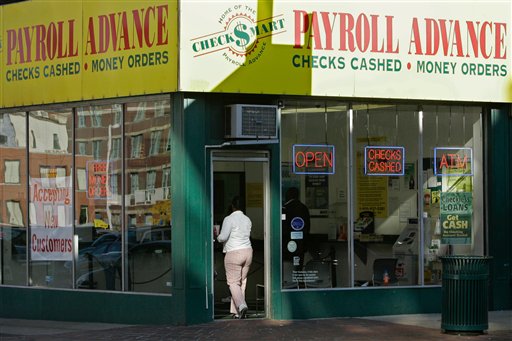 Though consumer advocates have long called for changing the payday lending law in Ohio, a criminal investigation has resulted in the resignation of the state House speaker.
Republican Cliff Rosenberger resigned in April as the FBI was investigating his foreign travel sponsored by payday-lending lobbyists. He denied wrongdoing.
Rosenberger's resignation brought votes on legislation screeching to a halt, including a proposed bill to strengthen consumer protections for payday loans. Consumer advocates are collecting signatures to put similar language before voters on the ballot, likely in 2019. The Ohio Consumer Lenders Association, which represents the industry, opposes the measures.
Richard Cordray, the Democrat running for governor against Republican Mike DeWine, has criticized the state law.
"The current shutdown of the State House has delayed legislation addressing payday lending, where Ohio's laws are now the worst in the nation," Cordray tweeted May 17. "Things have gotten so bad that it is legal to charge 594 percent interest on loans that end up ruining people's lives. Unconscionable."
Cordray's statement comparing Ohio's payday industry to the nation comes from a 2014 report by Pew Charitable Trusts.
Cordray worked on changing rules on payday lending on a national level when he was the first director of the federal Consumer Finance Protection Bureau. The bureau finalized rules on payday lending in October 2017, several weeks before he resigned to run for governor. Cordray has attacked his successor, Mick Mulvaney, for attempting to roll back the rules.
Ohio's payday lending law
Payday loans are small, short-term loans that borrowers promise to repay out of their next paycheck at a high rate of interest. About three dozen states have their own payday laws, including Ohio.
Proponents argue that the working poor need payday loans to cover their bills, while opponents argue that they trap borrowers in a cycle of debt. About one in 10 adults in Ohio have taken out a payday loan.
In 2008, Ohio lawmakers approved the Short Term Loan Act. The law, opposed by the industry, included protections for borrowers, such as capping the loan at $500 and the annual interest rates for payday loans at 28 percent.
However, payday lenders found a loophole: They registered as mortgage lenders instead. The Ohio Supreme Court upheld the law in 2014, prompting one concurring judge to ask, "Were the lobbyists smarter than the legislators? Did the legislators realize that the bill was smoke and mirrors and would accomplish nothing?"
Ohio is the only state where lenders operate under such a statute that was not intended for payday loans, said Alex Horowitz, senior research officer for Pew Charitable Trust's consumer finance project, which has researched payday laws in the states for many years.
In a 2014 analysis of states' payday lending laws, Pew didn't flat-out label Ohio as the worst in the nation for payday lending. But it did find that borrowers were charged much more than their peers in many other states.
By examining payday loan prices in each state from the four largest lenders, Pew found that over five months a $300 payday loan would cost an Ohio borrower $680 in interest and fees, which equals an average annual percentage rate of 591 percent (which is close to the 594 percent figure cited by Cordray.) No other state had a higher rate, according to the Pew analysis. The interest and fees amount in Ohio was slightly exceeded by Texas, but Texas has more protections for consumers, including a 180-day loan limit that Ohio doesn't have.
While the typical loan is technically two weeks, in the majority of cases the borrower ends up in a cycle of loans for several months.
While most states that allow payday lending cap loans at $500, Ohio lenders don't operate under the Short Term Loan Act, so they can make loans that are double or even triple the amount of conventional payday loans.
The Center for Responsible Lending, an organization that calls for more safeguards for consumers, found in 2015 that payday loan storefronts in Ohio advertised rates of more than 600 percent annual percentage rate. Diane Standaert, director of state policy, said that since that time some storefronts now reflect rates between 300 and 400 percent for some loans.
"But this is basically comparing the differences between (1) a very bad loan, and (2) another very bad loan," she said.
The effort to change Ohio's payday lending law gained steam in March 2017 when House Bill 123 was introduced by State Reps. Kyle Koehler, a Republican of Springfield, and Michael Ashford, a Toledo Democrat. The bill is similar to Colorado's payday lending law which consumer advocates have upheld as a model example.
After languishing for a year, it passed a House committee in April 2018 about a week after Rosenberger resigned, but a full vote was placed on hold while lawmakers deadlocked over picking a new speaker. On June 7, the House passed the bill and it now heads to the Senate. The bill would cap the interest rate at 28 percent and a fee of up to $20 a month, which would mean that a borrower of $300 would pay $96 in interest and fees.
Our ruling
Cordray said, "Ohio's (payday lending) laws are now the worst in the nation. Things have gotten so bad that it is legal to charge 594 percent interest on loans."
Pew Charitable Trusts found in 2014 that over five months a $300 payday loan would cost an Ohio borrower $680 in interest and fees, which equals an average annual percentage rate of 591 percent. While the report didn't call out Ohio as the "worst in the nation," no other state had a rate that was higher, according to the report.
The difference between the 591 percent cited in the report and the 594 percent tweeted by Cordray is negligible.
We rate this statement True.
'