Could fracking be worse for the climate than coal?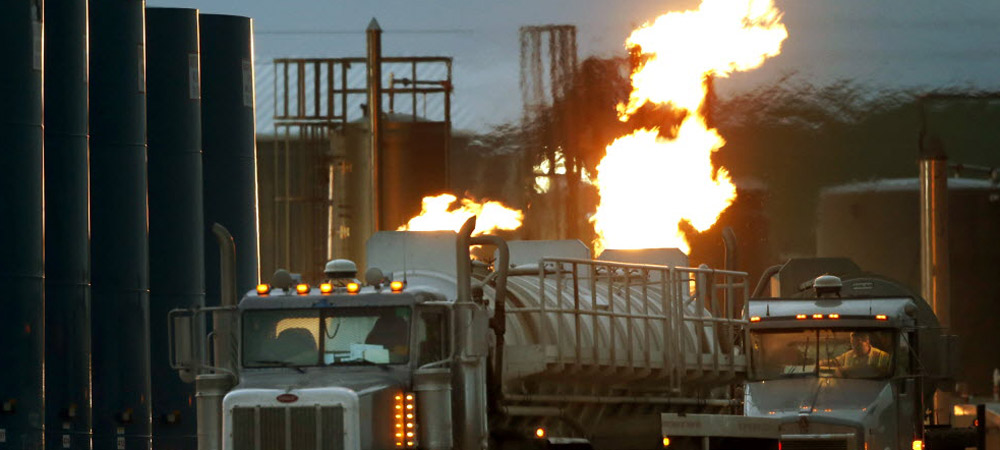 The Environmental Justice League of Rhode Island asserts that a new liquefied natural gas facility at Fields Point would accelerate climate change.
The league's position paper, posted at RIFuture.org, predicts that the storage facility proposed by National Grid would increase emissions of methane, a potent greenhouse gas.
"While the oil and gas industry and their supporters like to present 'natural gas' as a 'cleaner' alternative or a 'bridge fuel' towards a renewable future, in reality, gas produced by fracking is worse for the climate than coal," the paper says.
So coal is cleaner than natural gas?
The primary source for this material is Cornell University's Robert W. Howarth, who has researched the climate-warming effects of methane that escapes into the atmosphere during the lifespan of fracked gas — from drilling to combustion.
In fracking, water is pumped underground at high pressure to fracture shale to free up gas or oil. Methane is released in the process.
The impact of gases — methane from coal-burning plants and carbon dioxide from automobiles — depends on how potent they are and how long they remain in the atmosphere.
Methane is 100 times more potent than carbon dioxide as a greenhouse gas during the 10 years following its emission, according to Howarth. But methane stays in the atmosphere for a little more than a decade, while carbon dioxide, some say, hangs around for 1,000 years.
The point, Howarth says, is that global warming has moved into a critical period. It's urgent, he says, to stave off what he calls "runaway global warming" — a scenario he believes is possible during the next 20 years. In the short-term, fracked gas is worse for the climate than coal-burning.
Reducing methane emissions, he wrote to us in an email, is the only way to keep atmospheric temperatures below the 2 degrees Celsius mark set during last month's accord at the Paris climate conference.
"Methane emissions from fracked shale gas are horrendously high; so yes, it's unequivocally worse for the climate than is coal," Howarth says.
Other scientists disagree.
In 2014, Raymond Pierrehumbert, a geoscientist at the University of Chicago, presented research that shows carbon dioxide "is in a class by itself" among greenhouse pollutants. The lifetime of carbon dioxide, says the paper, can't even be characterized, and the gas's significant greenhouse effects "persist for millennia." Pierrehumbert likens the greenhouse effects of carbon dioxide to irreversible lead poisoning and the effects of methane gas to a hangover.
"The important thing to note," Pierrehumbert was quoted as saying in an online post for The New York Times, "is that essentially all of the climate effects of methane emissions disappear within 20 years of cessation of emissions. In this sense, the climate harm caused by methane leakage is reversible. In contrast, CO2 accumulates in the atmosphere, ratcheting up the temperature irreversibly, at least out to several millennia."
In a different online Times post, Louis A. Derry, a Cornell colleague of Howarth's, and an associate professor in earth and academic sciences, was quoted as saying that between 2007 and 2011, the climate impact from increased carbon dioxide was 13 times greater than that of methane.
"For me, the picture is pretty clear," he wrote, "Displacing coal emissions with gas emissions is beneficial from a climate standpoint."
Another prominent climate expert, James Hansen of Columbia University, recently acknowledged that gas can serve as a temporary alternative to burning coal.
Does this mean natural gas, including fracked gas, is better for climate than coal-burning? Hansen said that he would need to know more about methane emissions.
"I'm not sure anybody has it nailed down," said Hansen, the former NASA climatologist whose testimony before Congress in 1988 helped spread awareness of global warming.
If he had to guess, Hansen said, the negative side effects of producing natural gas are small compared to those of burning coal, "or they could be made small."
Pierrehumbert, Howarth, Hansen agree on one thing: the safest path is to develop more renewable energy such as wind and solar.
Our ruling
The Environmental Justice League of Rhode Island asserts: "...in reality gas produced by fracking is worse for the climate than coal."
The chairman of the University of Rhode Island's geosciences department, David Fast-Ovsky, agrees with Pierrehumbert and shares many of Howarth's concerns, too. But without appropriate historical context, he says he isn't ready to say that fracked gas is worse for the climate than coal. That is a very aggressive statement to make, he says.
The Justice League did not qualify its claim with a nod to the transient nature of methane emissions. The league mentioned a concern about the potential for "runaway climate change," but did not give the historical context behind Howarth's assertion that a failure to control methane emissions in the short-term, within the next 20 years, makes fracked gas more damaging to climate. This is complicated stuff and the League oversimplified.
"The statement is not false and it's not exactly true because it's not well-constrained," says Fast-Ovsky.
We agree with Fast-Ovsky. We rate this claim Half-True.