Reader hits were topped by a faulty shot at Rick Perry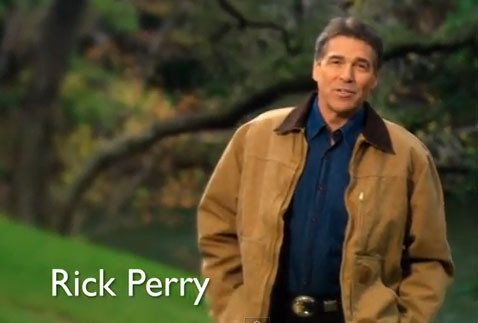 Voters arguably chose between Gov. Rick Perry's vision of Texas as the nation's land of opportunity and Democrat Bill White's insistence the state has struggles and can do better.

But readers flocked to our checks of statements of the small-picture variety, topped by an anti-Perry charge and a Perry claim about White:

— A Democratic group's description of the canceled order from Perry that girls receive a vaccine against the human papilloma virus before entering the sixth grade.

— And Perry's statement that White didn't pay taxes while taking home a federal pay check in 1995.

In a September TV ad, Lone Star First, an organization that's funded and supported by the Democratic Governors Association, said that Perry thinks "injecting 11- and 12-year-old girls with a controversial drug, without a parent's consent, is a good idea." We rated that Pants on Fire: Perry's executive order, which lawmakers blocked, included an opt-out provision for parents who objected to the vaccine. There's zero evidence that shots would have been given without parental consent. Parents and guardians are the gatekeepers for children getting any vaccination required for students to go to Texas schools.

Perry's claim about White's tax history was made the same month in a press release that said White's 1995 tax obligation was "uncovered" in a Dallas Morning News article citing information from White's campaign that he reported "no taxable income for 1995," when he was serving as deputy energy secretary in the Clinton administration. However, we confirmed through the Energy Department that White had $21,568.45 in federal income taxes, $3,794.40 in Social Security and $1,302.55 in Medicare taxes withheld from his 1995 pay. That means White was paying taxes even though his campaign says he ultimately received a refund for all of his withheld income taxes. The reason? He suffered business losses that exceeded his earnings, the campaign says. We rated False Perry's claim that White "didn't pay taxes while earning $133,600 annual salary as deputy secretary of energy."

Our fact checks of those statements ranked first and third among most-viewed articles on the PolitiFact Texas website from Sept. 1 nearly through October. To our surprise, the No. 2 most-visited article was our check of a chain e-mail warning voters about proposed constitutional amendments related to property taxes. We pointed out that the ballot listed no proposed constitutional amendments. Pants on Fire!

Other reader favorites included Perry's oft-repeated boast that on his watch, Texas has created more than 850,000 jobs, more than other states combined; we rated that True. Another article popular with readers was White's statement that Perry claimed a scheduling conflict would prevent him from speaking at an El Paso high school with White before tweeting that day that he was enjoying rare time off to jog near Austin's Lady Bird Lake. We rated that Mostly True.

Readers weren't always transfixed by the governor's race.

Claims by the national chairman of the Libertarian Party that more than 70 percent of gay voters lean Democratic in federal elections (True) and by U.S. Rep. Ron Paul, R-Texas, tabulating casualties from the Iraq war (Half True) ranked high. Also, statements by Texas Attorney General Greg Abbott about the Texas-Mexico border and by U.S. Rep. Chet Edwards, D-Waco, drew interest.

In a TV ad, Edwards gunned for momentum against Republican hopeful Bill Flores. The narrator said: "When Washington liberals wants to take away our guns, Chet said no." We rated that False, because while Edwards has steadfastly opposed efforts to impose gun controls, no legislation aimed to "take away" anyone's weapons.

Abbott told the Texas Tribune in August that the state was facing unprecedented challenges on the border and gave several examples of violence that he said threatened the "health, safety and welfare of Texans," including "the closure of a highway in El Paso for a time period" because of "bullets flying across the border." After talking with the El Paso Police Department about an Aug. 21 incident in which a bullet struck a building at the University of Texas at El Paso, we rated Abbott's statement True.

In September, we rated False Abbott's claim that "more lives have been lost because of the war with the drug cartels in Juarez alone, just a few blocks from the United States of America, than have been lost in the war in Afghanistan." By the attorney general's calculation, 258 more people were killed in Juarez than in Afghanistan between 2008 and this past summer. But the war in Afghanistan started in 2001; his methodology doesn't count casualties in the first seven years of the conflict.

There were other often-visited articles from the Perry-White fray.

Doozies: Perry's statement that White "refuses to debate." We rated that Pants on Fire because it was Perry who refused to debate White — setting as a condition that White release more federal tax returns. Another popular article, on Perry's statement that White "profiteered" in the aftermath of Hurricane Rita, generated a False rating after we found no evidence that White had enriched himself by connecting a Houston-area water authority who needed emergency power generators with a supplier in which White later made a personal investment.

Another chain-email was likewise both popular and wrong. The anonymous writer claimed that as mayor of Houston, White arranged to have 250,000 Hurricane Katrina evacuees put up in his friends' empty apartment buildings at taxpayer expense for more than two years, and that most of the evacuees are living off of welfare in Houston. We rated the e-mail False.

A statement by someone not on the ballot, U.S. Sen. John Cornyn, R-Texas, rounded out our most popular articles of late. In a statement, Cornyn said that a defense bill that was voted down "includes language that would require military hospitals to provide abortions on demand. We rated his claim False because the bill included an amendment that would remove language in current law prohibiting abortions from being offered on military bases. There was no mandate, and further, there are so many conditions on whether a woman could receive an abortion even with the proposed amendment, that Cornyn's "on demand" description goes too far.