USS Gabrielle Giffords is not a gun-free vessel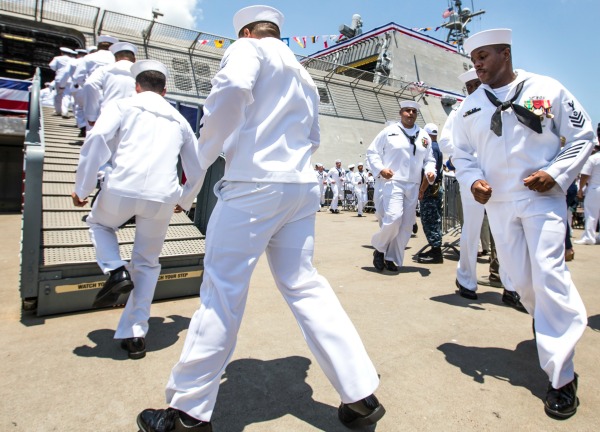 Consider this a stout reminder: A 2015 news parody portraying the USS Gabrielle Giffords as the nation's first gun-free warship was not at all based on facts.
That is, the Navy did not build or launch a gun-free warship.
The June 13, 2015, post on DuffelBlog.com, a military humor website that tells readers it's not in any way a news organization, suggests the big San Diego-bound ship, launched the other day from Galveston, was stripped of various guns, a missile launcher and all its small arms. The point of creating a gun-free boat, according to the unfactual post, was to honor Giffords, the former congresswoman who was shot in 2011, "in the most considerate and respectful way possible."
Debunkists at Snopes.com flagged the parody story as False on June 14, 2015, stressing that DuffelBlog says on its website that every post on the site is satirical. DuffelBlog further says the content of its site "is a parody of a news organization. No composition should be regarded as truthful, and no reference of an individual, company, or military unit seeks to inflict malice or emotional harm."
News accounts make it clear the ship carries weaponry.
A June 10 Associated Press news story says that Giffords earlier helped christen the $475 million "combat ship" in 2015. The story says too that the ship is "the ninth in a series of high-speed vessels designed to navigate in shallow coastal regions known as littoral waters."
In a June 2017 press release, the Navy describes the ship as fleet: "Littoral combat ships are fast, agile, mission-focused platforms designed to operate in near-shore environments, while capable of open-ocean tasking, and win against 21st-century coastal threats such as submarines, mines, and swarming small craft." See the Navy's release on the recent launch here.