Meme on Facebook says Ted Cruz declared 'no place' for gays, atheists in 'my America'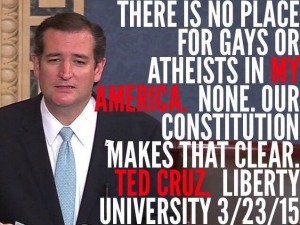 Here we go again: A reader just pointed out a Facebook meme suggesting Texan Ted Cruz declared America constitutionally off limits to gays and atheists last month when he declared his candidacy for president.
We recently found Pants on Fire a Facebook post saying the Canada-born Cruz, the Republican U.S. senator who announced his presidential candidacy at Liberty University in Virginia, had conveniently flip-flopped on each president needing to be born in the United States.
Did not happen.
The 'no place' Facebook post
Now let's turn to the Facebook post brought to our attention most recently:
SOURCE: Facebook post, March 25, 2015 (noted by a PolitiFact reader April 2, 2015)
The image had a tagline mentioning a Facebook page titled "Stop the World, The Teabaggers Want Off." Off we clicked, learning that Facebook page includes this disclaimer about its posts: "This page is for entertainment purposes. It is NOT meant to be taken seriously. It is primarily satire and parody with a mix of political memes and messages."
The afternoon we scrolled the page, we didn't spot the Cruz meme. But the image and purported Cruz statement had been sent out by the group in this March 25, 2015, tweet:
SOURCE: Twitter post, @StopTeabaggers, March 25, 2015
No confirmation in news stories
The image did not put the statement in quotation marks. Still, the meme as a whole struck us as leaving the impression that Cruz said it.
And it doesn't look like he did. In fact, online searches and a check of the Nexis news database yielded no evidence Cruz, a Houston lawyer elected to the Senate in 2012, has ever made a comment about the Constitution leaving no place for gays or atheists in his America. To our inquiry about the presented quotation, Cruz campaign spokesman Rick Tyler said by email it's "obviously false."
Cruz's speech declaring for president
Next, we scrutinized a Washington Post transcript of Cruz's March 23, 2015 speech declaring for president.
In the speech, Cruz mentioned marriage once, gays and atheists not at all.
On marriage, he said: "Instead of a federal government that works to undermine our values, imagine a federal government that works to defend the sanctity of human life and to uphold the sacrament of marriage."
Cruz didn't mention atheists, but he emphasized religious faith before students at the university founded by the late Jerry Falwell, an evangelist. For instance, Cruz referred to "the God-given liberty of every American." He also said: "God's blessing has been on America from the very beginning of this nation, and I believe God isn't done with America yet."
He closed:
"I am honored to stand with each and every one of you courageous conservatives as we come together to reclaim the promise of America, to reclaim the mandate, the hope and opportunity for our children and our children's children. We stand together for liberty.
"This is our fight. The answer will not come from Washington. It will come only from the men and women across this country, from men and women, from people of faith, from lovers of liberty, from people who respect the Constitution.
"It will only come as it has come at every other time of challenge in this country, when the American people stand together and say we will get back to the principles that have made this country great. We will get back and restore that shining city on a hill that is the United States of America."
Other Cruz comments
Finally, we looked into whether the meme's quotations reflected on past Cruz comments.
Cruz has repeatedly said he doesn't want gay marriages to be legal, as the Human Rights Campaign, which advocates for lesbian, gay, bisexual and transgender Americans, spells out in its "Republican Facts" web page titled: "Ted Cruz: Not a Fan of Pride Parades."
In March 2012, Cruz was quoted by Peggy Fikac of the San Antonio Express-News saying: "I believe that engaging in homosexual conduct is a choice, and I do not believe that unelected judges should force states to adopt gay marriage, against the wishes of the people. Marriage is a fundamental building block of our society, and I have a proven record of standing and fighting to protect traditional marriage between one man and one woman."
Cruz also has stressed his religious faith; he's a Baptist, Tyler told us.
And in spring 2014, Cruz made a public jab about atheists, as recapped April 2, 2014, by the National Journal. Mentioning an Air Force chaplain ordered by his supervisor to take down a religious blog post he'd written, deeming it insensitive to atheists, Cruz said: "I sort of thought the job of a chaplain is to be insensitive to atheists."
By telephone, Danielle Muscato of American Atheists, which says it's a "nonprofit, nonpolitical, educational organization dedicated to the complete and absolute separation of state and church," told us she couldn't confirm Cruz making the "my America" claim.
Our ruling
A Facebook post suggests Cruz said the day he declared for president, "There is no place for gays or atheists in my America. None. Our Constitution makes that clear."
Cruz has been clear about his belief in God and opposition to legalizing gay marriages. However, there is no record of him saying the Constitution leaves no place for gays or atheists in "my America."
Pants on Fire!
---
PANTS ON FIRE – The statement is not accurate and makes a ridiculous claim.
Click here for more on the six PolitiFact ratings and how we select facts to check.
https://www.sharethefacts.co/share/748eafb6-6a96-4c4d-8c2e-4429fe2d5931